Lower School Newsletter June 6, 2022
Lower School Newsletter
6 June 2022
Upcoming Event

16 June

*Grade 5 Transition Evening

*Specialist Fun Day (Art,D&T,PE) Gr1-5

17 June

* Grade 5 Transition Day

* Portfolios coming home

21 June

b Specialist Fun Morning

22 June

* Grade 5 Promotion Ceremony

23 June

* Last Day of School for students/Reports issued
Children's Day
Mandarin
Grade 3
Surgical Robot Tour
Last Wednesday, on June 1st, our G3 Mandarin students chose a special way to celebrate Children's Day, which was to explore the new technology. Caroline in G3 helped to organize this trip, and her father Doctor Xue, and Caroline introduced the latest medical equipment--surgical robots. Students got the chance to learn and experience them. Students were shocked about this technological development and the advances that robots are creating especially in the medical world.. We all have a fabulous day!
Some students' feedback:
Olivia—The Mandarin class field trip was fun and great, I enjoyed looking at and experiencing the surgical robots.
Fiona—I think this field trip is very fun. We celebrated Children's Day by playing fun games and visiting the robots, I was proud of the Chinese's newest technology.
Alice—We felt how technology goes through time. And we looked at how robots do most of the surgical operations.
Lily Hong-- I have learned a lot about robots, I had a wonderful Children's Day!
Coco—I think the robots are fabulous, and we have got the chance to try them.
GangHoo—I have seen lots of new technology, which makes our life more convenient.
Delun— we experienced how humans use technology to do some hard work.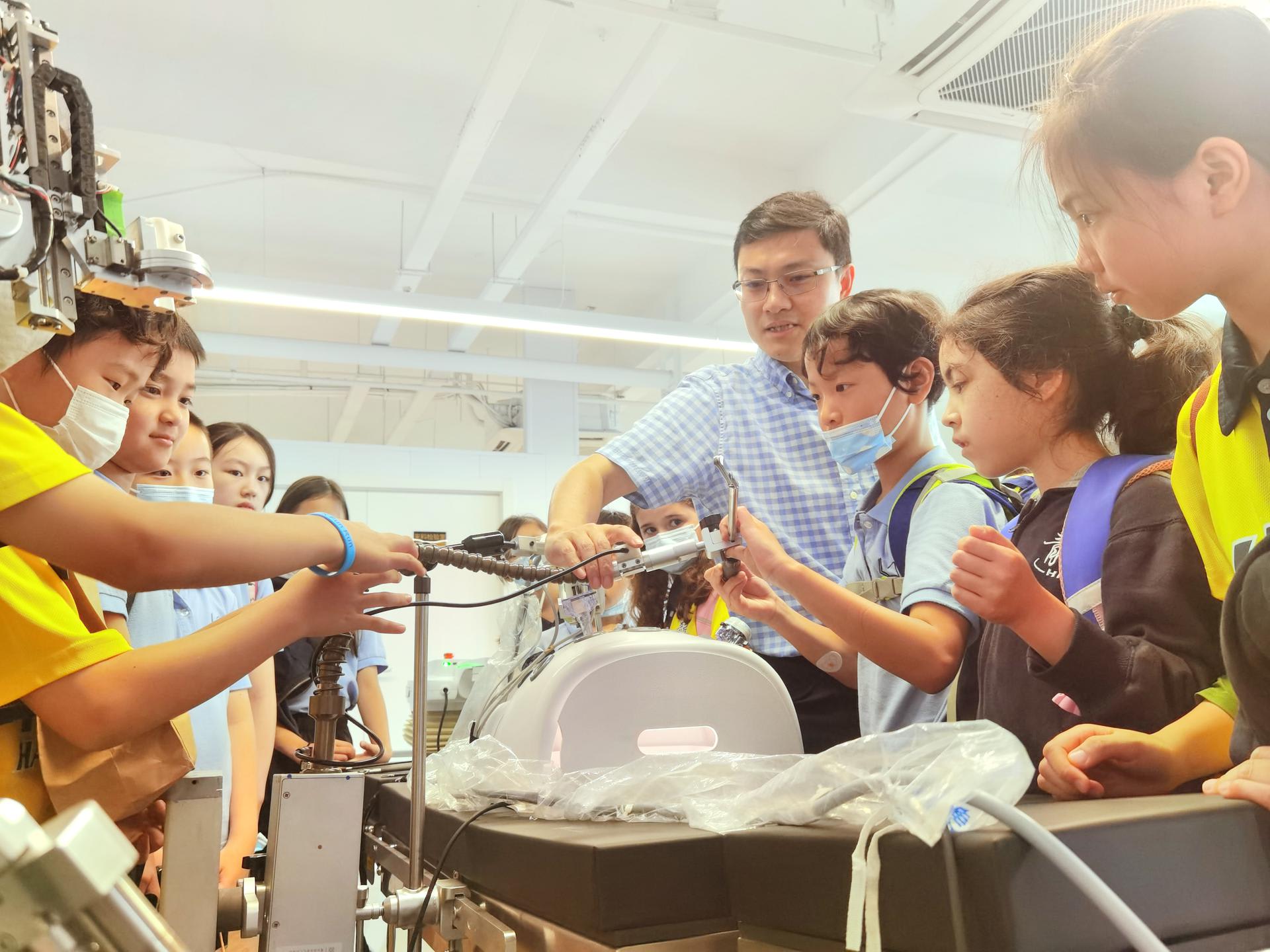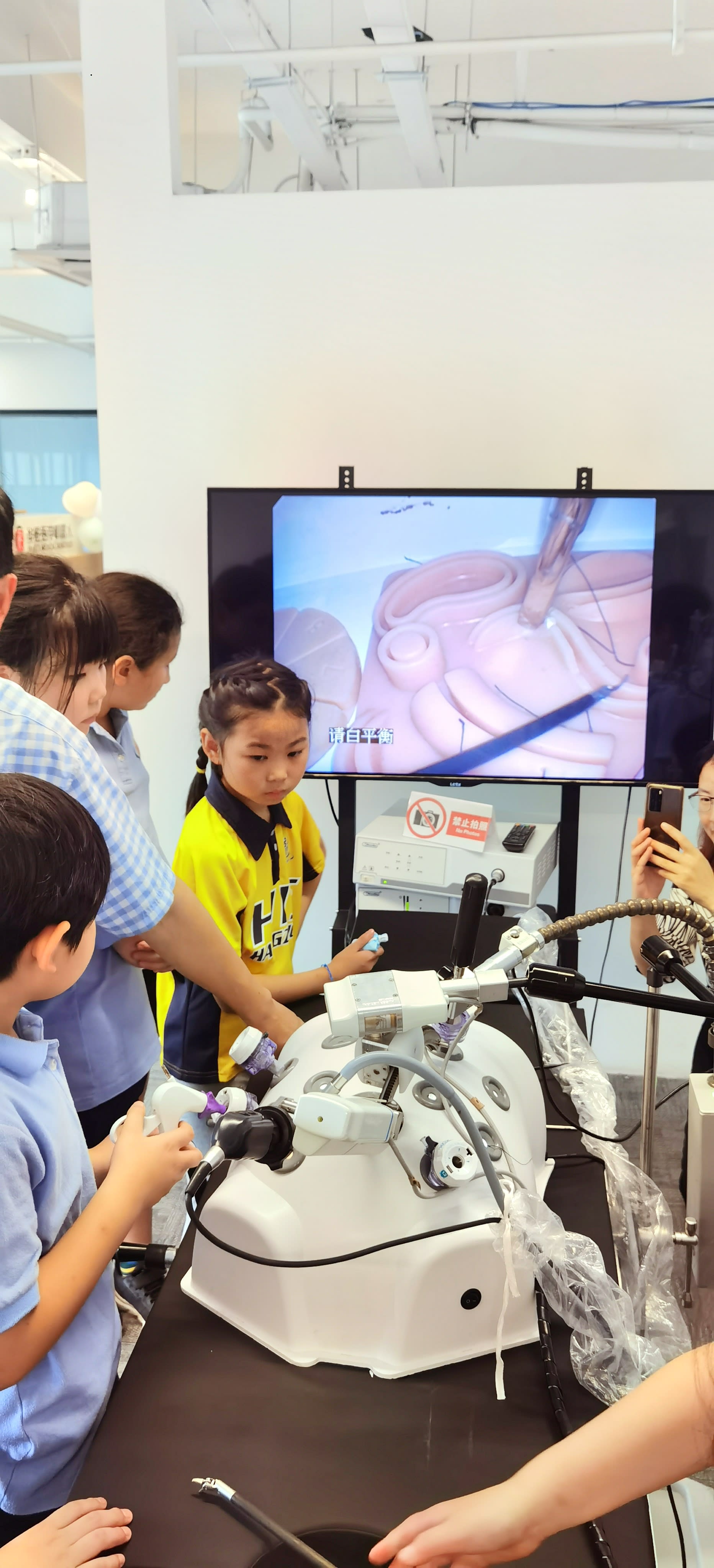 EY Field trip
Botanic Gardens
Exploring and Investigating Nature
A special thank you to Ms. Qiao, G2 Eddie Liu's mum, who generously donated the foliage used to make the bouquet called 艾草(Ay Tsao) and other material representing good luck. She stayed all day to help instruct the students and we are most appreciative of her support. All the activities helped to make The Dragon Boat Day celebration informative and successful.
INTERNATIONAL DAY
HIS
20 YEAR ANNIVERSARY


THANK YOU EVERYONE FOR SUPPORTING THE DAY !
Can you hear it?.... DRAGON SPIRIT!
15th ANNUAL DRAGON RUN! Join the fun! -Registration is open and closes this Friday morning, June 10th- Don't miss the fun!
You can participate in the 5K Race, the 1K Fun Run (Registration payment gives you a t-shirt and a goodie bag. All profits go to the Library Project). If you are not a runner, come and cheer while enjoying the different activities and support the Library Project, a charity that builds libraries and reading rooms in Chinese schools.
Please note if you register for the 5K or Fun Run:
-Race shirts, running bibs, and race information will be available for pick up Friday, June 17, morning from 7:30- 8:30 AM and in the afternoon from 3:00- 4:30 PM at the School Gate.
-Race bags and medals will be distributed upon completion of the race at the finish line. Inside you will find goodies and a coupon for a free popsicle exchangeable only at the event.
-On Saturday, June 18, HIS campus opens at 7:15 AM. At this time, we will distribute any late runner shirts and bibs.
-At 7:30AM, 5K runners will begin to gather by the starting line near the school sign by the main entrance. Be ready for a pre- race stretch at 7:45 AM. The starting horn will sound at 8:00 AM sharp.
-Fun Runners will gather by the school steps and will run after the 5K runners are out of gate.
-This event will happen rain or shine. Please check the weather forecast so you can dress appropriately for the expected weather.
After the race, the fun continues inside and outside the HIS GYM!
From the traditional Slip-and-Slide (don't forget an extra set of clothes to change) to different activities for everyone in the family, performances, food, and vendors.
If you would like to be a sponsor or participate as a vendor in the event, please email: dragonrun@his-china.org
Sponsor Solar Panels for Our New Campus!
Thank you to all our sponsors! They are now part of the HIS green initiative by sponsoring solar panels for the new campus and you can be part of this big step towards reducing our carbon footprint as a school and battling climate change.
This August 2022, Hangzhou International School is moving to our new campus in the same convenient and beautiful area of Binjiang District. A group of committed students, including HIS alumni Suhani Sikri, are working towards acquiring and installing solar panels for clean, renewable energy in our new campus. In the face of the consequences of global warming, this is a step towards a greener future, and in the long term, will impact the Hangzhou community positively and cut down on our school's pollution. Installing solar panels will also provide new and exciting learning opportunities for our students to learn more about how renewable energy and the technology works, take responsibility, develop leadership skills, and realize this is an important issue that our school is acting upon.
As a school, we want to continue our legacy of being environmentally friendly school, and by sponsoring a panel, you can also be a part of this legacy. Every solar panel you sponsor would be a step towards this environmentally friendly change that will impact our whole school community and support our school in using more sustainable forms of energy and help reduce the school's carbon footprint. As a sponsor, your name or your company/organization's logo will be gratefully acknowledged in many ways. Please, contact us to learn more about it.
Dear Parents,

It was terrific seeing so many of you joining our International Day and 20th Anniversary celebration on Friday. The weather cooperated, the Parade of Nations was genuinely festive, and the food and entertainment showcased the best of our international community.

Grade 3 students, under the guidance of Mr. Em in Design and Technology, collaborated with our Mandarin team and created dragon boats that were the culminating activity in a celebration of the Dragon Day festival.

Students also participated in making an Ay Tsao and learned about other unique materials that bring good luck.

Students across the Lower School have embraced the Spring weather and have been out and about on various field trips connected to their units. Research demonstrates that students' attention, understanding and recall, social skills, and behavior improve when they take regular field trips and excursions, inking their developing knowledge of real-life places and people.

Thank you to the many parents that have supported the lower school over the last few weeks. It is essential to have strong partnerships as we work together to deliver the best learning opportunities for each of your children.

Have a great week.

Lynn
Dramatic Play Donations
Please help if you can.
Dear Families,
Thank you so much for helping your child return their library books. We have almost all the books back. The kindergarten classes were the first to hand back all their books!
We are still building up our dramatic play resources and would really appreciate any materials you would be able to donate. Thank you so much for the items we have already received! Please refer to the posters for more information. You may be asking why we are collecting such items? It is to create provocations or areas of interest that students will be able to explore and spend time learning and discovering. The photo shows such a provocation we created at school for the transdisciplinary theme – where we are in place and time. It allows students to interact with different items and discuss what they see with their peers and hopefully, these initiatives spark their curiosity to find out even more.
Best wishes,
Mrs. Majoos
Lower School Librarian
Messages for entering the school
Parent and Student ID Cards

All students and parents should have an HIS Identification Card. Please review the information on the website to submit your photo to the secretary for ID card generation. HIS ID card information
Ordering Uniforms or School Merchandise
We are very proud of the HIS school uniform and we seek your support in having your child dressed in the complete uniform each day. Please ensure you label all of your child's items so that we can return them. Staff will be alerting you to the PE time for your class when students wear their PE shirts.

Parents can go to following link and look at the uniform web page (https://www.his-china.org/support/dragon-shop).
Parents can place an order with Nancy in the Dragon Shop (dragonshop@his-china.org) by email or by calling the school directly (Tel# 8669-0045 X109) during office hours (Monday-Friday 7:45am - 11:30am and 12:30pm - 4:30pm).
Also parents may make an appointment to go to the Dragon Shop between 3:45pm – 4:30pm when the regular school day is over.
Older students may come to the Dragon Shop to select sizes and purchase uniforms if they have time before or after school during open hours.
Payment may be made through AliPay or by giving students cash.
You can choose from the following options to receive uniform orders:
1. Give items directly to students
2. Wait for pickup at the school gate
3. Deliver home 12RMB pay on delivery fee.
HIS New Campus Update

I think you will be delighted, as were the Administrative team that visited the new school site last week.
Lynn Pendleton

Lower School Principal

Aaron Ayers

Lower School

Vice Principal

Student Welfare

Cilla Giannopoulos

Lower School

Vice Principal

PYP Co-ordinator
HIS Mission Statement
We provide international learners with opportunities to pursue academic and personal excellence within a caring community.