Upper School Newsletter June 13, 2022
Upper School Newsletter
June 13, 2022
June 13 Students Prepare

Sign-Outs

June 17 Transition Day

June 18 Dragon Run

June 20,21 Gr 11 Science

June 20-22 Gr 9 Work Experience

June 22 Gr 5 Promotion (AM)

June 22 Gr 8 Promotion (PM)

June 23 Last Day of School
UPPER SCHOOL CO-PRINCIPAL
Mr. Fursey Gotuaco

Upper-School Co-Principal

DP Coordinator

IT'S A GREAT DAY TO BE AN HIS DRAGON

"I never change. I simply become more myself"

Joyce Carol Oates

TOK Question of the Week

'How is current knowledge shaped by its historical development?'

Maksym Xu, gr 11 TOK
Last week was graduation, this week is Grade 5 transition, and next week are Gr5 & Gr8 promotion ceremonies. Change and transition are all around us. It doesn't just happen in June. It happens everyday as our students move from one piece of knowledge and skill to the next; forever evolving and growing. Each and every one of them on their individual journeys. Below are words of wisdom from our four speakers at commencement, detailing their stories and journeys. Brilliant minds, warm hearts, and bright futures!
Academic Award Winner, Run-Run Alicia Li
Many of you in business are masters of Recession and Expansion in economics, but today I want to focus on recession and expansion in personal life.
When I first come to HIS, I went through my moment of recession. It is difficult to go from a school where Chinese is the language to school where English is the language. There was a time that I wonder if it is the right choice. I went through to being the top students in the previous school to fall below the level of excellence.
But I did not give up. I tried to break out my comfort zone and worked through my recession. I struggled and worked hard. It all led to expansion where I regained excellence. But it is not only about academic excellence, because it mentions in the statement, it is academic and personal excellence. That's why I undertook the T-shirt project to teach lower scholars to design their own t-shirts. Totally, we gained 8000 rmb in profits and donated it to the Zhejiang Cancer Association.
Renaissance Award Winner, Aina Marie Gimeno Rojas
Choices are an essential part of remaining both a balanced student and a balanced person. It's the thousand small choices you make every day in all aspects that put you on the path to finding balance and becoming the person you are destined to be. Choosing between studying now or pushing it off changes the outcome of the quality of your schoolwork. Choosing your friends at school greatly impact how you chose to spend your time. As students at HIS, we are privileged to have the choices and opportunities we enjoy: to study what we want in the future, to join the clubs we want, and to play the sports we want.
International Award Winner, Riva Aggarwal
TOK, for those of us that understood the concept of a class that made us question everything, taught us that most things in life aren't simple enough to apply a dichotomous approach to understand. Not everything can be simplified to fall into the category of either this or that, black or white. And so, as a class, we make the extra effort to understand the person across from us because we recognize their complexity. We immerse ourselves in international mindedness, which entails a culture of respect and a respect for culture. Because, without being able to understand those around us, strangers can turn into enemies rather than friends, when in reality, the better we know and understand the people around us, the better place our world can be.
Historian, Aanvi Chadha
As Kalu NDUKWE said "The things you do for yourself are gone when you are gone but the things you do for others remain as your legacy", Every single student in this class is leaving behind a legacy. The Artists, the athletes, the academic achievers and the student leaders. Each one of us has been a role model or set a standard for the student to come after us. Our legacies our not created by our achievements but instead, our small actions of kindness.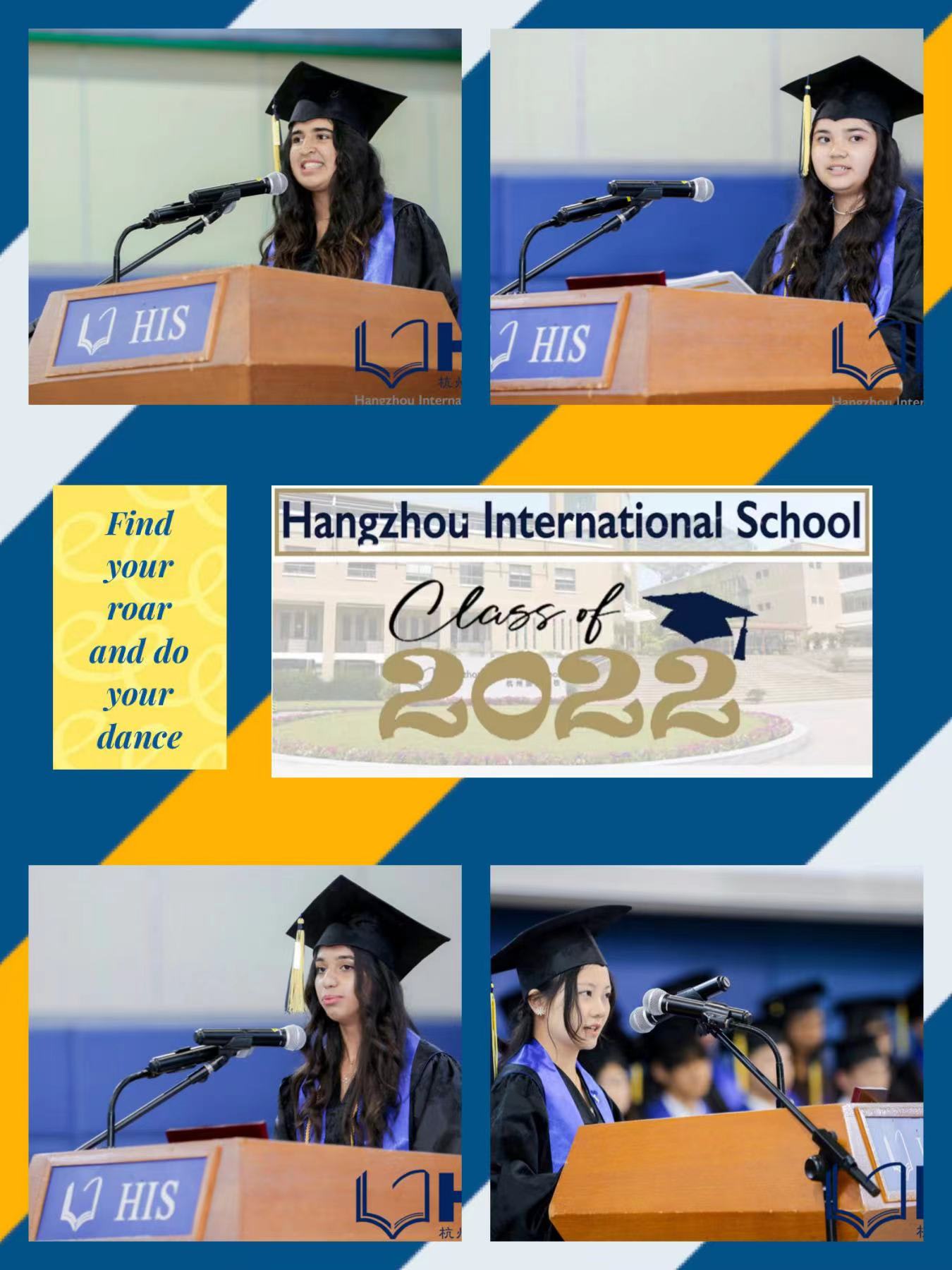 SCAN QR CODE FOR PHOTOS FROM
COMMENCEMENT
Can you hear it?.... DRAGON SPIRIT!
Rain or shine don't miss the fun and join us this Saturday for the 15th ANNUAL DRAGON RUN.
Come and cheer while enjoying the different activities and support the Library Project, a charity that builds libraries and reading rooms in Chinese schools.
Sponsor Solar Panels for Our New Campus!
Thank you to all our sponsors! They are now part of the HIS green initiative by sponsoring solar panels for the new campus and you can be part of this big step towards reducing our carbon footprint as a school and battling climate change.
As a school, we want to continue our legacy of being environmentally friendly school, and by sponsoring a panel, you can also be a part of this legacy. Every solar panel you sponsor would be a step towards this environmentally friendly change that will impact our whole school community and support our school in using more sustainable forms of energy and help reduce the school's carbon footprint. As a sponsor, your name or your company/organization's logo will be gratefully acknowledged in many ways. Please, contact us to learn more about it.
Create your family or company's 'print' on our new campus and pave the way for a greener future for our community. Let's Go Solar and Brighten Hangzhou!
2021-2022 YEARBOOK
Don't miss the school year memories and order Cost: 288 RMB
Deadline to order: FRIDAY, JUNE 17
Yearbooks will be distributed last day of school, June 23
#Once a Dragon, always a Dragon!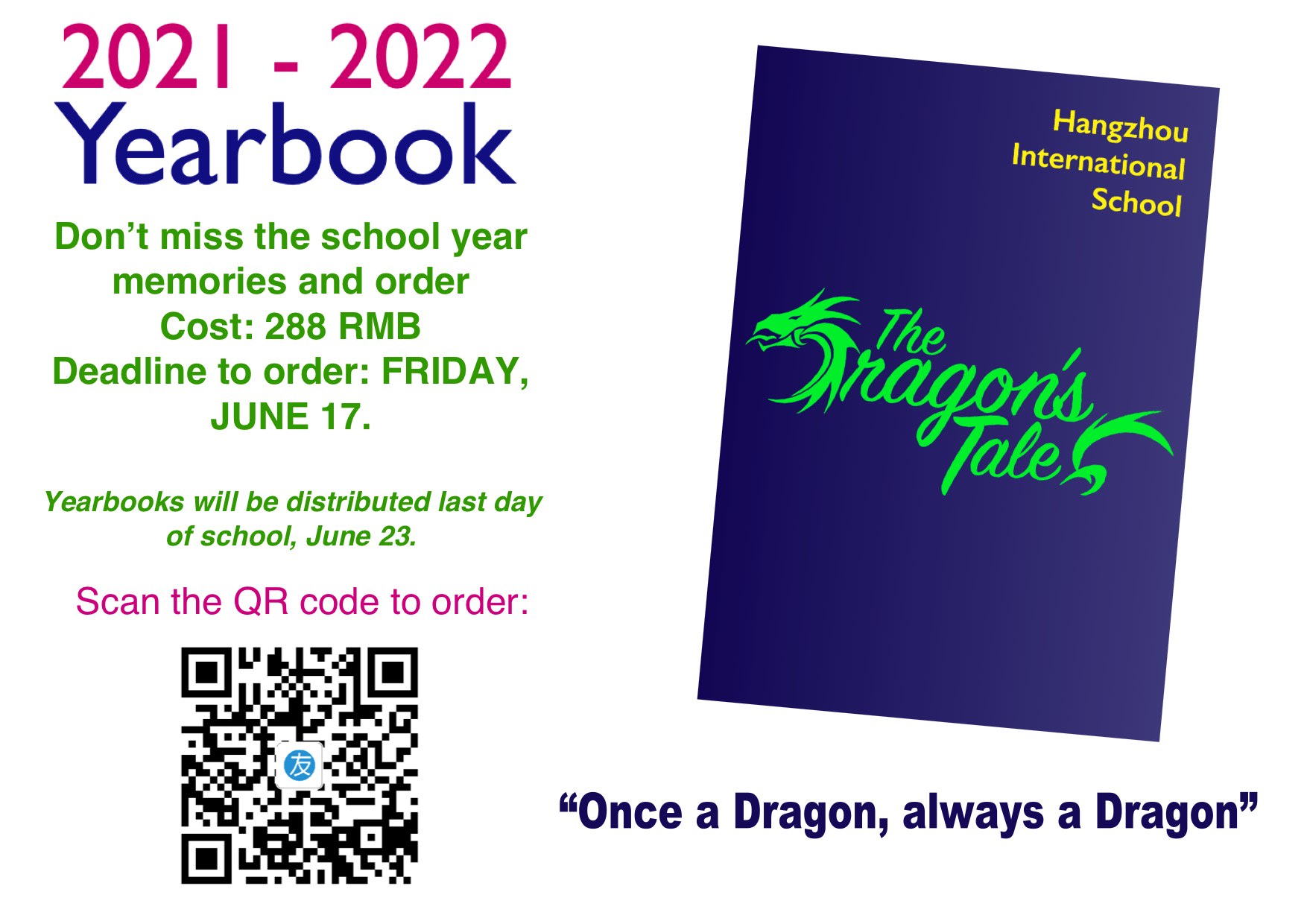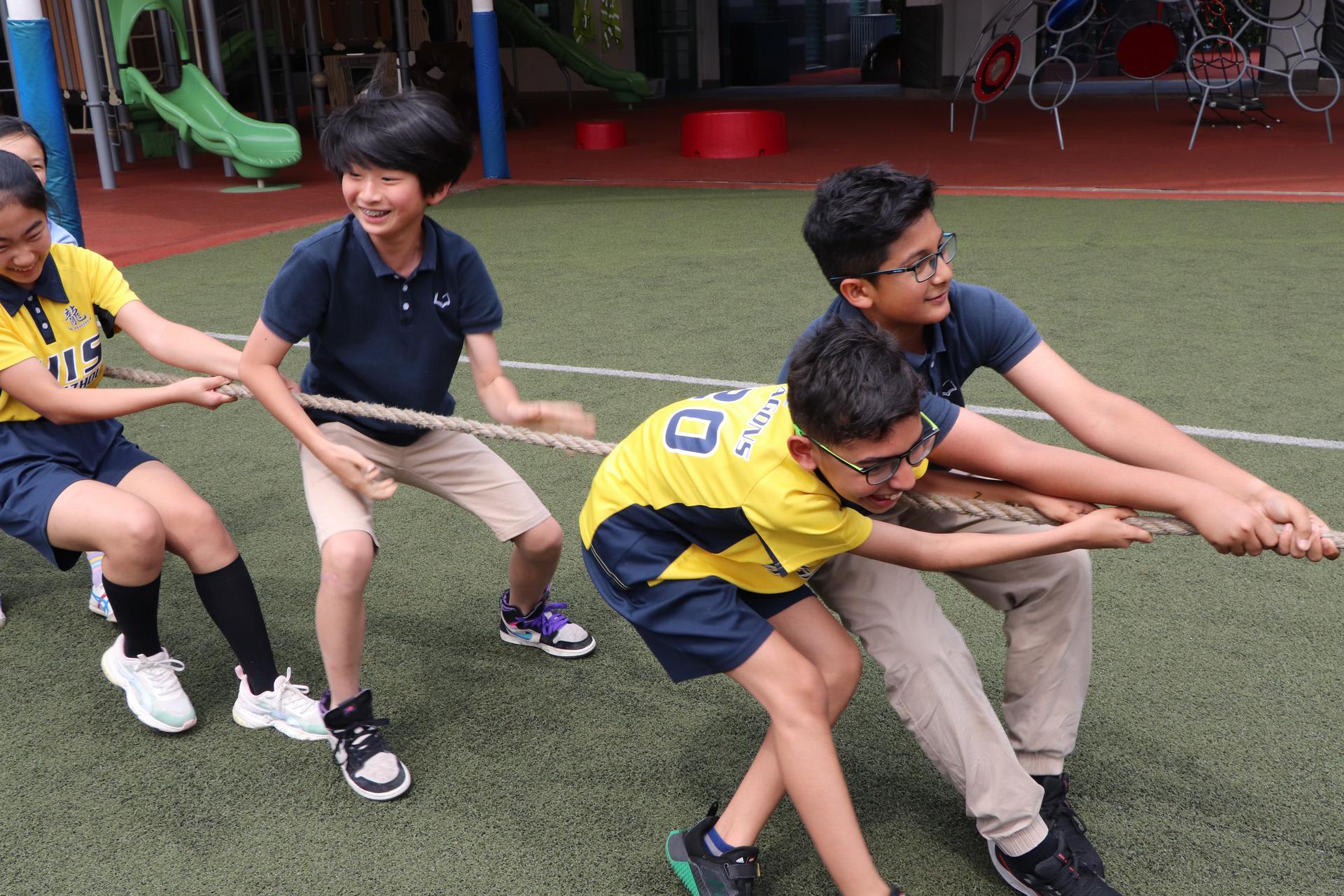 DRAGON HOUSE GAMES
BY NICHOLA HOLLINGSWORTH
A fine Tuesday afternoon saw Heilong, Bailong, Zhoulong and Quinlong meeting for some more fun and testing challenges to prove who was the greatest. Inside the gym saw Heilong demonstrating skillful dodges and artful throwing during the Dodgeball matches. Outside Zhoulong proved themselves with fancy footwork and brilliant passes during the Soccer activities. While brains were whirling, and fingers were counted as Qinlong added up the difference during the Math challenge. All teams worked hard and developed themselves as open-minded risk-takers during this week's Dragon House activities.
We one more chance left for the Houses, Grades 9/10 June 14th, to battle it out and add to the points, who will win a surprise at the end of the year in this epic race!
Current House points are: Bailong 177, Quinlong 204, Heilong 210, Zhoulong 212.
SUBSTITUTE TEACHERS WANTED
HIS is looking for people interested in being substitute/supply/relief teachers who could step in for a day or two when teachers are ill.
As this latest round of Micro-Quarantining has taught us, teachers (and administrators) can get sidelined just like anybody else. In these situations, we rely on the passion and energy of our team of substitute teachers.
If you are interested, please email our Human Resources Officer, Katherine Zhou - katherinezhou@his-china.org
GR 10 students will soon be choosing their classes for the next 2 years of high school. Many of their classes will revolve around the IBDP. We have a wonderful choice of amazing curriculums including ENVIRONMENTAL SYSTEMS & SOCIETIES, MATH APPLICATIONS & INTERPRETATIONS, and DP THEATRE.
Click below to read brief outlines for ALL DP COURSES.
Wellbeing Advice:

If you have just found out you are moving or you are planning on moving you know that you need to support your child in this transition. These practical tips will help you guide your child through your upcoming move (created by international education and transition consultant, Valerie Besanceney M.Ed).

Give them time – Children need time to adjust. It is very important that the children learn about their move from you first. Ideally, let them know at least two or three months in advance so they can say meaningful goodbyes and prepare for their new chapter. Choose the moment to tell them carefully so that you know you can be there for them.

Ownership – Allow children to take ownership of some decisions. Depending on their age, they may not be able to influence 'big' decisions. However, they can have say in the smaller decisions, such as how to decorate their room and which activities they want to pursue. (BONUS tip: there are 466 IKEA stores in 63 different countries, this means you can buy very similar furniture for children's rooms where you are in the world).

Develop portable traditions – Some cultural traditions may be celebrated where you go, but some smaller family traditions and routines can also be taken with you. When everything around a child is changing, it may come as a welcome relief to establish familiarity. If you read a book to your child every night, then make sure to keep it up. If you have tacos every Tuesdays or sushi on Sundays, then see if you can keep this up in the next place.

For help and guidance on how to support your child through transitions, visit www.rootswithboots.com to find some great information.

Many thanks

Ryan
From Suhani Sikri

US Librarian

Please return library books this week.
We encourage the students to contact one of the university counselors listed below with any questions about university entrance requirements.
Dr. Ryan Bull-Beddows

UK & EU University Counselor

ryanbull-beddows@his-china.org

Mr. Fursey Gotuaco

USA, Canada, & Australia University Counselor

furseygotuaco@his-china.org

Ms. Yoyo Zhang

Asia College Counselor (China, Hong Kong, Korea, Japan & Singapore)

yzhang@his-china.org
US
Biola University
Westmont College
University of Minnesota, Twin Cities
Pepperdine University
Wheaton College (Illinois)
Pennsylvania State University
Pitzger College
Hawaii Pacific University
UC San Diego
UC Davis
UC Santa Barbara
Boston University


Canada
University of Western Ontario
University of Toronto
King's University College
University of British Columbia

Asia
Ritsumeikan University(Japan)
Hong Kong University
HongKong University of Science and Technology
Fudan University
Renmin University of China
Xian Jiaotong Liverpool University
International Christian University(Japan)
HongKong Polytechnic University
Hong Kong Bapist University

UK
Buckinghamshire New University
University of Bedfordshire
Manchester Metropolitan University
Imperial College London
University of Kent
University of Sussex
Aberystwyth University
University of Southampton
University of Nottingham
University of Bath
University of Durham
University of Manchester
University of Sheffield
University of Birmingham
Newcastle University
University of Edinburg
King's College London
London School of Economics and Political Science
Queen Mary University of London
University of South Wales
St Mary's University, Twickenham
University of East London
University of Northampton
Leeds Beckett University
Europe:
Nuova Accademia di Belle Art (Italy)
Tilburg University (Netherlands)
IE University (Spain)
University of Amsterdam
University of Groningen, Netherlands
Instituto Marangoni (Italy)
Australia
University of New South Wales
the University of Melbourne
the University of Sydney
Monash University
We are pleased and proud of our range of after-school activities at HIS. Students can enjoy a wealth of opportunities in sport, academics, technology and arts between the hours of 3:00 and 4:30, every day of the week.
Recently, we have noticed a sharp increase in the number of Middle School students who remain at school long after the completion of CCAs, library hours and homework club, or who go to parts of the school where no activities are being held so that they can play video games. These students are not supervised during these times. They therefore should go to one of the organised activities, and then go home immediately after the activities are finished, generally at 4:30 pm. (All Middle School Sports are finished by 5:00, with the exception of girls' badminton on Tuesdays, which finishes at 5:30).
The only students who are permitted on campus after this time are those involved in Varsity Team Sports.
Campus is closed to all students after 6:00 pm; no students should be on campus without the direct supervision of members of faculty, and no student should be left waiting for transportation home after this time.
This is a reminder that all students who stay behind after school should be in Homework Club, a team practice/game, a CCA or the library until 4:30. Parents are politely requested to ensure their children are collected as soon as activities are completed.
Ordering Uniforms or School Merchandise
Parents can go to following link and look at the uniform web page (https://www.his-china.org/support/dragon-shop).
Parents can place an order with Nancy in the Dragon Shop (dragonshop@his-china.org) by email or by calling the school directly (Tel# 8669-0045 X109) during office hours (Monday-Friday 7:45am - 11:30am and 12:30pm - 4:30pm).
Also parents may make an appointment to go to the Dragon Shop between 3:45pm – 4:30pm when the regular school day is over.
Older students may come to the Dragon Shop to select sizes and purchase uniforms if they have time before or after school during open hours.
Payment may be made through AliPay or by giving students cash.
You can choose from the following options to receive uniform orders:
1. Give items directly to students
2. Wait for pickup at the school gate
3. Deliver home 12RMB pay on delivery fee.
Middle School Uniform Guidelines 6-8
Middle Schoolers should wear tan shorts, trousers, or skirts and a navy blue polo shirt (short or long sleeved) with the HIS book logo. A navy fleece or cardigan sweater with the HIS logo or other approved outerwear such as the HIS hoodie sweatshirt can be worn in the cooler weather. All students must wear laced shoes.
High School Uniform Guidelines 9-12
High Schoolers should wear tan shorts or trousers, or plaid skirts (girls only) and a light blue Oxford cloth button down short or long sleeved short with the HIS book logo. A navy fleece or cardigan sweater with the HIS logo or other approved outerwear such as the HIS hoodie sweatshirt can be worn in the cooler weather. All students must wear laced shoes.
Students will be asked to remove outerwear (coats, hoodies, sweatshirts, etc) in lessons unless they carry the HIS logos. Students who are cold will be invited to go to the Dragon Shop to purchase acceptable HIS items.
Dragon Shop Winter Merchandise - Stay warm and comfy!

The hoodies and fleece below are available to buy at the Dragon Shop.
Upper School Session 3 CCAs
Monday
Golf for Beginners (Mandarin) - HIS Golf Area
Engineering Club - Maker Space
Cross Stitch - C204
Soccer Stars of the Future - Small Field
Filmmaking - LS Art Room
Masterpieces with Clay - F206
Cartoon Creations - F106
Math Fun With Games & Puzzles - F206
Exploring the Neighborhood - On/Off Campus
ZZ Media Event Production - B014
Traditional Chinese Painting - F206
Sew and Tell - F101
Tuesday
Golf for Beginners - Golf Area
Let's Dance - Rhythm & Movement Room
Model United Nations (MUN) -A001
Table Tennis - Off-Site (Meet at gym)
Upper School Production – School House Rock Jnr- B014
Robotics Club - B015
Fun & Games - F203
Lower School Tag Rugby - Small Field
Mathematics Club - A301
Lego Challenges - STEAM Room
We are LIT! - Librarians In Training - Library
Comic Book Art - F104
Choir - B016
Wednesday
Golf for Beginners (Mandarin)- HIS Golf Area
Taekwondo - Ballroom
Economics Club - A113
HIS Yearbook Club - Library
Table Tennis - Off-Site (Meet at gym)
Yougo Sports (Flag/Tackle Football) - Gym/Large Field
Thursday
Boardgames Bonanza - C102
Taekwondo - Ballroom
Golf for Beginners (English) - HIS Golf Area
Drone Building & Aerial Photography - Maker Space
Longyin Club - B302
Global Issues Network (GIN) - A213
Table Tennis - Off-Site (Meet at gym)
Upper School Production – School House Rock -B014
Beading - C203
Design & Coding - Library
The Missing Piece Puzzlers - C105
Wonderful World of Animals - F105
Choir - B016
Friday
Advanced Golf - HIS Golf Area
Friday Sports and Activities Club - Fields
Art Club - US Art Room
Arts & Crafts - F205
Chess Club - C204
Upper School Production – School House Rock- B014
Spelling Bee - B015
Stop Motion Animation - B206
Mini Chefs - C003
Junior Aviation Club (beginners) - A002
Let's Illustrate - B107
Cinese Geography - C304
Table Tennis - Off-Site (Meet at gym)
With Covid 19 cases appearing locally, parents are reminded to keep an eye on Managebac and WeChat for any updates. If students' health codes are green and the child is healthy, campus remains open.
Parents are respectfully requested to keep ill students at home until they are recovered and ready to participate fully in lessons.
COVID VACCINE UPDATE:
While it is not required for HIS students to be vaccinated, if parents wish to get the vaccine for their children, the information below contains the most up-to-date clinic address and times:
Students (aged 3-17) can be accompanied by a parents/guardian to No. 368 Liu He Road, Binjiang to get the vaccine.
Address: 杭州市滨江区六合路368号海创基地南楼 滨江主舱临时接种点
Phone #: 0571-56234087
Students (aged 3-17) have to be accompanied by one of the parents/guardians, but must also take:
Passport
Police registration
Guardian's Passport
Schedule: Monday to Sunday, 8:30am to 6:30pm
**Please note that these details can change with very little notice. You should call the clinic ahead of time to confirm that the information above is correct. **
Remember that the HEB requires that any student who leaves Hangzhou city to update their Travel History Code, and if leaving Zhejiang Province, they should notify the school and complete a COVID test within 48 hours of return and receive a negative result before entering the school campus.

Please complete the following survey with any travel plans. Thank you.

各位家长,如果学生假期有任何出行计划,请填写以下链接并仔细阅读链接内的说明。谢谢!

Any student who has been out of Hangzhou needs to send a screen shot of their green TRAVEL code and full name in an EMAIL to Miss Vivian before Friday. (vivianqwang@his-china.org).


Please do not post it in the WeChat group.

Any student who has been out of Zhejiang Province needs to send photo of their negative Covid test to Miss Vivian before returning to campus.

Thank you!

假期离开过杭州的学生请在周五之前将你们的全名和行程码的屏幕截图发送到Ms. Vivian的电子邮件中。(vivianqwang@his-china.org)。 请不要在微信组中发布。 离开过浙江省的学生返校前,请将核酸检测阴性的照片发给Ms. Vivian。 谢谢!
HIS New Campus Update

Check out the progress being made on the new buildings at the HIS new campus! The Tech Pagoda has updated the website each week with a new drone video highlighting the progress in building.

Keep up with all that is happening.

See the updated 3d video that showcases the construction from the inside!
See the updated lunch menu weekly and monthly as posted on the school website.
HIS Mission Statement
We provide international learners with opportunities to pursue academic and personal excellence within a caring community.