Upper School Newsletter September 19, 2022
Upper School Newsletter
September 19, 2022
UPCOMING EVENTS

September 29 College Night

(in person/zoom)

October 3-5 National Holiday (no school)

October 10 CCA1 Begins

October 12 PSAT (gr10/11)

October 17-21 NWEA Testing

October 21 Mid-Term Progress Reports

October 21-23 DP Retreat

October 24 Faculty Inservice (no school)

October 25 Student/Parent Conference

(meet w/advisors)
Mr. Fursey Gotuaco

Upper School Principal

"Climb the mountain not to plant your flag, but to embrace the challenge, enjoy the air and behold the view. Climb it so you can see the world, not so the world can see you."

David McCullough Jr.

"Our task, regarding creativity, is to help children climb their own mountains, as high as possible. No one can do more."

Loris Malaguzzi
What are the mountains that you would like to climb?
A few weeks back, I had the pleasure to visit Tibet. It was a wonderful trip with an incredible opportunity to learn about a whole new culture in a whole new area of the world.
My personal goal was to see the tallest mountain in the world.. Mount Everest! It was going to require ascending to an altitude of 8848 meters – which is the highest I've ever been without an airplane. To see this majestic peak had been on my wish list for a very long time and I was incredibly excited to it in all its glory. Word from previous groups was that the mountain was hidden by clouds, fog, and rain. But our group marched forward, determined to bring sunshine to the mountain.
After 2 days of traveling, we arrived at Everest Base Camp. It was wet, dark and foggy. Our group was concerned that all the hope for sun was not going to be enough for the experience of a lifetime. But we kept our excitement and our hope. We awoke at 5:00am the next morning to climb the final meters to what we hoped would be a magnificent view. We made our way up, tripping on rocks. The altitude sickness had struck me pretty hard, every step challenging me, and after getting dizzy and almost falling, I paused to catch my breath...
As I sat on the boulder, summoning the will to continue in the dark, I pulled out my tank of oxygen and took some heavy puffs.. It was then that the sun struck through the clouds and blazed on to the majestic peak! I looked up... And there it stood, Everest! It was beautiful! It was majestic! It was humbling! Ironically, it was there, while I was out of breath, that I saw a view that would take my breath away...
I tell you this story not because we are now in a building that demands that we climb a multitudinous number of steps every day.. But rather, to draw your attention to goals and dreams. One of the important things we can do for our students is to help them look up from their phones to and scan the horizon for their next goals. These may be 1 month away, a year away, or maybe even 10 years away. But now matter where it is or far away it is, the clearer they can see it in their minds eye, the better chance they have of overcoming their obstacles and building up their resiliency.
Many of the paths that lead to their goals will be rocky and push them to a point of discomfort, just like I was short of breath. But it is in that moment of almost falling, that they realize they simply have to stand up and rise to the challenge. As a school, we pride ourselves on meeting students wherever they are academically and personally and supporting them to get to the next level in the pursuit of their chosen goals. I would not have made it up the mountain if my travel group had not been there to support me. Our kids have that same support – teachers, administrators, friends, and of course, family. Together, we remind them of how resilient they can be as they face these challenges.
Let us inspire our students to find their mountains and then support them as they climb. A challenge? Yes. But what a wonderful journey!!! Go climb your mountains, DRAGONS!
P.S. - if college is one of your mountains, then you will surely want to join us for our COLLEGE NIGHT ON SEPTEMBER 29TH AT 6:00PM. Due to COVID restrictions, we will only be allowed to have 50 guests on campus for the event. All others may join on ZOOM. We will have a sign-up soon.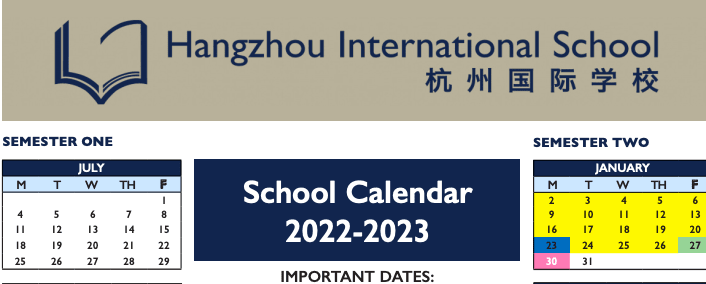 IMPORTANT - Welcome BBQ!
-POSTPONED-
We regret to inform that due the latest Zhejiang Province COVID regulations and protocols, we must postpone the HIS Welcome BBQ. We are looking forward to other opportunities to celebrate, but always in a safe environment and following the government instructions. #HIS Stronger Together!
If you have any questions, please contact Ms. Andrea: andreastubbs@hisdragons.org.cn
PAFA Welcome Lunch
Parents are invited to join the first PAFA Luncheon at Le Meridien, Wednesday, September 28, at 11:30 am. Get to know other HIS parents, new and returning, while enjoying a delicious meal and fun activities!
Please, scan the QR code on the poster to register.
PAFA Class Volunteers 2022-23
Thank you to those who already offered to be PAFA Class Volunteers this school year.
We still looking for one class rep for Ms. Maria, Mr. Ruan, Ms. Tina, Ms. Avi, Ms. Cat, Mr. Soos, Mr. Bosley, Ms. Anita, Ms. Emma, Mr. David, Ms. Melissa, Mr. Steven, Mr. Martin, Ms. Rocha, Ms. Hooper and Mr. Cliff. Please, read the job description on the poster above and if you are interested, directly contact Ms. Andrea: andreastubbs@hisdragons.org.cn
COLLEGE NIGHT IS SEPTEMBER 29TH 6:00PM
WE WILL ALLOW 50 PEOPLE TO BE IN PERSON/ON CAMPUS
ALL OTHERS MAY JOIN US ON ZOOM
We encourage students to contact one of the university counselors listed below with any questions about university entrance requirements.
This year, we welcome Iris Zhang to our school to head up our College Counseling Department. She has previous experience as an Admissions Officer at the University of Melbourne and The University of Technology Sydney. She brings a wealth of experience.
Ms. Zhang has already begun the process of meeting with each senior to find out how to best support them in their quest for the perfect college. The choice of university is a complicated one that takes into account a student's interests, academic standing, future plans for where they want to live, and courses of study. Mix in a healthy helping of family and friends and you get a uniquely special concoction that we hope will give our graduates exactly what they need.
Helping Ms. Zhang is a staff including Dr. Ryan Bull-Beddows, Dr. Aaron Ayers, and Dr. Monica Prieto. WOW!!! IS THERE A DOCTOR IN THE HOUSE?!!! Together, we offer the students of HIS an incomparable team of experts to help any student pursue their college dreams.
We will be available on Back to School Night on September 13th as well as College Night on September 29th. SEE YOU THEN!!!
HIS GOLD DRAGONS
MIDDLE SCHOOL AND HIGH SCHOOL ATHLETICS SEASONS
Upper School Athletics
Registrations for Athletics teams are open throughout the year. Students who wish to join a team can register online before the beginning of that team's season and they will be automatically registered to join. Over 70% of our Upper School students have already registered for at least 1 sports team which is fantastic! Go Dragons!!!
Information and Registrations: https://www.his-china.org/extend/athletics
All students who register are accepted into our team practices. We adopt a fully-inclusive philosophy to our athletics program and ensure that access to participate, learn, and socialize with other students is given top priority, with no students missing out on the fun. Enquiries about athletics can be directed by email to athletics@hisdragons.org.cn
This week's Athletics Practice Schedule
Monday
Varsity Table Tennis
Varsity Volleyball
Varsity and Middle School Cross Country
3:30 -5:00
Tuesday
Middle School Ultimate Frisbee
Middle School Table Tennis
3:30 – 4:30
Wednesday
Varsity Athlete Strength & Conditioning
Varsity Table Tennis
Varsity Volleyball
3:30-5:30
Thursday
Middle School Ultimate Frisbee
Middle School Table Tennis
Varsity Cross Country*
3:30 – 4:30
*3:30-5:00
Friday
Varsity Table Tennis
Varsity Volleyball
Middle School Cross Country*
3:30 -5:00
*3:30 – 4:30
CCA (Co-Curricular Activities)
We have over 65 CCA options for students to choose for the upcoming CCA1 Program beginning on Monday 10th October. All students from K-12 have many choices available to them Monday to Friday.
If you have not registered yet, it is not too late! The CCA 1 registration period has been extended to Tuesday 20th September at 8pm. Follow the link below to register your son / daughter.

https://www.his-china.org/extend/co-curricular-activities-clone
HIS Gold Dragons Swim Team
All swimmers who attending try-outs over the last 2 weeks have been placed in a squad which suits their current swimming ability and will allow them to develop their stroke proficiency most effectively and safely. Official practice starts this week with 180+ swimmers in our aquatics programs this year.
Below is the Practice Schedule for the 5 Swim Team Squads with the newly formed Tadpole Squad – Learn To Swim Program to begin after the October holiday also. Their schedule will be published in coming weeks.
We are looking forward to hosting Round 1 of the Shanghai Swim League Competition on Saturday 8th October as a virtual meet and follow this up on Saturday 15th October as we will also host Round 1 of the HISAC competitions for the year, which will include swimmers from various Hangzhou schools.
Further enquiries about anything related to our aquatics programs can be directed to our Aquatics Coordinator, Coach Natalio : swimming@hisdragons.org.cn
This year HIS will offer a late bus service to students who are currently registered and have paid for the HIS transportation service. This late bus will depart HIS, at 4:30 pm and would be suitable for CCA participants. Please note that this bus service will commence on October 10, coinciding with the start of CCA1.
Please visit the Co-Curricular page on the HIS website for more information https://www.his-china.org/extend/co-curricular-activities-clone.
You can also send an email to activities@hisdragons.org.cn if you have any inquiries.
International Baccalaureate Diploma Programme
DP RETREAT
The DP1 and DP2 students (grade 11 & 12) will be having a retreat on October 21-23. This is an amazing opportunity for them to deep dive into some of the more sophisticated and complex material of the DP. More information to come soon. In the meantime, feel free to engage your child in philosophical debates about their TOK class.
HEALTHY HABITS

Sleep has been a recurring topic of conversation with some of my students in recent weeks. Similarly at home, a regular practice within my own family, and no doubt many others, is to enquire about quality of sleep in the first few, often sleepy, communications of the day. Whilst this can be a nice way to enquire about welfare and express concern and interest, my guess is that the importance of sleep is often misunderstood or underestimated.




Demonstrating the importance of sleep, the 2017 Nobel Prize for medicine was awarded to three scientists (Jeffrey C Hall, Michael Rosbash and Michael W Young) who revealed how, despite our apparent technology-driven divergence from nature, our minds, bodies and sleep patterns (or circadian rhythms) are still intimately intertwined with nature's rhythms and the Earth's revolutions. Their research concluded that interrupting this vital practice with late-night technology use and insufficient or irregular sleep can have significant and detrimental short and long-term consequences. Short term effects include difficulties forming and retrieving memories, irritability, poor concentration and problem solving and risks to emotional well-being. Poor sleep practices over the longer term are correlated with a range of physiological and cognitive problems and disorders including weight gain, diabetes, high cholesterol, depression, bipolar disorder, cognitive function, memory formation and some neurological diseases.

DAN SPINKS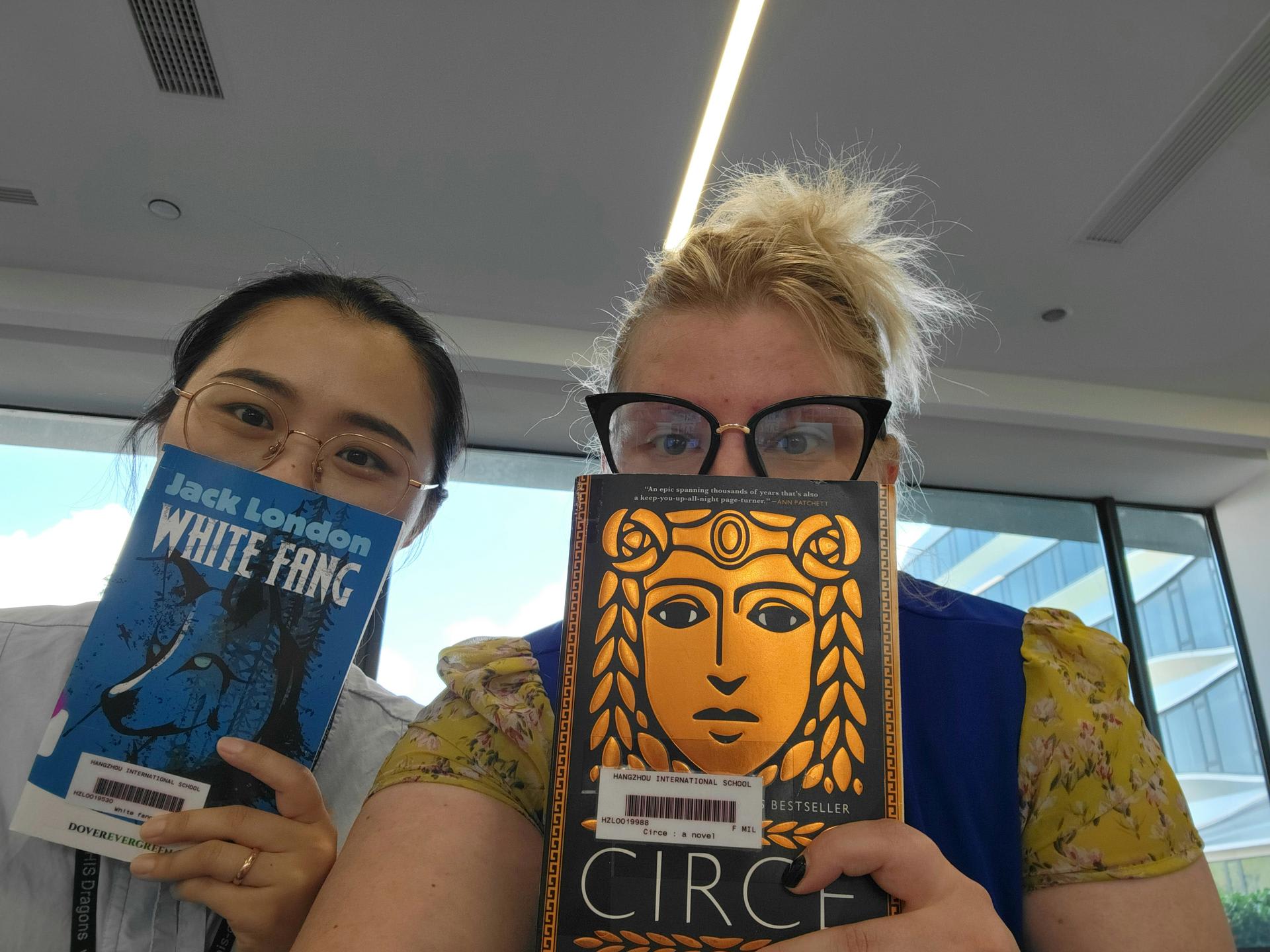 Dear HIS Community,
My name is Ms. Sara, and I am one of the Upper School librarians. My co-librarian, Ms. Cocoa, and I are brand new to HIS and very pleased to be here. Ms. Cocoa has a background working as a Research Librarian in universities and specializes in teaching information literacy. I have a background as an English and Humanities teacher and relish getting students to read good books!
Here's a little more information about me. Ms. Cocoa will answer her questionnaire in next week's newsletter.
Ms. Sara's Favorite:
Books: So many! I'll limit myself to ten: Villette by Charlotte Bronte, We Have Always Lived in the Castle by Shirley Jackson, Catcher in the Rye by J.D. Salinger, A Fine and Private Place by Peter S. Beagle, East of Eden by John Steinbeck, Geek Love by Katherine Dunn, I Know Why the Caged Bird Sings (and other autobiographies) by Maya Angelou, Alias Grace by Margaret Atwood, Summer Sisters by Judy Blume, and, I'm going to cheat a little with the last one, The Darker Shade of Magic series by V.E. Schwab.
Literary Genres: fantasy, mystery, and horror. Give me all the ghosts, mythical worlds, and red herrings please.
Part of the Upper School Library: I sincerely appreciate how many students have already stopped by the library repeatedly to check out books. School's only been in session for a couple of weeks, and I have already had many good conversations with students about what they enjoy reading and learning. Also, our library is quite unique in that it shares space with the school café. Having access to iced vanilla lattes throughout the day has proven to be quite a treat.
Part about HIS: How welcoming the entire HIS community has been. I'd like to give a special shoutout to Mrs. M and Ms. Amy in the LS library because they have helped Ms. Cocoa and I so much. I am grateful to them for not only sharing their library know-how, but also for how collaborative and genuinely kind they have been.
See you in the library!
Ordering Uniforms or School Merchandise
Parents can go to following link and look at the uniform web page (https://www.his-china.org/support/dragon-shop).
Parents can place an order with Nancy in the Dragon Shop (dragonshop@his-china.org) by email or by calling the school directly (Tel# 8669-0045 X109) during office hours (Monday-Friday 7:45am - 11:30am and 12:30pm - 4:30pm).
Also parents may make an appointment to go to the Dragon Shop between 3:45pm – 4:30pm when the regular school day is over.
Older students may come to the Dragon Shop to select sizes and purchase uniforms if they have time before or after school during open hours.
Payment may be made through AliPay or by giving students cash.
You can choose from the following options to receive uniform orders:
1. Give items directly to students
2. Wait for pickup at the school gate
3. Deliver home 12RMB pay on delivery fee.
Middle School Uniform Guidelines 6-8
Middle Schoolers should wear tan shorts, trousers, or skirts and a navy blue polo shirt (short or long sleeved) with the HIS book logo. A navy fleece or cardigan sweater with the HIS logo or other approved outerwear such as the HIS hoodie sweatshirt can be worn in the cooler weather. All students must wear laced shoes.
High School Uniform Guidelines 9-12
High Schoolers should wear tan shorts or trousers, or plaid skirts (girls only) and a light blue Oxford cloth button down short or long sleeved short with the HIS book logo. A navy fleece or cardigan sweater with the HIS logo or other approved outerwear such as the HIS hoodie sweatshirt can be worn in the cooler weather. All students must wear laced shoes.
Students will be asked to remove outerwear (coats, hoodies, sweatshirts, etc) in lessons unless they carry the HIS logos. Students who are cold will be invited to go to the Dragon Shop to purchase acceptable HIS items.
Dragon Shop Winter Merchandise - Stay warm and comfy!

The hoodies and fleece below are available to buy at the Dragon Shop.
With Covid 19 cases appearing locally, parents are reminded to keep an eye on Managebac and WeChat for any updates. If students' health codes are green and the child is healthy, campus remains open.
Parents are respectfully requested to keep ill students at home until they are recovered and ready to participate fully in lessons.
COVID VACCINE UPDATE:
While it is not required for HIS students to be vaccinated, if parents wish to get the vaccine for their children, the information below contains the most up-to-date clinic address and times:
Students (aged 3-17) can be accompanied by a parents/guardian to No. 368 Liu He Road, Binjiang to get the vaccine.
Address: 杭州市滨江区六合路368号海创基地南楼 滨江主舱临时接种点
Phone #: 0571-56234087
Students (aged 3-17) have to be accompanied by one of the parents/guardians, but must also take:
Passport
Police registration
Guardian's Passport
Schedule: Monday to Sunday, 8:30am to 6:30pm
**Please note that these details can change with very little notice. You should call the clinic ahead of time to confirm that the information above is correct. **
See the updated lunch menu weekly and monthly as posted on the school website.
HIS Mission Statement
We provide international learners with opportunities to pursue academic and personal excellence within a caring community.