HIS DATES

Upcoming Events

*16 November Parent Coffee Morning

How to Conquer Your Fear of Public Speaking10.00 am- 11.00 am U.S library Repeat session by parent request *17 November PAFA Bake and Share Gr1-5

*22 November Curriculum evening PE, Health and Wellness Dimensions of Wellness 6.00 pm-7.30 pm

*24 November Professional Development Day for staff No classes for students

*12 December LS Concert 10 am-11 am Gr 1 & 2 1.30 pm-2.30 pm Gr 3-5

*15 December Last day of Semester 1 Reports home

*9-16 February Chinese New Year

*9 January-21 June Semester 2 2024
SAVE THE DATE Wednesday 24 November 2023 6.00 pm-7.30 pm
The EY children visited Hangzhou Safari Park last week as part of their 'What's Around Us? Exploring Movement in Our World's unit of inquiry. The students observed the movements of different animals and discussed the parts of the body that they used to move.
STAFF VISIT WAITONGWU ART VILLAGE AND LEARN TRADITIONAL CHINESE CRAFTS
Our Mandarin staff organized a fantastic trip on Saturday to visit the Waitongwu Art Village on the outskirts of Hangzhou and participate in traditional crafts. The activities included tie-dying with beautiful indigo ink, incense making, tea picking and drinking, making essential oil, exploring the village, and eating lunch together. While the weather was a little cool and wet, it didn't dampen the staff's enthusiasm and enjoyment. Lily Zhou and the Mandarin team worked tirelessly to ensure the day was successful!
Next Parent Coffee Morning Thursday, 16 November 2023 10 am-11 am US Library
Table Tennis Success Congratulations to players and coaches!
On Nov.11th, Coach Lily Zhou took the HIS Varsity Table Tennis team to Shanghai to take part in SISAC. The whole team did A great job in this tournament! Alice from 5A got the gold medal in the Girls' Singles competition. Tyrone from 5B won a bronze medal in the Boys' Team competition, and will head to Beijing for the ACAMIC table tennis tournament this week!
GO HIS Dragons!
PAFA BAKE AND SHARE 17 November Gr1-5
Meet the Vice Principals Ms Jessica Johnson- PYP coordinator and Curriculum Ms Rene Smal-ECE Co-ordinator
Our grade 1 learners recently finished their "How We Organize Ourselves" unit of inquiry in which they explored forces and motion. Students investigated natural phenomena, explored how they organize and share their observations (of forces) and how they are applied in the world and how to use their knowledge (of forces) to create, innovate and solve problems. In doing so, students used their social skills and self-management skills to work together and complete several different investigations and collaborative learning engagements. Congratulations to our Grade 1 learners for being inquirers and problem solvers! .

Thanks,

Jessica

Jessica Johnson

Lower School Vice Principal and PYP Coordinator
ECE had an exciting week. We celebrated families and communities by inviting parents to come to school and share. In EY we shared about toys, in PrK we are learning about occupations and enjoyed listening to parents sharing more about where they are from and what their professions are.

In Kindergarten, we had our first Assembly. Everyone did an amazing job, and we were happy to see our children singing, moving, and receiving certificates for their achievements so far. Parents were invited to join their child's class and create a family picture with loose parts.

We would like to thank all our parents who actively participated in our activities and supported our team to further facilitate opportunities to engage inside and outside school!

Kind Regards,

Rene

Rene Smal

Lower School Vice Principal and ECE Coordinator
SISAC TABLE TENNIS SUCCESS FOR OUR GOLD DRAGONS!!!!
Last Saturday we sent our Varsity Table Tennis team to Shanghai American School – Puxi to compete in this year's Table Tennis Tournament. Our team was the youngest in years but more than held their own against some much older and more experienced opponents. This team included 3 Grade 5 students who performed fantastically- Alice Lou, Yolanda Liu, and Tyrone Zhao.
A team of 13 students played team and singles format throughout the 1-day event and came home with some much-needed practice, and some trophies to recognize their great play. Congratulations to our Boys Team of Tyrone Zhao (G5), Jonathan Chan (G8), and Tony Wu (G7) who finished in 3rd place. HIS students also featured among the top-placings in the afternoon Singles event, with Grade 5 student Alice Lou won 1st place and will surely have many years of success ahead of her on our HIS team. Congratulations also to Vidor Han (G7) who finished in 2nd place in the Boys singles tournament.
Well done to all our team members and their coaches Ms. Lily Zhou and Ms. Gabby He. The team will now travel to Beijing later this week for their season-ending ACAMIS tournament.
Best of luck to our young Varsity Table Tennis Team.
What is ACAMIS? – ASSOCIATION OF CHINA AND MONGOLIA INTERNATIONAL SCHOOLS
This association includes over 80 International Schools from throughout China, Hong Kong SAR, Macau SAR, Province of Taiwan, and Mongolia and HIS has been a member for many years. ACAMIS provides many opportunities to member schools in the areas including Athletics, Arts, and Faculty Development. For our student athletes, the season-ending ACAMIS tournament is the highlight of their season and the trophy they most want to bring back to HIS. ACAMIS tournaments will normally involve a 3-4 day tournament and provide our students with an opportunity to travel as a team and develop great friendships together and with students from the other schools.
HIS is part of the ACAMIS Green Division this year, which means our Volleyball, Basketball, and Football (Soccer) teams will compete against 5 other schools in the division during the 23-24 school year. These schools are:
Yew Chung International School, Shanghai - Puxi   (YCIS-PX)
Discovery College, Hong Kong  (DCHK)
Shanghai Community International School, Hongqiao  (SCIS-HQ)
QSI International School of Shenzhen  (QSI-SZ)
Keystone Academy, Beijing (KEY)
GRADE 5-8 ATHLETICS REGISTRATION
Grade 5-8 students can select a maximum of 4 sports from each Semester but cannot select sports in which the seasons overlap and BOTH practice days are on the same days.
During a normal season, most teams will participate in some friendly after school matches with Hangzhou-based international schools in the Hangzhou International Schools Athletics Conference (HISAC), and a season-ending tournament which is usually in Shanghai as part of the China International Schools Sports Association (CISSA).
When selecting CCA or Swim Team practice days, students should not register for any which conflict with their sports practice days.
Students involved in Performing Arts rehearsals can participate in both activities if they can participate in at least 1 sports practice per week for their chosen sports.
All information relating to HIS Athletics can be found at the following link:
https://www.his-china.org/extend/athletics
Registrations for sports teams are now open through the link below.
https://www.his-china.org/extend/athletics/athletics-handbooks
Current Seasons
Grade 5-8 Football (Soccer) – Monday, Friday
Grade 5-8 Floor Hockey - Tuesday, Thursday
Varsity and Grade 5-8 Cross Country – Tuesday, Thursday
Upcoming Dates
Thursday 23rd November – U14 Floor Hockey Games vs Wycombe Abbey HZ @ HIS
Thursday 30th November – U14 Floor Hockey Games vs Wycombe Abbey HZ @ WAHZ
Saturday 2nd December (To be confirmed) – HISAC All Ages Cross-Country Meet @ HIS (U11 / U14 / U19)
Dear Parents,

This last week has been hectic but rewarding, with our Kindergarten students holding their first very successful assembly with their parents and all the ECE having their Intergenerational activities with families. It was delightful seeing the excitement on the children's faces when they had the visitors join their class.

Grade 3 also held their assembly on Friday and showcased the many connections they had made around the concept of the story with the Specialist teachers, including the Mandarin team.

Thank you to the parents who participated last week and those who will be helping on field trips and at Bake and Share this week.

I know you join me in thanking all the staff for their outstanding efforts in making these events available for our students!

Bake and Share

Thank you to the wonderful parents who are making this baking event possible and to the PAFA organizing committee. The students are very excited and looking forward to spending their token!

Please note that while we ask parents to indicate the ingredients in the products they bring, we can only be sure that some items are mentioned. If your child has allergies, please provide a safe, special thing for them to eat at the event. PAFA will provide nut, egg, and dairy-free products they can buy.

Coffee Morning

Please join the Coffee Morning this Thursday at 10 a.m. in the US library and hear about how you can overcome your fear of public speaking from the grand master, Mr. Fursey Gotuaco. This is a requested repeat performance, so if you missed last week, now is your chance to join the fun!

Curriculum Night 22 November

EY1-Grade 12

6.00-7.30pm

Please see the poster with information and the QR code for our first curriculum night around PE, Health, Sports, Counselling, and CCAs, including representation from our outside providers.

This will be an interactive evening with several venues and activities to visit across the school. A night for all the family to enjoy!

Please use the QR code to join.

Professional Development Day for Staff- Friday 24th November

NO SCHOOL FOR STUDENTS No CCAs

Staff will be engaged in professional learning on this day and enjoy a Thanksgiving meal at the end of the school day.

The regular school program with students continues on Monday, 27 November.

Lost Items

While it is cold today, the forecast is for temperatures to be up around 20C by the end of the week. Students will find that later in the morning, as they play outside, they will get warm and take off their sweaters, coats, and jackets. They then forget to put them back on and leave them where they have put them down.

Please label your children's clothing so we can find an owner, or if they go to try and find the item, they are sure it is theirs.

SMARTWATCHES

We seek parents' support in reminding their children to keep their smartwatches in their bags and not take them to the field or playground during morning and lunch recess. We have had several watches missing, and students and staff have spent considerable time trying to locate them.

We thank you in advance for your continuing help with this matter.

Warm regards,

Lynn
CCA's 1
CCA for K-Grade 5 students are from 3:15 – 4:15 with a few exceptions where the CCA will finish at 4:45. Please be on time to collect your child from the Main Gate at 4:15.
If you have any inquiries relating to CCA, you can email activities@hisdragons.org.cn
__________________________________________________________
Late Bus Service
The late buses will begin service when CCA1 begins. If you are eligible for the Late Bus Service, you will have received an email this afternoon and now need to register for the late bus between now and this Thursday at 8am.
Please note the following regarding access to late bus:
If you do not register in time, you will not have access to the late bus for the 1st week of CCA.
Only students who are eligible and registered for the regular morning/afternoon school bus service will be eligible for the Late Bus Service.
Late buses are only for students who are registered and participating in one of our after-school activities on the day they wish to use the late bus (CCA, Swim Team, Athletics Teams, Performing Arts Rehearsals)
Questions relating to the late bus can be directed to our Transportation Secretary MS. Tracy Zhu: tracyzhu@hisdragons.org.cn
When selecting CCA or Swim Team practice days, students should not register for any which conflict with their sports practice days.
Students involved in Performing Arts rehearsals can participate in both activities if they can participate in at least 1 sports practice per week for their chosen sports.
All information relating to HIS Athletics can be found at the following link:
https://www.his-china.org/extend/athletics
Registrations for sports teams are now open through the link below.
https://www.his-china.org/extend/athletics/athletics-handbooks
Wearing masks to enter the school is optional for students and staff. Masks will still be available for students who want to wear them.
Procedures and Protocols
Please ensure that if your child is ill that they do not attend school. If your child continues with a high temperature or remains unwell, please seek medical support. We ask that parents err on the side of caution and keep children at home until they have fully recovered.
Please note that if your child is absent due to COVID you must ensure they have a valid negative COVID test to reenter the school. Please forward your child's result to
HOW TO CONTACT TEACHERS WE ARE ONLY USING WECHAT FOR EMERGENCY SITUATIONS SUCH AS SCHOOL CLOSURES AND LOCKDOWNS
Moments 365 Help
Help with Moments 365 is available from Mr Emlyn Majoos (Mr.M) to ensure we have all parents using this platform. If you need a Chinese or speaker of another language please contact Mr M.and we will arrange support.
Contacting Teachers
We ask parents to contact teachers via Moments 365 or by email. Teachers are busy working with students, attending meetings, preparing class materials, and ensuring student safety. They infrequently look at their computers or mobile phones and may miss your message. For changes to pick-up arrangements or urgent news, please get in touch with the school secretaries, who are online all day.
ECE lilyfan@hisdragons.org.cn LS main building florali@hisdragons.org.cn
Online teaching and Student/Teacher contact
For online teaching and correspondence between teachers and students we use TEAMS.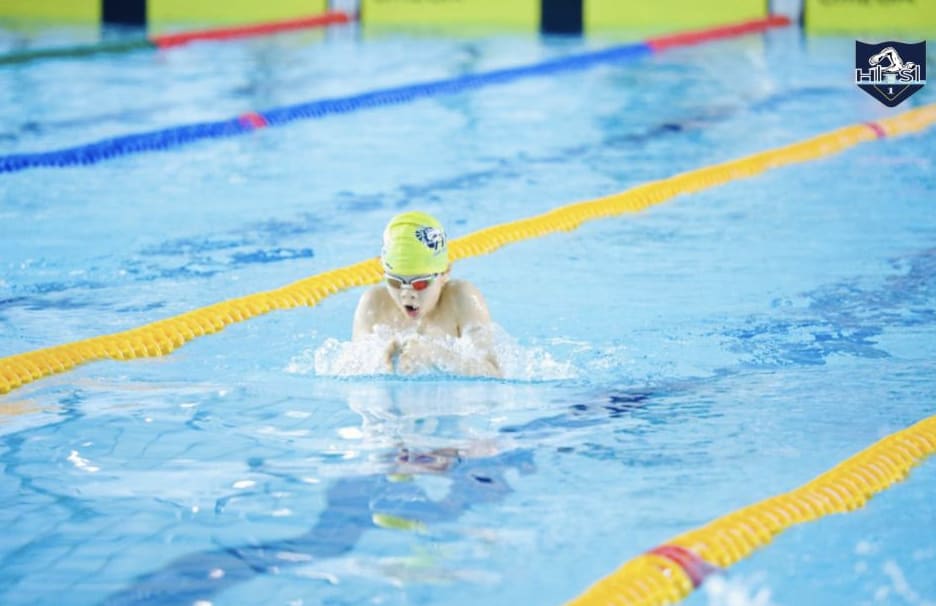 HIS SANTA SPLASH 2023
Mark your calendars and join us for a festive and exciting HIS Santa Splash Swim Meet on December 2 as we wrap up Semester 1! Whether competing or cheering from the sidelines, this internal swim meet promises a terrific way to end the semester and ring in the holidays. All swim team members (Tadpoles, Blue, Bronze, Silver, Pre-Gold, Gold) are welcome to participate, and HIS community is welcome to watch. The spectator sign-up link and QR code are below.
Link:
https://forms.office.com/r/g7eEhMMijF
SWIM TEAM PARKA
Due to popular demand, we will place another order for our Swim Team Parkas. Please complete the Order Form by Friday, November 10. The Parka can be customized with the swimmer's name (First Name or First and last Name) on the right chest and the Flag of your nationality (one or two) on the shoulder below the Chinese Flag. Please refer to the Size chart. Parka will be ready to be collected once we return to school after winter break. You can order through the link or QR code below.
Cost: 500 RMB
Order Form Link: https://forms.office.com/r/qh7iJrJaaM
2023 HANGZHOU INTERNATIONAL JUNIOR SWIMMING INVITATIONAL (HISI)
On November 18 & 19, over 60 HIS Gold Dragons swimmers will be able to compete at the Hangzhou Olympic Sports Centre Aquatic Sports Arena, the competition venue of the recent 19th Asian Games swimming, diving, and artistic swimming. The 2023 HISI LC Swimming Invitational is bigger, faster, and stronger this time, with over a thousand athletes and over 50 schools/clubs representing 15 provinces. Good luck, HIS Dragons swimmers!
LOWER SCHOOL SWIMMERS
Girls: Nicole Zhao, Rachel Chang, Xia Maisie, Jasmine Xu, Mushu Wu, Molly Ma, Christina Chen, Yuki Wang, Kelly Guo, Alison Sun, Chloe wang, Lena Kwok, Miranda Hong, Elizabeth Loosova, Carol Zhong, Ashlynn Zheng, Caroline Xue, Crystal Chen
Boys: Connor Zhu, Yibu Lucas Guo, Xiao Bo Wen, Luke Petring, Lavton Lao, Lucas Ruivi Liu, Byron Lo, Yang Eran, Daiweike Tukula, Benny Luo, Beck Mi, Flynn Yu
UPPER SCHOOL SWIMMERS
Girls: Annabell Wang, Mufei Lin, Kexin Chloe Han, Mable Lu, Yolanda Yu Hua, Coco Xie, Shirley Lin, Anna An, Lisa Wu, Yucheng Zhong, Amber Lam, Naomi Xia, Tina Liu, Zoe Wang, Lydia Yu, Allison Wang, Sylvie Hao
Boys: Vanness Chang, Jake Li, Jean Mao, Astin Hong, Nicholas Zheng, Evan Hu, Liu Yushi (Daniel), Richard Xu, Junhwan Lee, Eason Wu, Peter Bo-Han Pan, Anderson Lai, David Lou, Harry Wang, WeiRan Xu, Paweike Tukula
More details regarding the event can be found through the link below.
https://mp.weixin.qq.com/s/Fe1czISSyKLGjO4JW4N_Gg
ACAMIS SENIOR SWIM CHAMPIONSHIPS (December 8 – 9)
The ACAMIS Senior Swim Championship is early this school year, with a whopping 29 schools registered and several on the waiting list. It will be a fantastic weekend in Beijing for two age groups (13-14, 15 & over). HIS will be sending 20 HIS Dragons swimmers. Eligible swimmers should have received a notification from the swim coaches.
2021-2024 NATIONAL AGE GROUP MOTIVATIONAL TIMES
USA Swimming publishes "motivational" time standards ranging from B to AAAA times. The primary purpose is to motivate swimmers to progress. Swimmers are grouped into 10 & Under, 11-12, 13-14, 15-16, and 17-18.
We recognize our swimmers' accomplishments of achieving these times with the Chevron/Awards program. The chevrons for all strokes are paired with a carabiner so swimmers can display their achievements at every event. Congratulations to all swimmers who made their way up early this season after the recent SSL 1 and HISAC 1 swim meets.
Click HERE for HIS Dragons Personal Best Times and Motivational Time Standards.
Official Printout: 2021-2024 National Age Group Time Standards (PDF)
SAFETY AND TRAINING
Do not wait for an emergency to happen. Learn lifesaving skills today. Even the strongest and most skilled swimmers can drown. Be prepared by making water safety a priority.
SAFETY AND TRAINING
Ensure every family member learns to swim so they at least achieve water competency skills: able to enter the water, get a breath, stay afloat, change position, swim a distance, and then get out of the water safely.
Water Competency Skills:
1. Step or jump into the water over your head.
2. Return to the surface and float or tread water for one minute.
3. Turn around in a full circle and find an exit.
4. Swim 25 meters to the exit without stopping
5. Exit from the water. If in a pool, be able to exit without using the ladder.
COMMUNICATION
Please direct any aquatics and swimming-related questions to swimming@hisdragons.org.cn and include your child's full name, grade level, and squad in the message. Send them at least 24 hours before you require a response. Send at least 48 hours if you have a planned absence.
UPCOMING EVENTS:
November 18 & 19 – 2nd Hangzhou International Junior Swimming Invitational (Hangzhou Olympic Sports Center Aquatics Sports Arena)
December 2 – HIS Santa Splash 2023 (The Wave)
December 8 & 9 – ACAMIS Senior Swimming Championships (ISB - Beijing)
PICK UP OF STUDENTS DELAYS AND IMPORTANT MESSAGES TO TEACHERS
Please assist staff by advising us early (before lunchtime) wherever possible, if you need your child to do something different at their usual pick-up time and location. Teachers focus on working and engaging their class while maintaining a safe environment. They get to their computers sporadically and may miss changes. In addition, some classes are with Specialist staff for the last lesson and bring the students to the pick-up locations. They may be unaware of last-minute changes.
If you need to make a late change to plans, I'd suggest you send a message to our Lower School secretaries, florali@hisdragons.org.cn or in the ECE lilyfan@hisdragons.org.cn, and they can pass on your message.
Support our young athletes!
This weekend our Table Tennis team with students Grade 5 to Grade 12 will travel to Beijing to compete with other international schools at the ACAMIS tournament. They just came back from a very successful SISAC tournament in Shanghai last Saturday. Let's wish them good luck and no matter where we are, let's cheer for the HIS Dragons!
Bingo cards can be collected by the office, and prizes can be collected on Thursday, November 24, at the Cheer Squad. Please encourage your child to get their Bingo card and signatures!
Let's recognize our students' hard work and talent and inspire younger ones!
Christmas Tree Lightings Events -HIS Choirs, Band and String Ensembles performances-
The Grade 5 and Middle School choir students, and the HIS Community Choir, will be performing to celebrate the official lighting of their Christmas tree at the Four Seasons West Lake, InterContinental, and Midtown Shangri-La Hotels, and at the HIS Winter Fair. Here are the dates for these evening events:
Four Seasons (Performing: Middle School Choir) - Saturday, November 25, at 5:30 pm. This is a traditional Gala Charity Event. All profits will go to the Carnation School for Children with Special Learning Disabilities. Families can purchase tickets at this link: Four Season X-mas Tree Lighting
InterContinental (Performing: Middle School Choir) – Friday, December 01 at 6 pm (Free – no ticket needed)
Midtown Shangri-La (Performing: HIS Community Choir and Grade 5 choir soloists) - Saturday, December 02 at 6 pm (Free – no ticket needed)
HIS Winter Fair: HIS Community Choir and Grade 5 choir soloists, Band and String ensembles) – Sunday, December 03 from 11 am to 2 pm (Free – no ticket needed)
We hope you can join us at one or more of these festive events!
PAFA Kitchen! It's cooking time!
Join us and learn from our HIS community members how to prepare an easy but delicious lunch meal from their cultural region, to enjoy it afterward together!
Information in the poster below. Limited spaces (24) please RSVP by scanning the QR code in the poster.
*Let us know if you want to share your skills and country flavors and be one of our Community Chefs, the simpler the better.
Contact us: pafaevents@hisdragons.org.cn
Advent Calendars are for sale now!
LAST CHANCE to order an Advent Calendar with delicious chocolates at a special price!
The last day to order is this Wednesday, November 15th, don't miss the chance to buy this nice festive treat for everyone in the family! All profits will go to the Library Project (libraryproject.org) All orders will be distributed by November 28th. Scan the QR code to order one!
HIS PAFA Festive Lunch
Join us for the Winter Festival Lunch. Please, enjoy a wonderful lunch with fun activities, delicious food, and great company! Scan the QR code to register.
Save the date! HIS Winter Wonderland Fair and Bazar 2023 – Sunday, December 03, from 11 am – 3 pm
HIS 2023 圣诞集市---12月3日,周日,上午11点-下午3点
Join us for a festive event with great shopping, a special presentation from our Performing Arts Department and Community Choir, international foods, treats, activities, and Santa's visit!
这里有休闲娱乐加购物,来自世界各地的美食和节目互动,还有可爱的圣诞老人,期待您的参与!
If you would like to have a table to promote or sell your products/services, please email
info@hisdragons.org.cn or contact Ms. Andrea: andreastubbs@hisdragons.org.cn
如果您想预定一个摊位推销或者出售商品,请邮件联系:info@hisdragons.org.cn 或者Ms. Andrea: andreastubbs@hisdragons.org.cn
PAFA Be fit! Be Healthy! Every Thursday from 8:15 to 9:45am.
Thank you to the PAFA liaisons organizing this activity: Aman Chang, May Li, and Lulu Lu.
All HIS parents are invited to join to this program. Please, scan the QR code in the poster for more information and register. Limited spaces per session. Be Healthy! Every Thursday from 8:15 to 9:45 am.
Fridays HIS Artisan Food Market is back! Every Friday from 2:30 to 4:30pm (Poster attached)
Every Friday Hangzhou International School along with our community Artisans will offer to purchase tasty treats and excellent snacks from the different food vendors attending.
Come for a pleasant afternoon to end the school week, and head out for a relaxing and fun weekend with a happy stomach!
PAFA Dragon Cheer Squad – Support our young thespians!
This Saturday, every student attending Fame Jr. shows will receive a Bingo card that recognizes all the students behind this magnificent production. After the shows and during the week, students can collect signatures from many of them, and on Thursday, November 24, exchange at the Cheer Squad table for prizes. Please, encourage your child to get their Bingo card and signatures!
LAST CHANCE to buy your tickets for Fame Jr, a wonderful musical for the whole family! –Don't miss this fabulous musical performance! (Same Poster attached)
Two shows are available this Saturday, November 18 @ the HIS Theater. This show is available to all the community, feel free to invite your friends, and buy your tickets!
An Upper School musical production based on the original movie that became a classic for its catchy tunes, dances, and story! Don't miss a great show!
HIS Social Media.
Follow us and subscribe to our channels!
#GoHISDragons!
Andrea Stubbs
Director of Admissions and Community Relations
Hangzhou International School
2190 Xiangbin Road, Binjiang District, Hangzhou 310052 Phone: 86-571-8669-0045
Email: andreastubbs@hisdragons.org.cn
Dear Lower School Families,

We are thrilled to share some exciting updates and happenings from the Lower School Library as we continue to witness the love for reading and learning among our young students.

First and foremost, we extend a warm welcome to our new librarian assistant, Ms. Jeanne! Ms. Jeanne brings a passion for children's literature to our library. Her enthusiasm for supporting and welcoming our young learners is already evident, and we are delighted to have her as part of our Lower School Library community. Please join us in welcoming Ms. Jeanne as she embarks on this new journey with us.

As we welcome Ms. Jeanne, we also bid a fond farewell to Ms. Amy, our former librarian assistant. Ms. Amy's dedication to our library and our students has left a lasting impact on our community. We express our heartfelt gratitude to Ms. Amy for her invaluable contributions and wish her the very best in her future endeavors.

In other exciting news, we are thrilled to announce the arrival of a new book order for the Lower School Library! Our collection now boasts a wide array of captivating non-fiction and fiction books that are sure to captivate the imaginations of our young readers. From thrilling adventures to fascinating explorations of the world around us, there is something for every student to engage with and enjoy. We encourage our students to explore these new additions and embark on literary journeys that spark their curiosity and creativity.

Additionally, it has been heartwarming to witness students engaging in reading activities with their buddy classes. The joy of reading has been shared as older students read to their younger peers, fostering a sense of community and a love for storytelling across grade levels. These interactions not only promote literacy but also strengthen the bonds within our school community.

A message from the ECE:
This week, students have been thoroughly enjoying the classic tale of "The Three Little Pigs". They have been showcasing their creativity by building their own solid houses and enthusiastically acting out different characters from the story. It's truly delightful to see our young learners engaging in imaginative play and storytelling with their friends.

We look forward to continuing our journey of exploration and discovery through the world of literature with our students. Thank you for your ongoing support and enthusiasm for the Lower School Library.

If you would like to contact the libraries, please use the email addresses listed below:
ECE Library, Ms. Ivy – ecelibrary@hisdragons.org.cn
Lower School Library, Mrs. Majoos and Ms. Amy – lslibrary@hisdragons.org.cn
Upper School Library, Ms. Sara– uslibrary@hisdragons.org.cn
Happy reading!
Best wishes,
ECE and Lower School Librarians
Parent and Student ID Cards

All students and parents should have an HIS Identification Card. Please review the information on the website to submit your photo to the secretary for ID card generation. HIS ID card information
DRAGONS WEAR THEIR UNIFORM WITH PRIDE EACH DAY!
School Uniform
Please wear our school uniform with pride each day, and we seek your support in having your child dressed in the complete uniform each day. We will notify you if it is a special day to dress up; otherwise, students should be in uniform. Also, please have your child wear their PE kit on swim days (Grade1-5). Please label your child's clothing to help us return it to you. We often find many items without names, and the students cannot recognize their belongings.
Purchasing School Uniform
Families can purchase items at the Dragon Shop. It is open
Monday to Friday from
*8.05 am-2.45 pm and 3.15 pm-4.00 pm
For more information, please contact the dragon shop:
olivexu@hisdragons.org.cn
Lynn Pendleton

Lower School/ECE Principal

Rene Smal

ECE Coordinator

Vice Principal

Jessica Johnson

Lower School

Vice Principal

PYP Co-ordinator
HIS Mission Statement
We provide international learners with opportunities to pursue academic and personal excellence within a caring community.