Lower School Newsletter 14 November 2022
Upcoming Events

* 15 November Last day of swimming GR1-5

*19 November Seussical KIDS Musical Workshop 8am-12pm

*25 November Professional Inservice Day No students

*26 November Tree Lighting- Four Seasons

*3 December Seussical KIDS performances

*23 December Semester 1 reports home

*23 December End of semester 1
CONGRATULATIONS HIS COMMUNITY!
HIS in the News -Why Choose an International School?- Newsweek Magazine
Look at the latest recognition of the great work and learning at HIS! This time in the Newsweek section of Leading International School 2022.
https://www.newsweek.com/insights/leading-international-schools-2022
To see more, check the section on our website "HIS in the News" by scanning the QR code below. #GoHISDragons!
From the Lower School Mandarin Team
LOWER SCHOOL
SEUSSICAL KIDS
SAVE THE DATE
SAVE THE DATE and get ready to enjoy two performances of this fantastic show that all are sure to enjoy!!!
CCA
LOWER SCHOOL
RUNNING CLUB
The students who signed up for the Junior Running Club CCA are having a great time! They enjoy playing different running games including several types of relay races and variations on 'tag'. The young racers are also learning about going longer distances as they have had opportunities to run 1 mile around the school campus. The future of running is bright at HIS!
SCAN THE QR CODE FOR SSL Round 2 Swim Meet Photos
Congratulations to all 123 Golden Dragon swimmers who participated in the Shanghai Swim League Round 2 Swim Meet at The Wave. It was a great and rewarding day for all, with a lot of great swims and many achieving a new personal best. The meet would not have been possible without all the parents, faculty, staff, coaches, and student-athletes, who volunteered (endured the warm pool deck temperature!) Thank you.
The first swim meet using a full six lanes with the new timing system was a success, and we are looking forward to the 2022 Hangzhou International Youth Swimming Open Championship this Sunday, November 20, 2022.
SSL Round 2 Swim Meet Photos
https://live.photoplus.cn/live/pc/24828750/#/live
SSL Round 1 Certificates
Printed certificates are available at the Aquatics office.
SSL Round 1 Certificates - Age-Group
SSL Round 1 Certificates - Individual and Relay
2022 Hangzhou International Youth Swimming Open Championship
Date: Sunday, 20th November 2022
Location: No. 181, North Huancheng Road, Hangzhou Swimming Pool
Participants: By Invitation
Cost: Registration fee and Bus cost paid by HIS
Reminder: Parents are not permitted to attend this event as spectators, but a Livestream will be available to watch online. Invited swimmers can make their own transport arrangements or travel on the bus provided by HIS. If you are making your own transport arrangements to/from the location, please notify the coaches so we can make appropriate bus bookings.
Upcoming Events:
Nov. 20 – 6th Hangzhou International Youth Swimming Open Championships 2022
Nov. 26 – Dulwich College Suzhou Invitational Swim Meet (TBC)
Dec. 3 – HISAC Round 1 Postponed Meet
Dec. 10-11 – 2022 Swim Cloud Junior International Swimming Championships
Dec. 17 – Santa Splash Swim Meet
Email swimming@hisdragons.org.cn for inquiries, and visit the Aquatics Swim Meet Calendar webpage for updated events.
Best,
Natalio Liares, IV
Aquatics Coordinator
Hangzhou International School
Dear Parents,

What a week we have had! One day students were basking in the warmth, and today we are in jackets and need our coats! Please keep labeling clothing, drink bottles, and other personal items. I was pleased today to retrieve three students' tops and to be able to get them back to their owners because they had their names inside.

Staff continues to work in small teams to enhance our Math teaching and learn from experts in the field and each other. This professional training will be an ongoing focus for the school year.

Staff work in Professional Learning Communities (PLCs), where they investigate and inquire about an area of teaching and learning they want to develop with others with a similar interest.

These include:

courses from Harvard University
ways to enhance students' writing
restorative justice practices to support work with students who make poor choices
creating provocations to spark further exploration ( often using loose parts sharing culturally responsive teaching practice.
We also have staff out exploring our local area to look for opportunities for our students to undertake field trips.

The IB promotes and believes that students need to connect locally and globally. Learning in authentic settings enhances their understanding, develops real-world opportunities to ask questions, deepens their knowledge, and links learning across subject areas.

Over the next few weeks, we will have several grades out on field trips, often with the opportunity for parents to join and assist. We look forward to having you join where needed and asking that you talk with your children to find out what they did and learned.

These outings often spark rich dialogue and opportunities to work together to find further information.

Have a great week, and keep informed of the latest health and safety regulations.

Kind regards,

Lynn

Lynn Pendleton

LS Principal
COUNT UP TO OUR
100 DAYS OF SCHOOL
CELEBRATION
Our students from K -Grade 5 are counting up to 100 days of school this academic year. This is a terrific opportunity to be involved in Math talks and to see the different ways the numbers can be represented! Each class will have about 3 numbers to celebrate! We will have a celebrationi when we reach 100 days!
Contacting Teachers
Moments 365 or email
Moments 365 Help
Help with Moments 365 is available from Mr Emlyn Majoos (Mr.M) to ensure we have all parents using this platform. If you need a Chinese or speaker of another language please contact Mr M.and we will arrange support.
Contacting Teachers
We ask parents to contact teachers via Moments 365 or by email. Teachers are busy working with students, attending meetings, preparing class materials, and ensuring student safety. They infrequently look at their computers or mobile phones and may miss your message. For changes to pick-up arrangements or urgent news, please get in touch with the school secretaries, who are online all day.
ECE lilyfan@hisdragons.org.cn LS main building florali@hisdragons.org.cn
Online teaching and Student/Teacher contact
For online teaching and correspondence between teachers and students we use TEAMS.
CCA's
LEARNING NEW THINGS AND DEVELOPING PASSIONS!
WHAT ARE LOOSE PARTS?
We Need Your Help collecting Loose Parts!
PICK UP OF STUDENTS
DELAYS AND IMPORTANT MESSAGES TO TEACHERS
Please assist staff by advising us early (before lunchtime) wherever possible, if you need your child to do something different at their usual pick-up time and location. Teachers focus on working and engaging their class while maintaining a safe environment. They get to their computers sporadically and may miss changes. In addition, some classes are with Specialist staff for the last lesson and bring the students to the pick-up locations. They may be unaware of last-minute changes.
If you need to make a late change to plans, I'd suggest you send a message to our Lower School secretaries, florali@hisdragons.org.cn or in the ECE lilyfan@hisdragons.org.cn, and they can pass on your message.
COVID PROCEDURES AND PROTOCOLS FOR SCHOOL ENTRY
COVID Procedures and Protocols
We have a number of families and staff affected by the current lock down of Powerlong Shopping Centre.
Please pay strict attention to your COVID prevention protocols and monitor your health code status regularly.
Masks must be worn on entry and can be removed when children are inside the school grounds.
As you know, we are back to 72-hour COVID tests in Hangzhou. The school will usually conduct three (3) COVID tests for all staff and students weekly.
Please note that if your child is absent on the testing days, you must ensure they have a valid COVID test to reenter the school. Please forward your child's result to lilyfan@hisdragons.org.cn or florali@hisdragons.org.cn
AFA Autumn Walk and Picnic Lunch 2022
A beautiful day in Hangzhou, for the PAFA "Autumn Walk & Picnic". The weather at West Lake was perfect for everyone to walk around with a warm day, few clouds in the sky, and a cool breeze. At the walk parents shared stories about life, career, experience in Hangzhou, and advice in families and children's topics. It was great seeing new parents learn more about the school and returning parents mingle with each other.
After the relaxing walk, we all ended at the Shangri La Westlake Hotel lawn. There, surrounded by gorgeous, luscious trees, we all enjoy a nice picnic with delicious food, all well-prepared by the Shangri La experienced chefs.
Thank you to everyone who attended the event, and a big shout out to Shangri-La West Lake, his General Manager and team, for the wonderful support setting up. Stay tuned for our next event!
Scan the QR code for photos of the event!
INDIVIDUAL SCHOOL PHOTOS
How to order.
Individual Studio Photos are available to see and order! Following Dave's Studio recent visit to take school photographs, you are able to see the photos and if you wish, order online directly with them by scanning the QR Code below. If you have questions, you can contact them by email: davesstudioinfo@qq.com or by scanning their WeChat contact below:
UPPER SCHOOL PRODUCTION
ORPHAN TRAIN
Congratulations to the Upper School Dragon Players, for the fantastic performance of "The Orphan Train" by Aurand Harris.
Cast, crew, and directors did a wonderful job, and everyone in the audience enjoyed! #GoHISDragons!
You can look at the photos by scanning the QR code below:
DragonNews Fall 2022 issue is out online
GIN CLUB ADVENT CALENDAR
PLEASE SUPPORT
GIN Club – Support HIS GIN Club Projects in the community while giving a special gift during the festive period!
You can order your Advent Calendar made with a mix of imported chocolates, by scanning the QR code on the poster. Pre-Sale starts now till November 15th, and orders will be distributed by November 28th.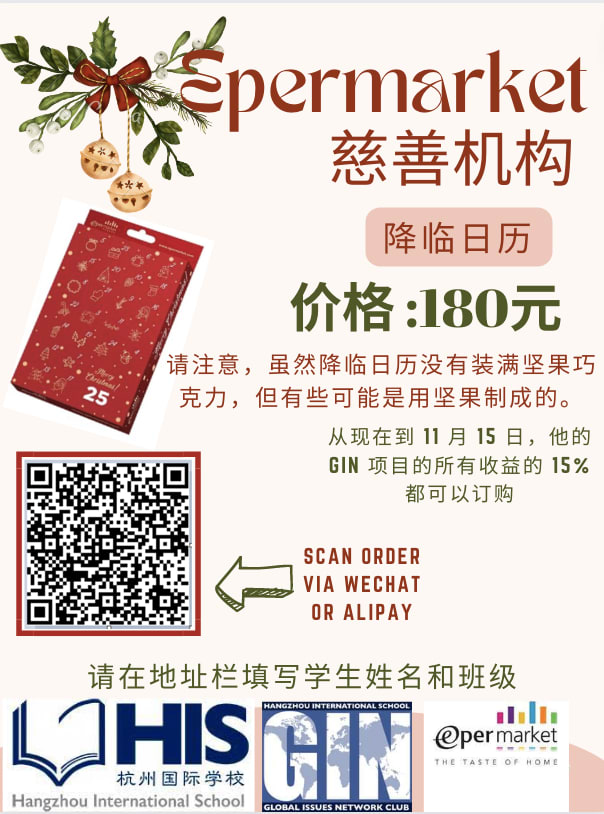 FOUR SEASONS
TREE LIGHTING CEREMONY
HIS Tree Lighting Choir and Strings Ensemble Performances
It's that time of year again! The HIS Tree Lighting Choir and Strings Ensemble will be performing to celebrate the official lighting of their Christmas tree at the Four Seasons and Intercontinental Hotels. Here are the dates for these evening events:
Four Seasons - Saturday, November 26. This is a traditional Gala Charity Event to fundraise the Carnation School for Children with Special Learning Disabilities, and our HIS Christmas Choir and Orchestra is really proud to participate to give back to the community. Tickets must be purchased in advance by scanning the QR code in the poster, and include a free flow of the drinks and food (Limited Tickets for the event)
InterContinental – Friday, December 02 (Free – no ticket needed)
Please label your child's jackets, coats, umbrellas, waterbottles......everything! It is very worrying to see the number of unclaimed items, some of them brand new, but without a name and the ability to find the owner! We will try and locate the owner if the item has a name on it! Please help us and avoid needing to buy new items that could be located, if only we knew who it belonged to.
Dear Families,
The students have done some fantastic work on their Book Character Pumpkins! This was a great activity for them to express their artistic talents and which book character is their favorite. Please have a look at all the beautiful pumpkins. Many thanks to all students who participated and made the ECE, and Lower School Libraries look so festive and fun!
Remind your child to come add a heart to the Thankful tree in the Lower School Library. If you, as a family member, would also like to add one that would be wonderful. Simply use some paper to make a heart, write what you are thankful for and your name (and child's name) and then have your child bring it to the library to add to the tree.
In addition, every Tuesday afternoon a new story will be posted on Moments for the HIS Read Alouds. Check it out and have a listen!
If you would like to contact the libraries, please use the email addresses listed below:
ECE Library, Ms. Ivy – ecelibrary@hisdragons.org.cn
Lower School Library, Mrs. Majoos and Ms. Amy – lslibrary@hisdragons.org.cn
Upper School Library, Ms. Sara and Ms. Cocoa – uslibrary@hisdragons.org.cn
Happy reading!
Happy reading!
Best wishes,
Mrs. Majoos
Lower School Librarian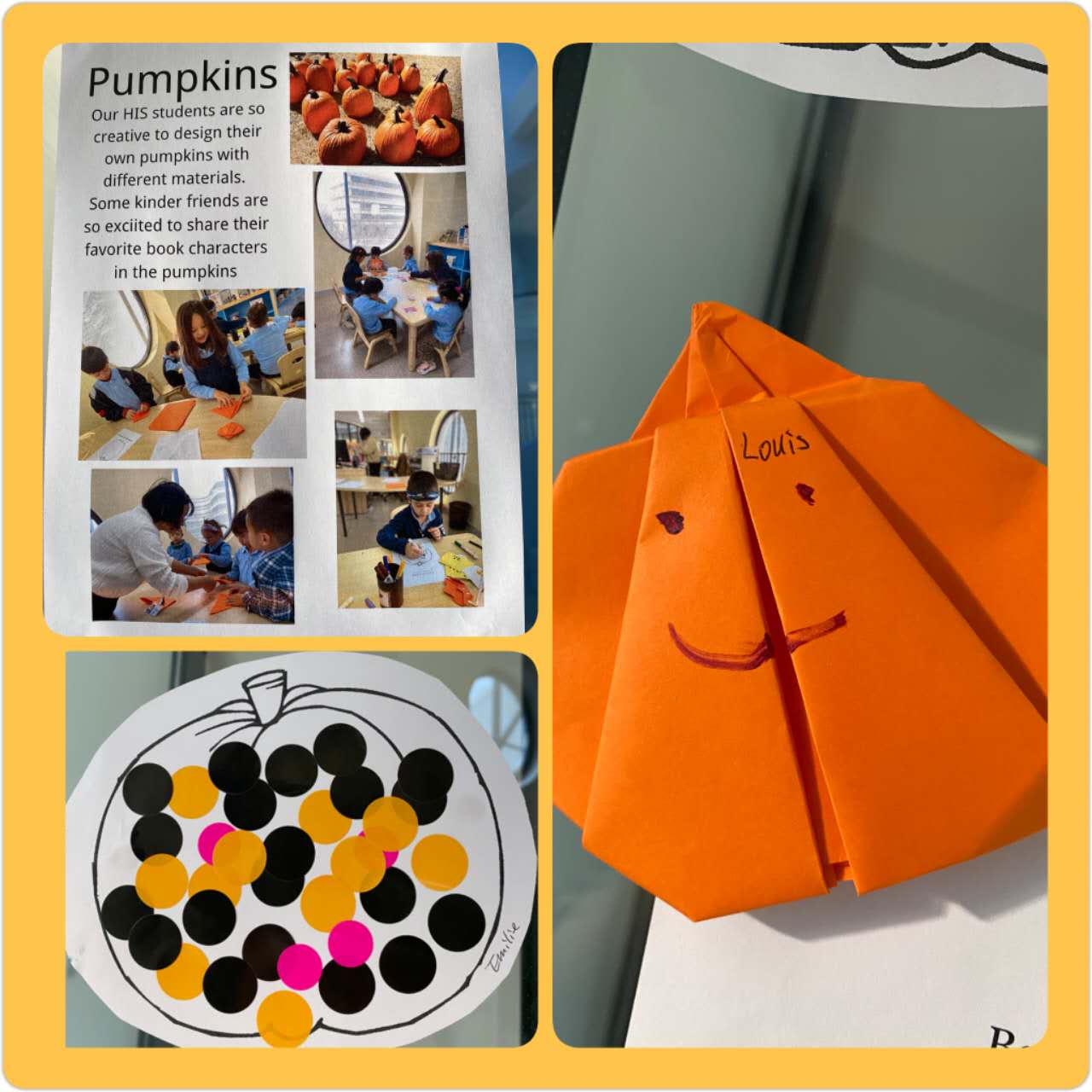 Book characters and pumpkins!
Messages for entering/exiting the school
Parent and Student ID Cards

All students and parents should have an HIS Identification Card. Please review the information on the website to submit your photo to the secretary for ID card generation. HIS ID card information
DRAGONS WEAR THEIR UNIFORM WITH PRIDE EACH DAY!
School Uniform
Please wear our school uniform with pride each day, and we seek your support in having your child dressed in the complete uniform each day. We will notify you if it is a special day to dress up; otherwise, students should be in uniform. Also, please have your child wear their PE kit on swim days (Grade1-5). Please label your child's clothing to help us return it to you. We often find many items without names, and the students cannot recognize their belongings.
Ordering School Uniform
Parents can go to the following link and look at the uniform web page (https://www.his-china.org/support/dragon-shop).
Parents can place an order with Nancy in the Dragon Shop (dragonshop@his-china.org) by email or by calling the school directly (Tel# 8669-0045 X109) during office hours (Monday-Friday 7:45 am - 11:30 am and 12:30 pm - 4:30 pm).
Also, parents may make an appointment to go to the Dragon Shop between 3:15 pm – 4:15 pm when the regular school day is over.
Older students may come to the Dragon Shop to select sizes and purchase uniforms if they have time before or after school during open hours.
Payment may be made through AliPay or by giving students cash.
You can choose from the following options to receive uniform orders:
Give items directly to students
Wait for pick-up at the school gate
Deliver home 12RMB pay on delivery fee.
Lynn Pendleton

Lower School Principal

Aaron Ayers

Lower School

Vice Principal

Student Welfare

Cilla Giannopoulos

Lower School

Vice Principal

PYP Co-ordinator
HIS Mission Statement
We provide international learners with opportunities to pursue academic and personal excellence within a caring community.