Lower School Newsletter 20 February 2023
DATES Upcoming Events

*22 February Mandarin Curriculum Night

*23 February Parent Coffee morning understanding NWEA reports

*3 March 100 Day Celebration

*27-29 March Book Fair

*28 March Student-Led Conferences

*31 March Mid-term progress reports

*3-5 April Spring break/tomb sweeping

2023-2024 dates

*23 August -15 December -Semester 1 2023

*09 January -21 June -Semester 2 2024
PARENT COFFEE MORNING Thursday, 24 February 10 am Dr.Aaron Ayers LS and Katie Foster US NWEA TEST SCORES
ACAMIS BASKETBALL TOURNAMENT LS CHEERLEADING SUPPORT HIS DRAGONS
Dear Parents,

Parent Coffee Morning

I hope you will join Dr. Ayers and Katie Foster, both leaders in the Student Support team, this Thursday, 23 February, at 10 am in the US library. They will support parents in understanding the NWEA and how to interpret and respond to the Student Report(2-5) that recently came home.

Please park your car near the ECE and enter via the ECE building. Scan the QR code to register your interest.

PAFA News

Please read the PAFA news section today for important information on re-enrollment, Dragon News, an upcoming Parent Coffee morning, thanks for recent donations to the relief effort in Turkey and Syria, and photos from the ACAMIS basketball competition.

Illness

Please monitor and check your children for flu-like symptoms, and if they don't ease quickly, then please seek medical support. We urge all parents not to send children to school if they are unwell and to give adequate time for recovery before returning to the classroom.

Save the date-Mandarin Curriculum Night. Please scan the QR code and register your attendance at either or both sessions.

Wednesday, 22 February, 6.00 pm-7.30 pm EY1-GR 12

Wednesday, 22 February, 8.15 am -9.00 am- ECE parents only

Our Mandarin teachers across the school will explain and showcase how Mandarin is taught and developed across the school from EY1 to grade 12 for students new to the language through to native speakers.

This evening will be a very informative and excellent opportunity to see how the curriculum and your child's language skills are supported and expanded.

ECE parents are welcome to join a session presented by the ECE Mandarin staff with a video, an explanation of the program, and a tour of the classes with the teachers. ECE parents can also attend the evening session to learn about the program from Gr1 and above.

Basketball

Whether EY1 or grade 5, our students took to cheering, HIS chants, and a mini pep rally with lots of enthusiasm as we watched our HIS basketball men's and women's teams in action!

The players felt the home-court advantage as their adoring supporters cheered them on fiercely and sparked some great basketball.

We felt doubly proud as Ms. Hooper and Mr. Lawrence were coaches of HIS teams!

Well done, and congratulations to all who contributed to the success of HIS hosting this ACAMIS event!

Count Up to 100 Day of Celebration, Friday, 3 March

We are eagerly continuing our count up to 100 days at school and will celebrate on Friday, 3 March, with a full day of Math activities focusing on the number 100.

We ask that all LS students and staff dress up for the day as a person who has reached 100 years as part of our celebration. Please see the newsletter for ideas.

Im hunting in my wardrobe for something appropriate and wish I lived close to my mum! Start preparing; it is sure to be lots of fun!

I hope to see many of you this week at the many functions in the school!

Kind regards,

Lynn

Lynn Pendleton

LS Principal
COUNT UP TO OUR 100 DAYS OF SCHOOL CELEBRATION
Our students from K-Grade 5 are counting up to 100 days of school this academic year. This is a terrific opportunity to be involved in Math talks and to see the different ways the numbers can be represented! Each class will have about 3 numbers to explore! We will have a celebration when we reach 100 days!
Students from K to Grade 5
Start preparing your costumes to help mark
our first
100 Day celebration
at our new HIS campus!
Health and Safety Reminders Care for our LS community
Wearing masks to enter the school is optional for students and staff. Masks will still be available for students who want to wear them.
Please note all visitors must wear masks.
Temperature and hand sanitizer checks will still continue.
Procedures and Protocols
We have a number of students with high temperatures this week. Please ensure that if your child is ill that they do not attend school If your child continues with a high temperature or remains unwell, please seek medical support. We ask that parents err on the side of caution and keep children at home until they have fully recovered.
Please pay strict attention to your COVID/flu prevention protocols and monitor your health code status regularly.
Masks are optional on entry and can be removed when children are inside the school grounds.
Please note that if your child is absent due to COVID you must ensure they have a valid negative COVID test to reenter the school. Please forward your child's result to
New Drop Off Procedures Main Gate
To assist with traffic flow and wet weather there will now be two access points for students when they enter the Main Campus gate. ECE procedures remain the same.
HIS MANDARIN CURRICULUM EVENING SAVE THE DATE Please scan the QR code to let us know if you will attend either or both events!
From the LS Vice Principal and PYP Coordinator Ms. Cilla
Mandarin Language Learning at HIS: Part One

As a community and IB school, we always strive to be internationally minded and we recognise and value the power of being able to speak more than one language. Honouring our host culture, we have a rigorous Mandarin program, which builds all the way from our earliest learners in EY1 to Year 12.

There are two parts to learning a language: receptive language, which includes listening, reading, and viewing, and expressive language, which involves speaking, writing and presenting. Throughout the Mandarin curriculum, we develop all these areas. Some parts we learn faster than others. How fast and confidently we learn depends on our prior experiences with Mandarin, experience learning other languages, practice and opportunities to use the language.

In the Early Childhood Centre, learning Mandarin is done through play and hands-on experiences. The children are learning the foundation of language, particularly speaking and listening and building their familiarity with language structure, how we use language and growing their vocabulary. They apply their learning as they play and engage with others around them. They listen to stories, sing songs and build concepts of the Mandarin language, such as characters, strokes and can recognise and begin to play with 'writing' in Mandarin, such as when making signs, taking notes in the 'doctor' corner, taking orders in the 'restaurant' and adding information to their artwork. This foundation and confidence in their language ability are crucial for their success as they move into grade one.

Students in grades one to five have Mandarin every day for forty minutes. They continue to explore the different modes of language, learning specific genres of writing and reading a range of texts. They are encouraged to increasingly read and write independently and show their learning in multiple ways.

Throughout the lower school, explicit connections are made to the unit of inquiry being studied in the homeroom. Often, the content used in the homeroom can be the springboard for further investigation in Mandarin class. There are also essential understandings about the Mandarin language and how language works, which are clearly articulated and taught throughout our program. So while our children are learning content knowledge, they are also learning Mandarin skills.

Learning Mandarin is not seen in isolation and only done in the Mandarin class but something that happens throughout our day and into our lives, such as when interacting with speakers of Mandarin, going to the shops and travelling.

We also embrace important Chinese cultural elements and, within homerooms, aim to make links to our host culture through examples of the concepts in China, such as examining how life has changed in China, investigating famous Chinese artists, writers and poets, and researching Chinese explorers, inventors and innovators. Hangzhou is rich with learning opportunities.

We take advantage of this modern city with a long and important history, with the ability to explore ancient ruins, visit museums, and talk to experts in their field to gain knowledge. These experiences often give us authentic purposes to learn about asking questions, conducting research, reading critically, and communicating findings to experts in Hangzhou.

This Wednesday, we invite you to HIS to see our Mandarin program in action. Through experiences and engaging with the students, you will be able to understand how the program meets the needs of your children and is helping them to not only learn about language structure but appreciate the beauty of the language and Chinese culture.
SAFETY MESSAGE TRANSPORTATION
Unit of Inquiry in action in EY2 Exploration and play is inquiry
We have recently started our Playful Nature unit of inquiry with a focus on exploring and building a relationship with nature that will help students to lead to new discoveries and understandings. While the students explore provocations and play invitations during this unit, they will learn what and where nature is and how they can connect and make discoveries while exploring nature. Students will learn to be caring, principled, and balanced.
Provocations in the classroom are set up to allow and encourage the students to experience the world for themselves through open-ended activities without being guided by a teacher. These provocations will help to encourage the students to think independently by finding and exploring their interests.
HOW TO CONTACT TEACHERS WE ARE ONLY USING WECHAT FOR EMERGENCY SITUATIONS SUCH AS SCHOOL CLOSURES AND LOCKDOWNS
Moments 365 Help
Help with Moments 365 is available from Mr Emlyn Majoos (Mr.M) to ensure we have all parents using this platform. If you need a Chinese or speaker of another language please contact Mr M.and we will arrange support.
Contacting Teachers
We ask parents to contact teachers via Moments 365 or by email. Teachers are busy working with students, attending meetings, preparing class materials, and ensuring student safety. They infrequently look at their computers or mobile phones and may miss your message. For changes to pick-up arrangements or urgent news, please get in touch with the school secretaries, who are online all day.
ECE lilyfan@hisdragons.org.cn LS main building florali@hisdragons.org.cn
Online teaching and Student/Teacher contact
For online teaching and correspondence between teachers and students we use TEAMS.
Our warmest CONGRATULATIONS go out to all the swimmers who moved up a level this past week. You made us all proud of your consistent hard work and dedication each day, and how far you have come. Hat's off for everyone's amazing efforts!
LOWER SCHOOL
Kaho Inoue (G5) - Pre-Gold
Ethan Yang (G5) - Pre-Gold
Vanness Chang (G5) - Pre-Gold
William Lou (G5) - Pre-Gold
Pippa Willoughby (G5) - Pre-Gold
Ning Ning Wang (G5) - Bronze
Chloe Wang (G3) - Pre-Gold
Byron Lo (G3) - Bronze
Eddie Liu (G3) - Bronze
Derek Yeng (G3) - Blue
UPPER SCHOOL
Joon Lee (G7) - Bronze
Fiona Hong (G7) - Bronze
Tiger Lu (G7) - Bronze
Hyun Park (G6) - Bronze
Cathy Zhang (G5) - Bronze
EY SWIM WEEKEND
These happy faces are what it is all about for us at the EY Swim Weekend. Designed for parents and children to work together to explore the water in a supervised and fun environment. Thank you, coaches, and parents, for focusing on safety and having fun in the water with your little ones!
EY 1 and EY 2 Dates: February 19th, 26th, and March 5th
Registrations for EY SWIM WEEKEND has now CLOSED.
Upcoming Swim Meets:
March 17-18 – ACAMIS Senior Swim Championships at ISB Beijing (Updated)
March 24-25 - ACAMIS Junior Swim Championships at SWIS Shenzhen
April 22-23 – Shanghai Swim League Championships at Shanghai American School – Pudong
April – HISAC Round 3 at Wellington College Hangzhou
May – HISAC Developmental Meet at The Wave HIS
CLICK THE LINK BELOW for Swim Meet Results
https://www.his-china.org/extend/swim-team/results
Email swimming@hisdragons.org.cn for inquiries, and visit the Aquatics Swim Meet Calendar for updated events and practice schedules.
Swim Team List for Semester 2. Swim practice starts tomorrow, Monday, 30th January.
Please refer to the live document link below for any changes this week.
Swim Team List - S2 SY22-23 (Updated Jan. 27)
Thank you for your constant support. Should you have questions, I'll be happy to answer them.
BUDDIES GR1 and GR5 preparing flags together to support our high US basketball teams competing in the ACAMIS tournament at HIS this week
CCA INFORMATION GARDENING Club
PICK UP OF STUDENTS DELAYS AND IMPORTANT MESSAGES TO TEACHERS
Please assist staff by advising us early (before lunchtime) wherever possible, if you need your child to do something different at their usual pick-up time and location. Teachers focus on working and engaging their class while maintaining a safe environment. They get to their computers sporadically and may miss changes. In addition, some classes are with Specialist staff for the last lesson and bring the students to the pick-up locations. They may be unaware of last-minute changes.
If you need to make a late change to plans, I'd suggest you send a message to our Lower School secretaries, florali@hisdragons.org.cn or in the ECE lilyfan@hisdragons.org.cn, and they can pass on your message.
COVID Procedures and Protocols
Please pay strict attention to your COVID prevention protocols and monitor your health code status regularly.
Masks are optional on entry and can be removed when children are inside the school grounds.
Please note that if your child is absent due to COVID you must ensure they have a valid COVID test to reenter the school. Please forward your child's result to lilyfan@hisdragons.org.cn or florali@hisdragons.org.cn
HIS Social Media.
Follow us and subscribe to our channels!
#GoHISDragons!
IMPORTANT REENROLMENT INFORMATION
Re-enrollment Information 2022-2023 (2 Posters Attached)
The time has come for us to open our re-enrolment process for the 2023-2024 school year. Tomorrow Students will bring home a printed copy of the 2023-2024 School Year Re-Enrollment Contract. Please, read, complete, and send back to the school. Please, see details in the posters.
PAFA coffee morning -RSVP- (Poster Attached)
Parents, please join us for a joyful morning next week Thursday, March 02.
We hope that during this coffee morning you have an opportunity to meet the new HIS parents and catch up with the returning parents, while you can learn more about the HIS community, and the opportunities to connect by grade level!
Details and QR code to RSVP are in the poster.
If you have any questions, please contact Ms. Andrea.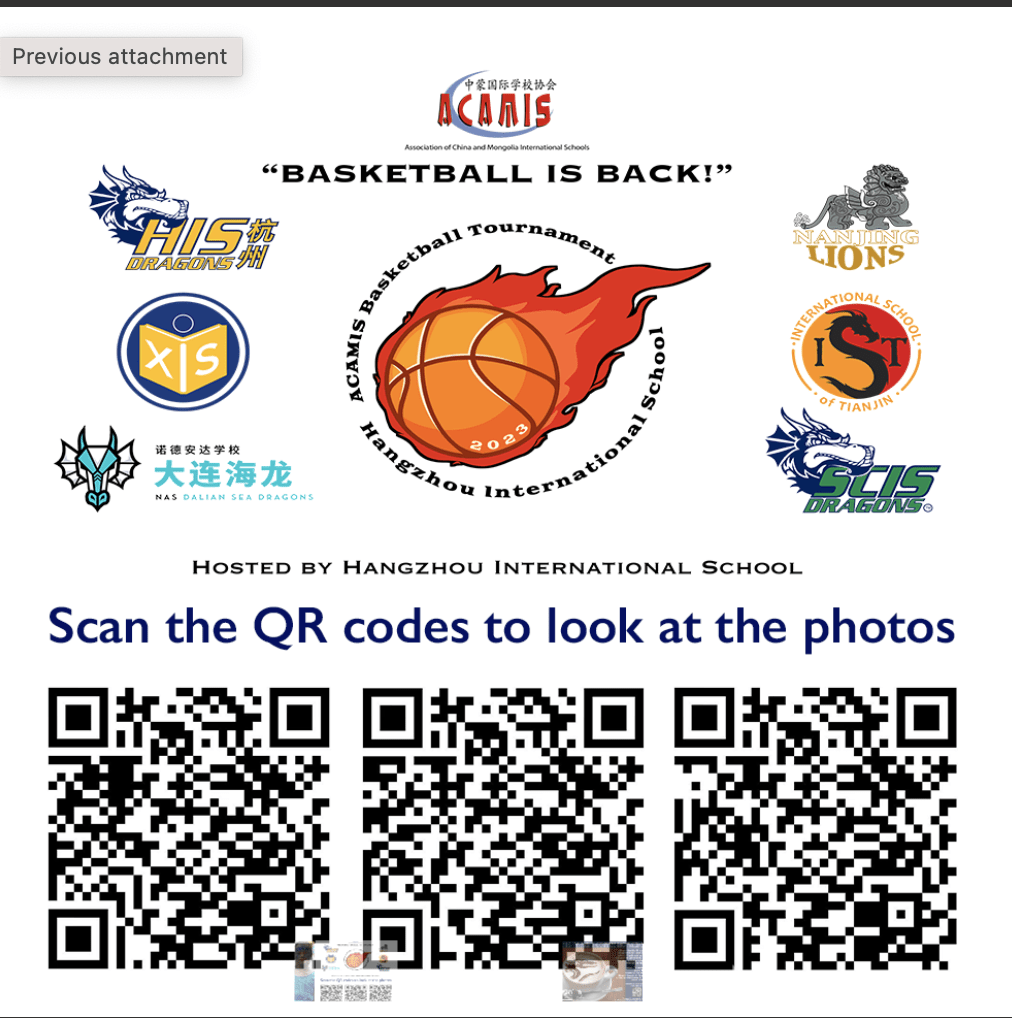 ACAMIS Basketball Tournament 2023 (Poster Attached)
Last week, HIS hosted ACAMIS Basketball Tournament for the very first time. Our student-athletes got to compete with five other international schools around China at our home ground. Three days in a roll Lower Gym and Upper Gym were bustling with cheer and excitement. The impressive atmosphere was breathtaking and left the visiting coaches and players in a state of admiration. Thanks to our students, faculty, and parents for all the support!
Congratulations to our Varsity Basketball players and their coaches for all their efforts in the competition and for showing the community their sportsmanship and the true spirit of the HIS Dragons! As such, our boys brought home the Spirit of ACAMIS Trophy! Although both HIS girl's and boy's teams came up a little short of winning the championship, with our boy taking 3rd place and the girls finishing 4th, the opportunity and experience of playing on the ACAMIS court were well cherished after a 3-year wait.
Please label your child's jackets, coats, umbrellas, waterbottles......everything! It is very worrying to see the number of unclaimed items, some of them brand new, but without a name and the ability to find the owner! We will try and locate the owner if the item has a name on it! Please help us and avoid needing to buy new items that could be located, if only we knew who it belonged to.
Dear Families,
It is time to start reading for the Semester 2 Battle of the Books! This semester, Grade 2 to Grade 5 can participate! Please check out the poster to see what books are in the running for this semester. Come to the library to check out a book and then do the quiz!
We already have so many students who have read at least one of the 12 books and now have a bookmark up on the window. Congratulations to the students who have already read 5 books and to Alison and Oia from Grade 3D who have read 10 books! The program runs until the beginning of May, so there is still a lot of time to read and enter!
This week the spotlight is on the book "My Perfect Cabin" written by Emmanuelle Mardesson. Here is the synopsis of the book:
Lucile wants is a lovely place that she can call home, but she can't decide where or how to build it!
She embarks on an adventurous journey across the world to discover how and where other people live. From the tropical rainforest to the snowy Arctic.
Will she ever find her dream home? With your help maybe she can!
If you would like to contact the libraries, please use the email addresses listed below:
ECE Library, Ms. Ivy – ecelibrary@hisdragons.org.cn
Lower School Library, Mrs. Majoos and Ms. Amy – lslibrary@hisdragons.org.cn
Upper School Library, Ms. Sara and Ms. Cocoa – uslibrary@hisdragons.org.cn
Happy reading
Best wishes,
Mrs. Majoos
Lower School Librarian
Parent and Student ID Cards

All students and parents should have an HIS Identification Card. Please review the information on the website to submit your photo to the secretary for ID card generation. HIS ID card information
DRAGONS WEAR THEIR UNIFORM WITH PRIDE EACH DAY!
School Uniform
Please wear our school uniform with pride each day, and we seek your support in having your child dressed in the complete uniform each day. We will notify you if it is a special day to dress up; otherwise, students should be in uniform. Also, please have your child wear their PE kit on swim days (Grade1-5). Please label your child's clothing to help us return it to you. We often find many items without names, and the students cannot recognize their belongings.
Purchasing School Uniform
Families can purchase items at the Dragon Shop. It is open
Monday to Friday from
9.00 am-11.00 am and 1.00 pm-3.00 pm
For more information, please contact the dragon shop:
olivexu@hisdragons.org.cn
Lynn Pendleton

Lower School Principal

Aaron Ayers

Lower School

Vice Principal

Student Welfare

Cilla Giannopoulos

Lower School

Vice Principal

PYP Co-ordinator
HIS Mission Statement
We provide international learners with opportunities to pursue academic and personal excellence within a caring community.