Upper School Newsletter November 13, 2023
UPCOMING EVENTS

Nov 13 - 17 Musical Tech Week Nov 17 Artisinal Market Nov 17-18 ACAMIS Table Tennis (Beijing) Nov 18 Musical: FAME Jr. Nov 18 Shanghai Swim League #2 Nov 21 Assembly High School Nov 22 CCAs Cancelled Nov 22 Curriculum Night (PHE/Counseling) Nov 23-26 MUN Korea Nov 24 No School (Professional Development) Nov 24 ACAMIS Cross Country (Chengdu) Nov 25 HISAC Swim Meet Dec 2 HISAC Basketball Dec 3 Winter Fair Dec 5 Winter Music Night Dec 15 End of Semester
A NOTE FROM ADMINISTRATION
Mr. Fursey Gotuaco

Upper School Principal

THINKERS

"WE USE CRITICAL AND CREATIVE THINKING SKILLS TO ANALYSE AND TAKE RESPONSIBLE ACTION ON COMPLEX PROBLEMS. WE EXERCISE INITIATIVE IN MAKING REASONED, ETHICAL DECISIONS." IB Learner Profile

"THE WORLD AS WE HAVE CREATED IT IS A PROCESS OF OUR THINKING. IT CANNOT BE CHANGED WITHOUT CHANGING OUR THINKING."

Albert Einstein
Thinking... Isn't that what we want all our kids to do? To think?... But, what kind of thinking? Pedagogically speaking, it's a more complex discussion than most have ever considered.
What most people expect from schools is for our kids to 'know'.. to 'memorize'. Some forms of education believe that the best students are those who can memorize more.
Some schools will make the effort to prioritize calculations. Students might be expected to synthesize information from more than one source or maybe to analyze data and numbers. There are some places that firmly believe that the best students are those who can calculate numbers faster...
But the best schools are those who know that students are not 'Vessels to be filled but rather they are lamps to be lit'. This ancient adage has been quoted and paraphrased since the ancient greek scholars and it is more important today that it has ever been. Education must not only prepare students for this world and all it knows, but rather, we must prepare students for what the world has yet to know.. what is not yet discovered...what is not yet created.. What we do at HIS is not to 'fill the vessel' with basic knowledge but to 'fan the flame' of CRITICAL AND CREATIVE THINKING; to inspire students to think of their work, their schools, and their lives in the future, where they must TAKE RESPONSIBLE ACTION ON COMPLEX PROBLEMS.
The thinking we want to encourage both in class and co-curricular activities includes evaluating information, creating solutions, and understanding the personal and individual judgements involved. We encourage our students to be the best version of themselves as community members and leaders. As global citizens, our students will EXERCISE INITIATIVE IN MAKING REASONED, ETHICAL DECISIONS.
Consider the mental processes that our students in the musical go through. They must analyze scripts, create decisions and evaluate those decisions in split seconds - all while there is a live audience. There's nothing like the heat and pressure of being in front of a live audience to create diamonds. Come see for yourself this weekend at FAME Jr., this Saturday at 2pm and 5pm.
In our recent 3 day Westlake MUN event, our leaders initiated discussions and created ideas for problems in this world that they have inherited. They take on the mantle of global leaders to represent countries and their concerns for the well being of people they may not have ever met before. They have shown courage, responsibility, and most of all, they have shown that they are THINKERS.
This is what it means to be an HIS Dragon. And of course, today like every other day....
ITS A GREAT DAY TO BE AN HIS DRAGON!!!
HIS students can get their LIFE GUARD CERTIFICATION. What a fabulous opportunity for any student who will be age 15 by mid December.
Contact Coach Nat Liares at natalioliares@hisdragons.org.cn.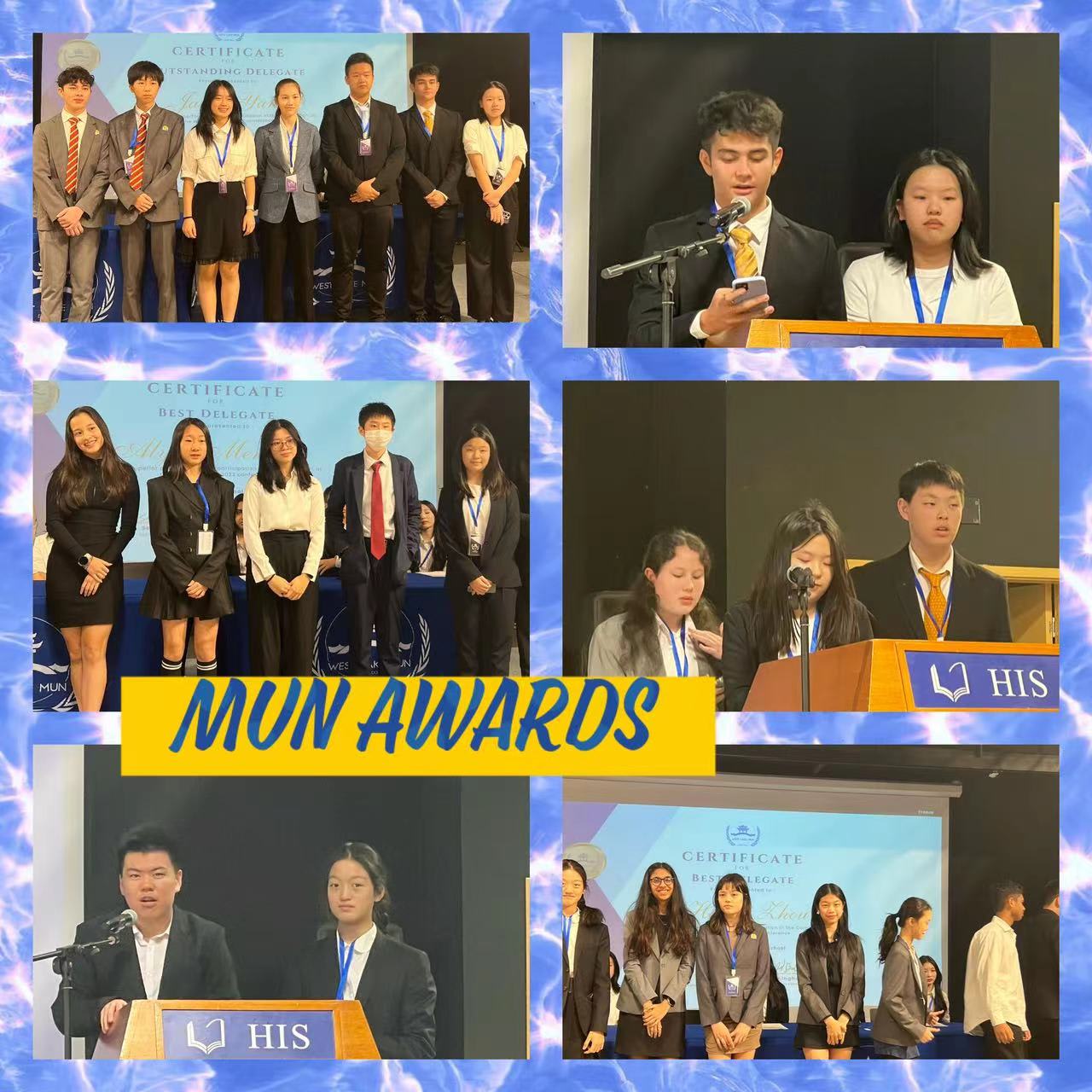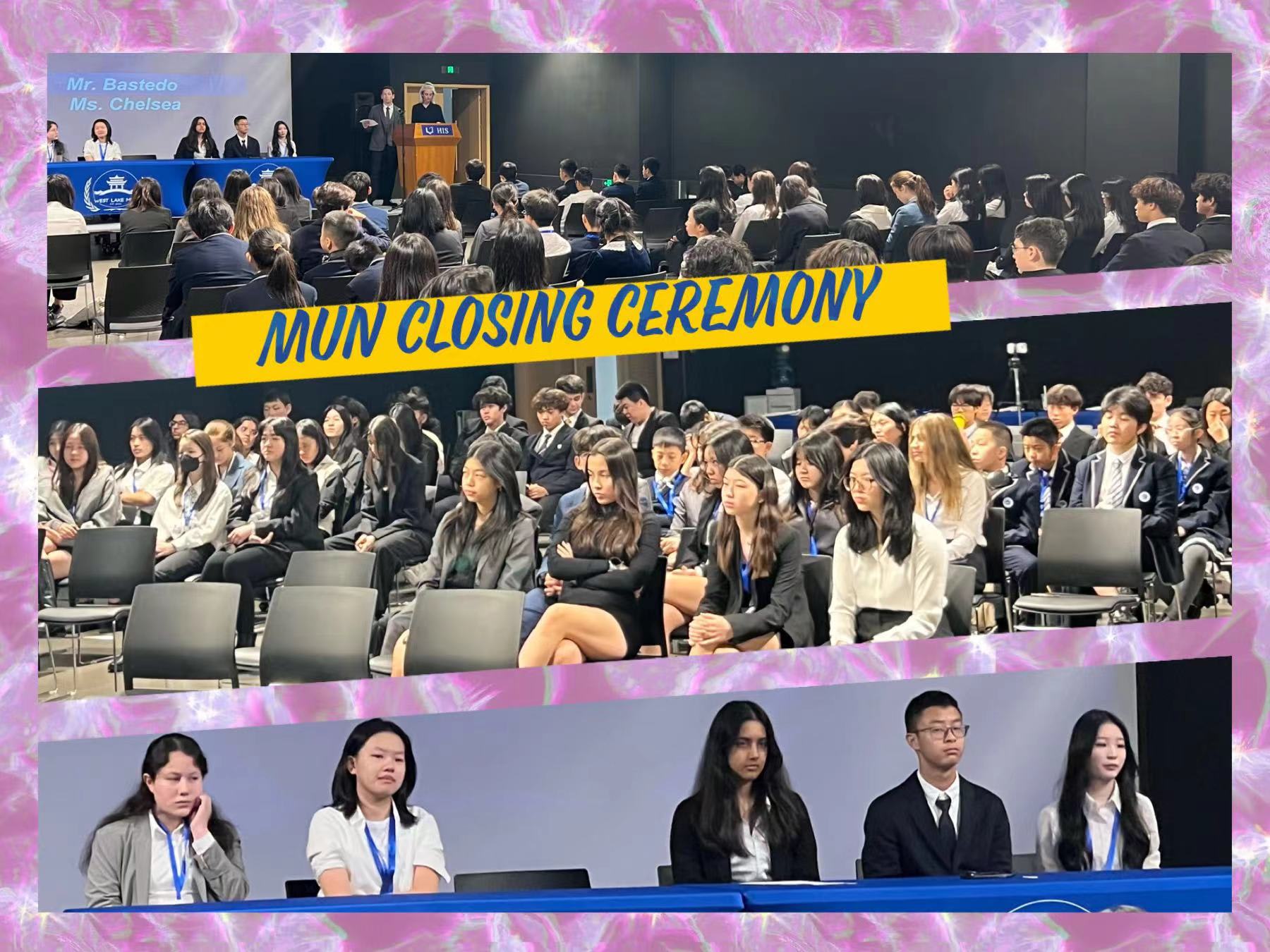 LAST CHANCE
Buy your tickets for Fame Jr, a wonderful musical for the whole family!
Don't miss this fabulous musical performance!
Two shows are available this Saturday, November 18 @ the HIS Theater.
This show is available to all the community, feel free to invite your friends,
and buy your tickets!
An Upper School musical production based on the original movie that became a classic for its catchy tunes, dances, and story! Don't miss a great show!
HIS PAFA Festive Lunch
Join us for the Winter Festival Lunch. Please, enjoy a wonderful lunch with fun activities, delicious food, and great company!
Scan the QR code to register.
PAFA Dragon Cheer Squad
Come join the cheer squad!
The Cheer Squad invites you to support the next events with more creative ideas and working hands.
Please, step ahead and join the team!
Scan the QR and join the group for updates.
Let's recognize the hard work and talent of our students and inspire younger ones!
PAFA Dragon Cheer Squad
Support our young thespians!
This Saturday, every student attending Fame Jr. shows will receive a Bingo card that recognizes all the students behind this magnificent production. After the shows and during the week, students can collect signatures from many of them, and on Thursday, November 24, exchange at the Cheer Squad table for prizes.
Please, encourage your child to get their Bingo card and signatures!
Support our young athletes!
This weekend our Table Tennis team with students Grade 5 to Grade 12 will travel to Beijing to compete with other international schools at the ACAMIS tournament. They just came back from a very successful SISAC tournament in Shanghai last Saturday. Let's wish them good luck and no matter where we are, let's cheer for the HIS Dragons!
Bingo cards can be collected by the office, and prizes can be collected on Thursday, November 24, at the Cheer Squad. Please, encourage your child to get their Bingo card and signatures!
Christmas Tree Lightings Events
HIS Choirs, Band and String Ensembles performances
The Grade 5 and Middle School choir students, and the HIS Community Choir, will be performing to celebrate the official lighting of their Christmas tree at the Four Seasons West Lake, InterContinental, and Midtown Shangri-La Hotels, and at the HIS Winter Fair. Here are the dates for these evening events:
- Four Seasons (Performing: Middle School Choir) - Saturday, November 25, at 5:30 pm. This is a traditional Gala Charity Event. All profits will go to the Carnation School for Children with Special Learning Disabilities. Families can purchase tickets at this link: Four Season X-mas Tree Lighting
- InterContinental (Performing: Middle School Choir) – Friday, December 01 at 6 pm (Free – no ticket needed)
- Midtown Shangri-La (Performing: HIS Community Choir and Grade 5 choir soloists) - Saturday, December 02 at 6 pm (Free – no ticket needed)
- HIS Winter Fair: HIS Community Choir and Grade 5 choir soloists, Band and String ensembles) – Sunday, December 03 from 11 am to 2 pm (Free – no ticket needed)
We hope you can join us at one or more of these festive events!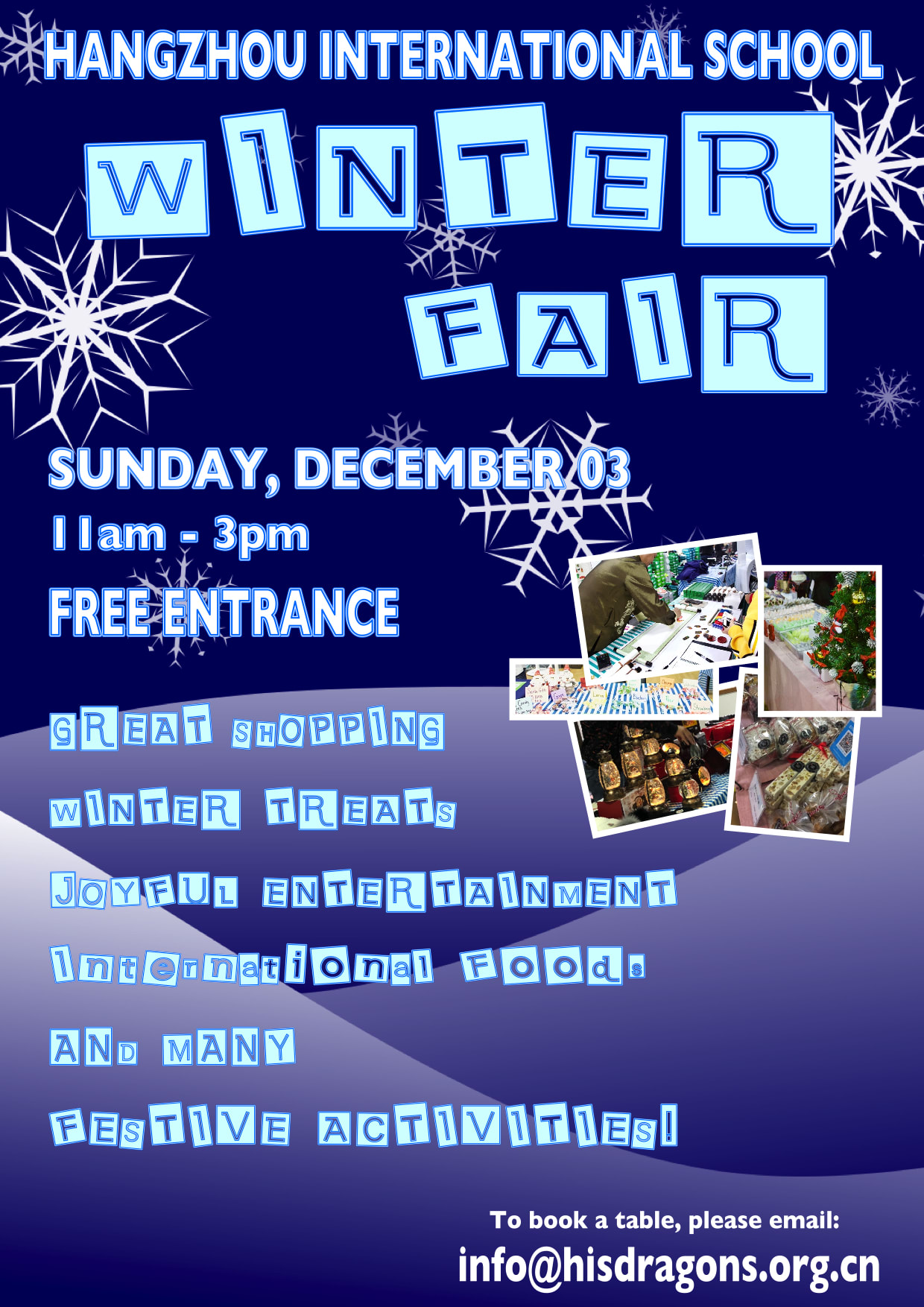 Save the date!
HIS Winter Wonderland Fair and Bazar 2023
Sunday, December 03, from 11 am – 3 pm
HIS 2023 圣诞集市---12月3日,周日,上午11点-下午3点
Join us for a festive event with great shopping, special presentation from our Performing Arts Department and Community Choir, activities, international foods, treats, activities and Santa's visit!
这里有休闲娱乐加购物,来自世界各地的美食和节目互动,还有可爱的圣诞老人,期待您的参与!
If you would like to have a table to promote or sale your products/services, please email info@hisdragons.org.cn or contact Ms. Andrea: andreastubbs@hisdragons.org.cn
如果您想预定一个摊位推销或者出售商品,请邮件联系:info@hisdragons.org.cn 或者Ms. Andrea: andreastubbs@hisdragons.org.cn
Jake Barningham
Film Teacher
As I continue to teach the first MYP Film classes in HIS's history, it continues to be an eye-opening experience. I always expect great things from our students, but they have really surprised me with how enthusiastically they've accepted film as a medium for collaboration and creative expression.
It's been fascinating to see how students engage with storytelling in a new, visual way. What continues to surprise me each week is that teaching film has also helped our students develop their emotional intelligence and organizational skills. In order to be successful in this medium, students are required to carefully plan and execute a group vision within a limited amount of time. This process has provided them with valuable lessons in teamwork, time management, and effective communication.
Witnessing our amazing students at HIS consistently rise to this challenge has been an unbridled joy, and I'm excited to continue exploring the educational potential of film in the classroom.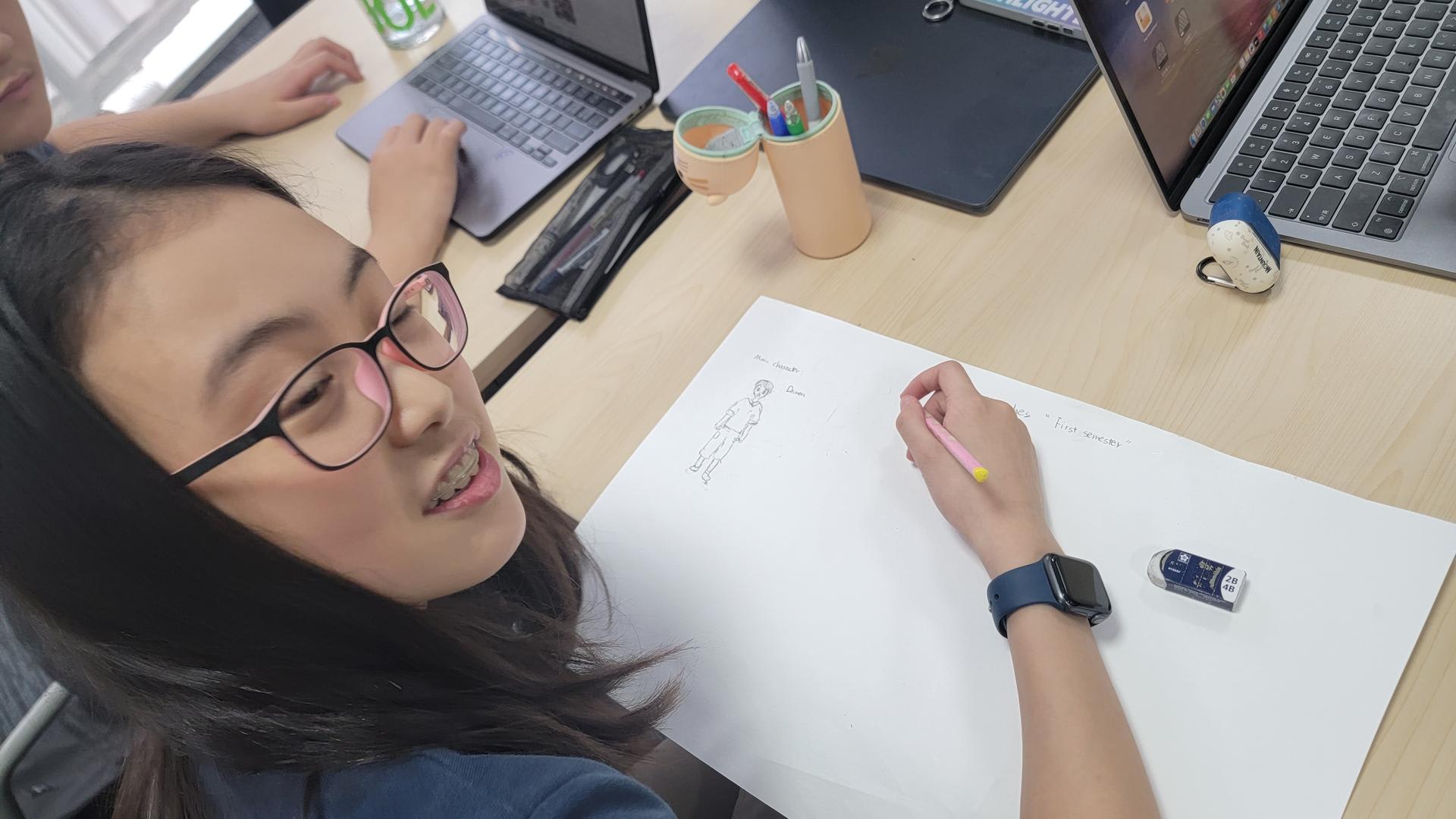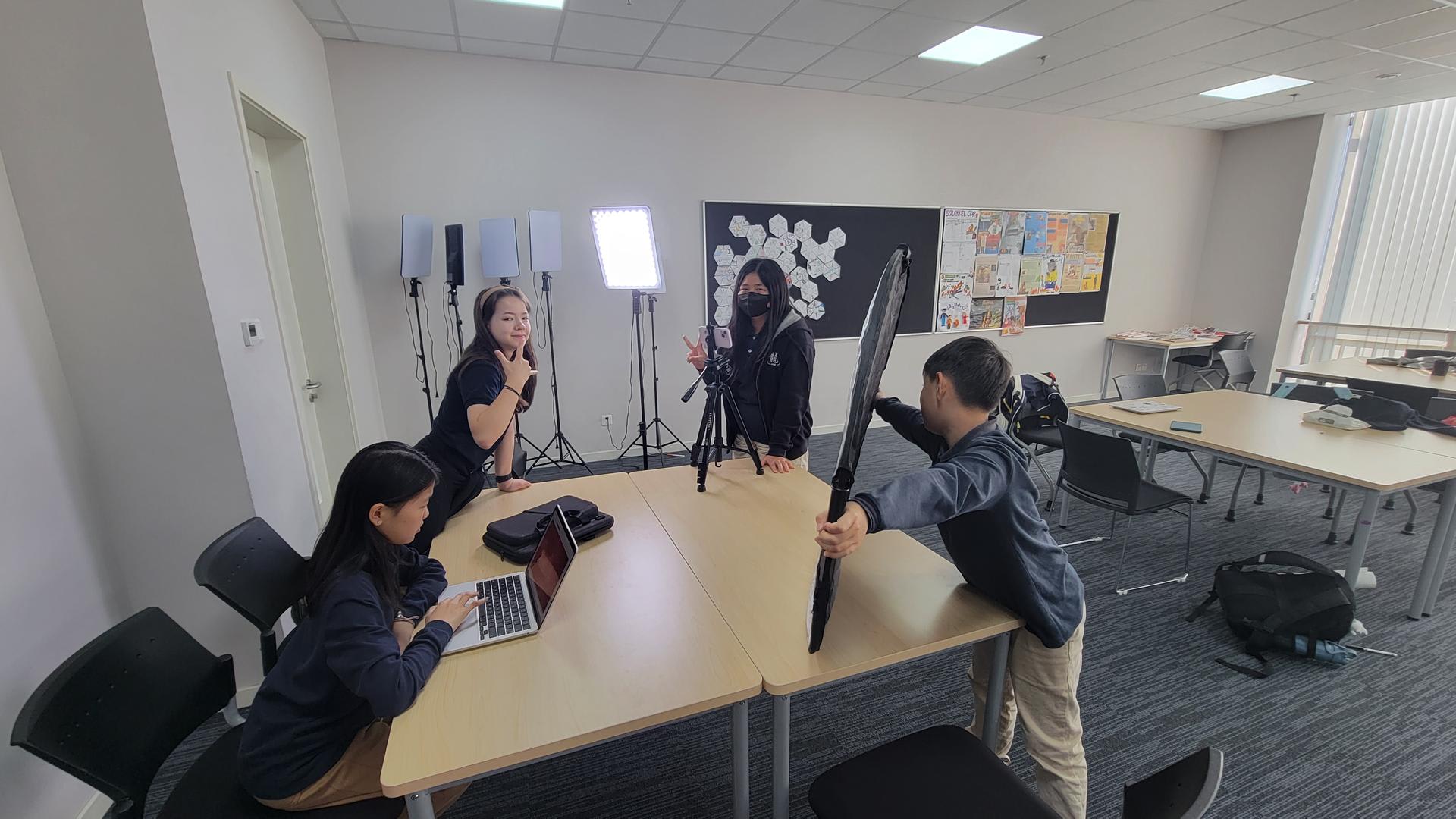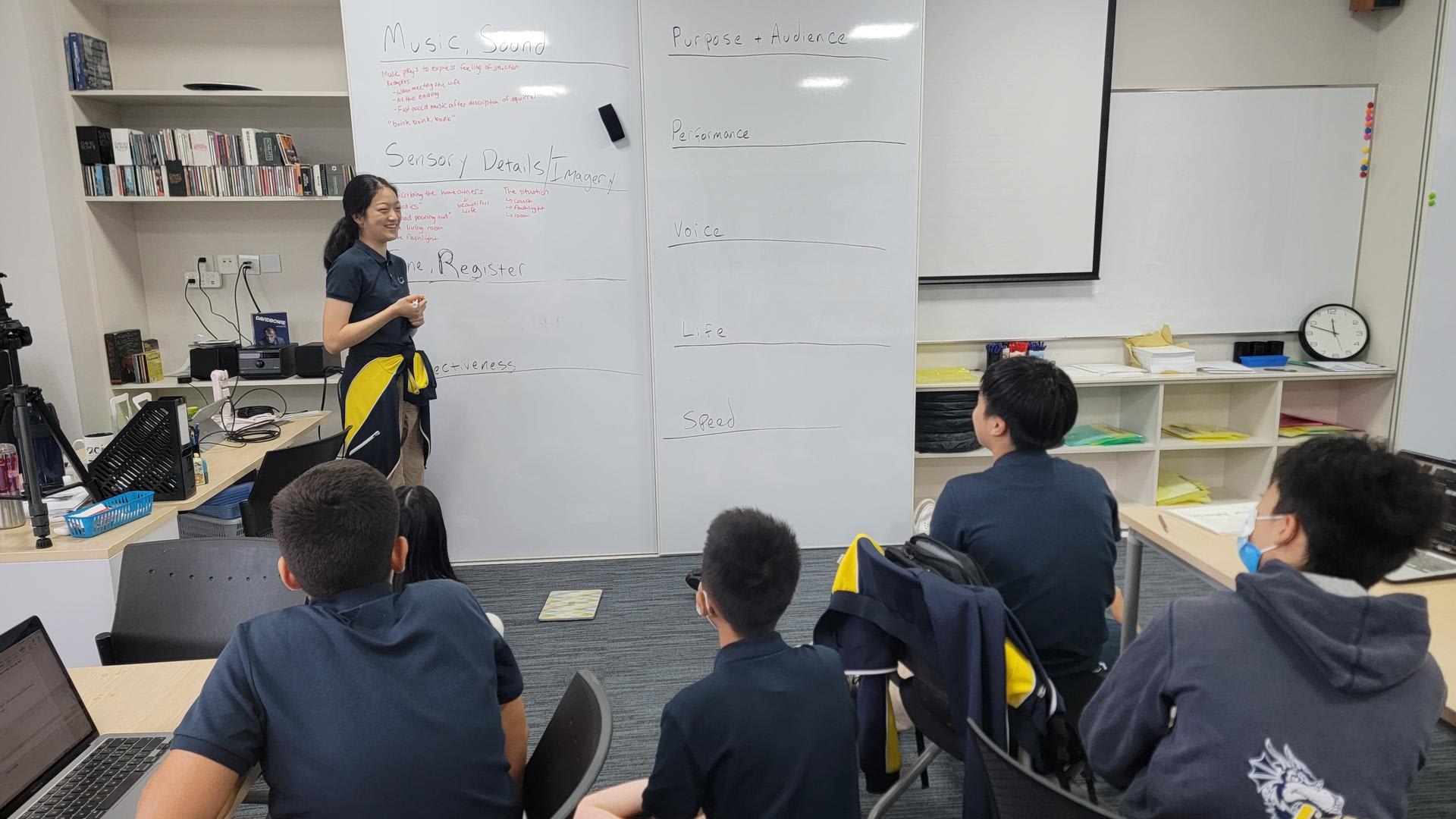 LAST CHANCE
Order an Advent Calendar
with delicious chocolates at a special price!
The last day to order is this Wednesday, November 15th, don't miss the chance to buy this nice festive treat for everyone in the family! All profits will go to the Library Project (libraryproject.org) All orders will be distributed by November 28th. Scan the QR code to order one!
This Tuesday, the University Counseling department conducted a career and self-exploration session with 9th-grade students. During the session, we administered a personality test and a Holland test. The personality test (based on the Myers-Briggs personality test) helped students understand their strengths and weaknesses, while the Holland test provided insights into their interests and how they align with different career paths.
The Holland test is based on John Holland's theory that people and work environments can be classified into six types: realistic, investigative, artistic, social, enterprising, and conventional. By identifying which types students are most aligned with, they can gain a better understanding of which careers may be a good fit for them. Overall, the session was a great opportunity for students to learn more about themselves and begin to explore potential career paths.
We encourage parents and students to discuss the results of their personality and Holland tests. If you are interested, you can also take the tests for free using the links below:
https://www.16personalities.com/free-personality-test
https://openpsychometrics.org/tests/RIASEC/
This past Saturday, we administered the digital November SAT exam. The SAT is a standardized test widely used for college admissions primarily but not exclusively in the United States. It measures students' knowledge and skills in reading, language, and math. The next SAT exam will be held on December 2nd, and if you are interested in taking the exam, please register before November 17th. The registration link is:
BEST UNIVERSITY YOU'VE NEVER HEARD OF
We encourage students to contact one of the university counselors with any questions about university entrance requirements.
Mr. Mark Donagher markdonagher@hisdragons.org.cn
Ms. Iris Zhang iriszhang@hisdragons.org.cn
Ms. Carrie Sun carriesun@hisdragons.org.cn
Dr. Ryan Beddows ryanbeddows@hisdragons.org.cn
Dr. Monica Prieto monicaprieto@hisdragons.org.cn
Fridays HIS Artisan Food Market is back!
Every Friday from 2:30 to 4:30pm
Every Friday, Hangzhou International School along with our community Artisans will offer to purchase tasty treats and excellent snacks from the different food vendors attending. Come for a pleasant afternoon to end the school week, and head out for a relaxing and fun weekend with a happy stomach!
PAFA Be fit! Be Healthy! Every Thursday from 8:15 to 9:45am
All HIS parents are invited to join to this program. Please, scan que QR code in the poster for more information and register. Limited spaces per session.
DRAGON ATHLETICS & ACTIVITIES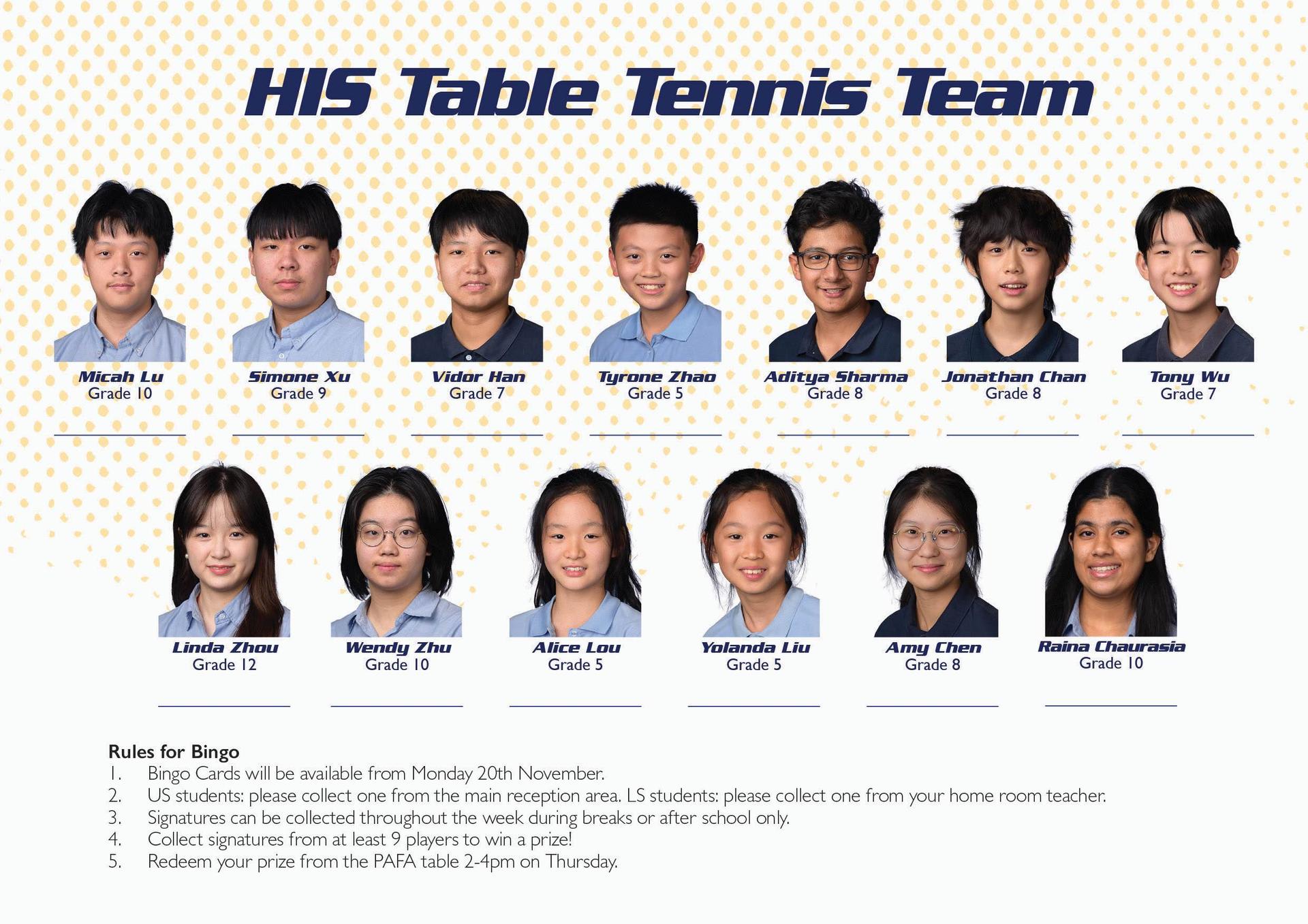 ACAMIS VOLLEYBALL SUCCESS FOR OUR GOLD DRAGONS!!!!
Last week we had the pleasure of hosting the 2023 ACAMIS Green Division Volleyball Tournament with 5 schools from throughout China, Hong Kong SAR competing over 3 days of exciting action. These multi-day events are physically and mentally challenging and offer our students opportunities to develop their volleyball skills and knowledge, while also building friendships, self-confidence, and resilience.
Both our teams played 7 matches in 3 days with the Girls achieving their goal of winning the Championship for the 2nd consecutive time- 2021 & 2023. (*2022 tournament was cancelled). They went through the tournament undefeated, including 3 victories coming back from a 1 set deficit to win. One of these comeback wins was the Championship Match, played on Saturday afternoon in front of our fanatical Cheer Squad. The girls faced Shanghai Community International School -Hongqiao Campus in the deciding match, the nail-biting finish saw the team lead 14-7, lose 8 consecutive points, and then prevail 17-15 in the 3rd set. Mayhem followed as players, coaches, parents and HIS Cheer Squad rushed the court to celebrate what was a fantastic performance by our Gold Dragon Girls. They finish the season with 17 wins from their 18 matches and Champions in both ACAMIS and Jeju Tournaments. Congratulations to all players and coaches for this outstanding season.
The Boys entered the tournament full-of confidence following their SISAC Tournament win the previous week and had shown steady improvement since their reality-check in Jeju against some strong Korea teams. They finished the round-robin phase in third place with 3 wins and 2 losses and entered the final day's semi-finals with a great chance at the Championship. They suffered a narrow semi-final loss to SCIS-HQ despite playing some of their best Volleyball of the season but bounced back to win their final match and finish in a very commendable 3rd place. With no seniors on the team, this will be one team to watch next year!!
Congratulations to the following players who were nominated to the All-Tournament teams:
Madita von den Hoff, Tonya Liu, Lucia Wang, James Lee, Ronan McErlean.
Congratulations to our coaches who have put so much time and energy into our student athletes this season – Girls – Ms. Nichola Hollingsworth, Ms. Mary Powers, Ms. Ellen McMahon; Boys Coaches – Mr. Jamie Cattran, Mr. Pat Hendrick, Mr. Dan Kirk.
A massive thank you to our HIS community for coming out in such great numbers throughout the tournament to support our teams. It was amazing to have students from our Early years through to our Seniors showing such enthusiasm on the sidelines. Special mention to the members of our HIS Parent Cheer Squad and PAFA for helping promote our teams and building a great Gold Dragon spirit over the 3 days.
ACAMIS VOLLEYBALL PHOTOS
Photos of our Gold Dragon Volleyballers can be accessed through the QR code below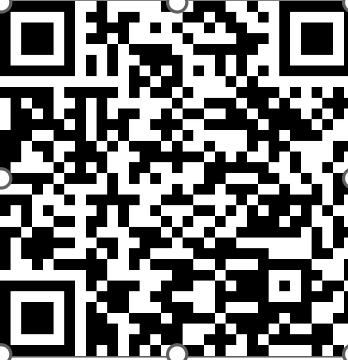 SISAC
TABLE TENNIS SUCCESS FOR OUR GOLD DRAGONS!!!!
Last Saturday we sent our Varsity Table Tennis team to Shanghai American School – Puxi to compete in this year's Table Tennis Tournament. Our team was the youngest in years but more than held their own against some much older and more experienced opponents. A team of 13 students played team and singles format throughout the 1-day event and came home with some much-needed practice, and some trophies to recognize their great play.
Congratulations to our Boys Team of Tyrone Zhao (G5), Jonathan Chan (G8), and Tony Wu (G7) who finished in 3rd place. HIS students also featured among the top-placings in the afternoon Singles event, with Grade 5 student Alice Lou won 1st place and will surely have many years of success ahead of her on our HIS team. Congratulations also to Vidor Han (G7) who finished in 2nd place in the Boys singles tournament.
Well done to all our team members and their coaches Ms. Lily Zhou and Ms. Gabby He. The team will now travel to Beijing later this week for their season-ending ACAMIS tournament. Best of luck to our young Varsity Table Tennis Team.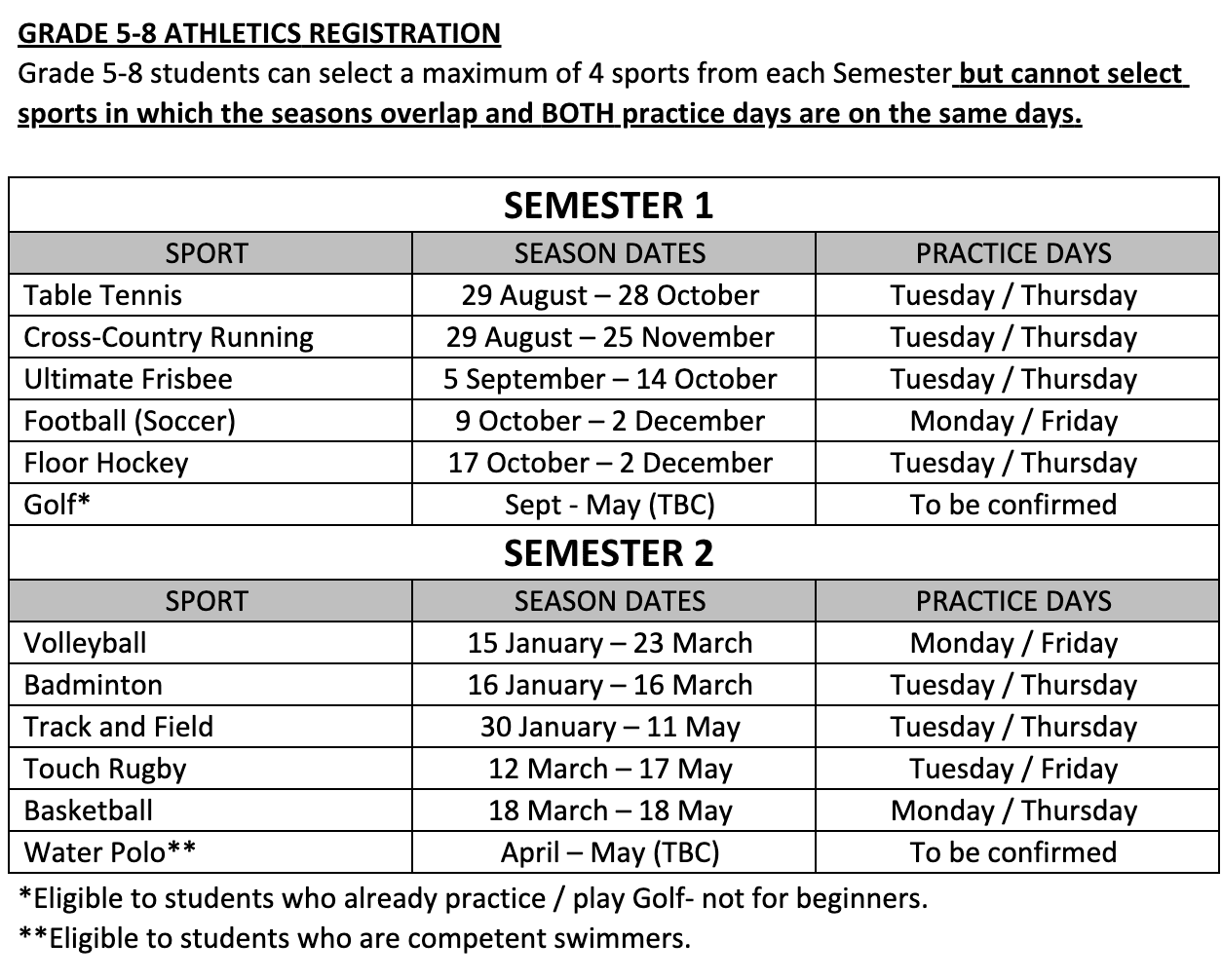 During a normal season, most teams will participate in some friendly after school matches with Hangzhou-based international schools in the Hangzhou International Schools Athletics Conference (HISAC), and a season-ending tournament which is usually in Shanghai as part of the China International Schools Sports Association (CISSA).
When selecting CCA or Swim Team practice days, students should not register for any which conflict with their sports practice days.
Students involved in Performing Arts rehearsals can participate in both activities if they can participate in at least 1 sports practice per week for their chosen sports.
All information relating to HIS Athletics can be found at the following link:
https://www.his-china.org/extend/athletics
Registrations for sports teams are now open through the link below.
https://www.his-china.org/extend/athletics/athletics-handbooks
__________________________________________________________
Current Seasons
Grade 5-8 Football (Soccer) – Monday, Friday
Grade 5-8 Floor Hockey - Tuesday, Thursday
Varsity and Grade 5-8 Cross Country – Tuesday, Thursday
Varsity Basketball Season begins on Monday 6th November – Practices every Monday, Wednesday, Friday.
Upcoming Dates
Friday 24th- Saturday 25th November – ACAMIS Cross Country Championships (Chengdu)
Friday 24th- Saturday 25th November – ACAMIS Table Tennis Tournament (Beijing)
HIS students can get their LIFE GUARD CERTIFICATION.
Students must be age 15 by mid December.
Contact Coach Nat Liares at natalioliares@hisdragons.org.cn.
HIS SANTA SPLASH 2023
Mark your calendars and join us for a festive and exciting HIS Santa Splash Swim Meet on December 2 as we wrap up Semester 1! Whether competing or cheering from the sidelines, this internal swim meet promises a terrific way to end the semester and ring in the holidays. All swim team members (Tadpoles, Blue, Bronze, Silver, Pre-Gold, Gold) are welcome to participate, and HIS community is welcome to watch. The spectator sign-up link and QR code are below.
Link: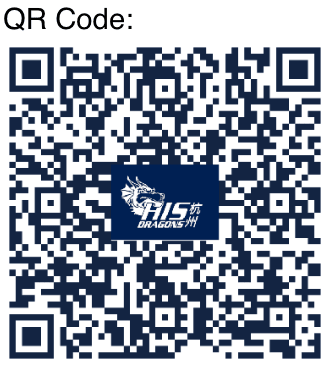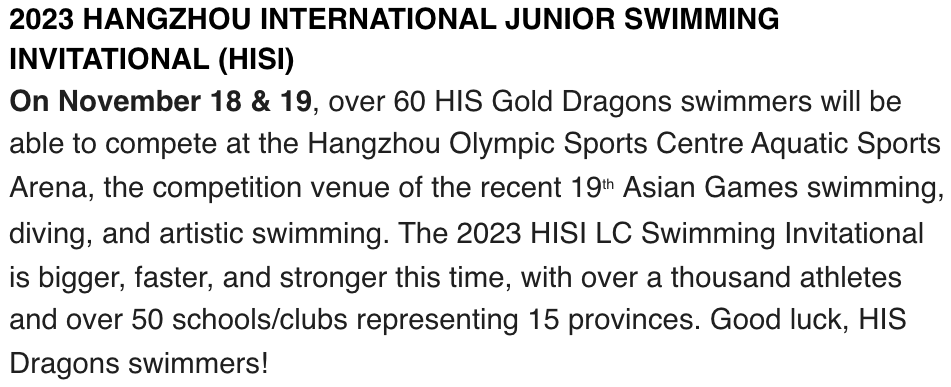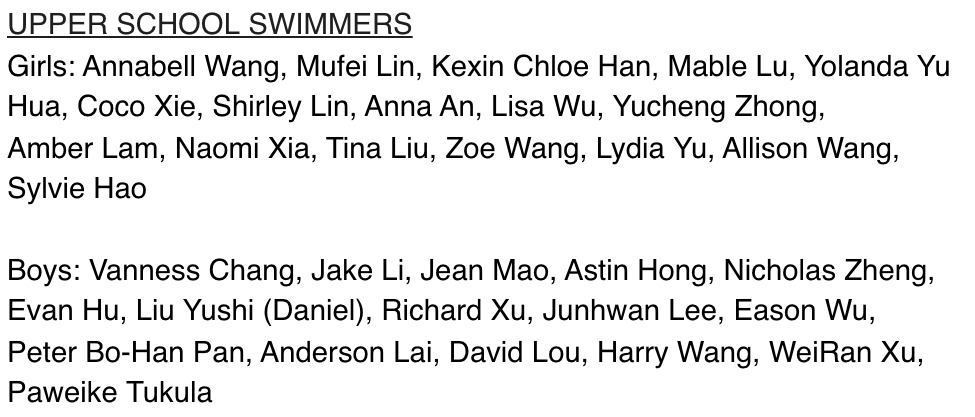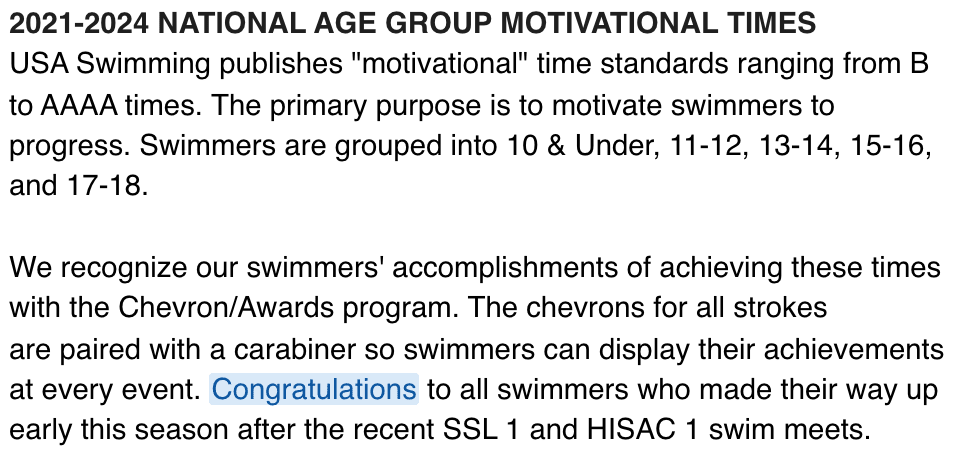 SAFETY AND TRAINING
Do not wait for an emergency to happen. Learn lifesaving skills today. Even the strongest and most skilled swimmers can drown. Be prepared by making water safety a priority.
Ensure every family member learns to swim so they at least achieve water competency skills: able to enter the water, get a breath, stay afloat, change position, swim a distance, and then get out of the water safely.
Water Competency Skills:
Step or jump into the water over your head.
Return to the surface and float or tread water for one minute.
Turn around in a full circle and find an exit.
Swim 25 meters to the exit without stopping
Exit from the water. If in a pool, be able to exit without using the ladder.
COMMUNICATION
Please direct any aquatics and swimming-related questions to swimming@hisdragons.org.cn and include your child's full name, grade level, and squad in the message. Send them at least 24 hours before you require a response. Send at least 48 hours if you have a planned absence.
UPCOMING EVENTS:
November 18 & 19 – 2nd Hangzhou International Junior Swimming Invitational (Hangzhou Olympic Sports Center Aquatics Sports Arena)
December 2 – HIS Santa Splash 2023 (The Wave)
December 8 & 9 – ACAMIS Senior Swimming Championships (ISB - Beijing)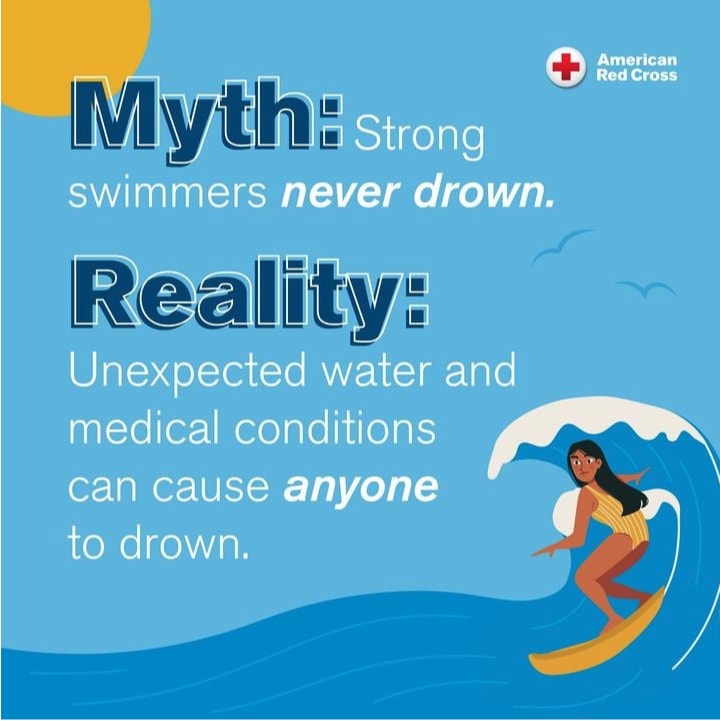 SWIM TEAM PARKA
Due to popular demand, we will place another order for our Swim Team Parkas. Please complete the Order Form by Friday, November 10. The Parka can be customized with the swimmer's name (First Name or First and last Name) on the right chest and the Flag of your nationality (one or two) on the shoulder below the Chinese Flag. Please refer to the Size chart. Parka will be ready to be collected once we return to school after winter break. You can order through the link or QR code below.
Cost: 500 RMB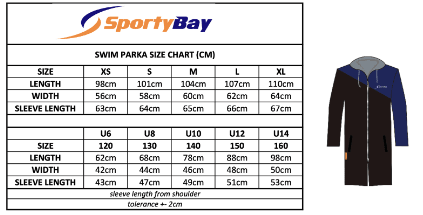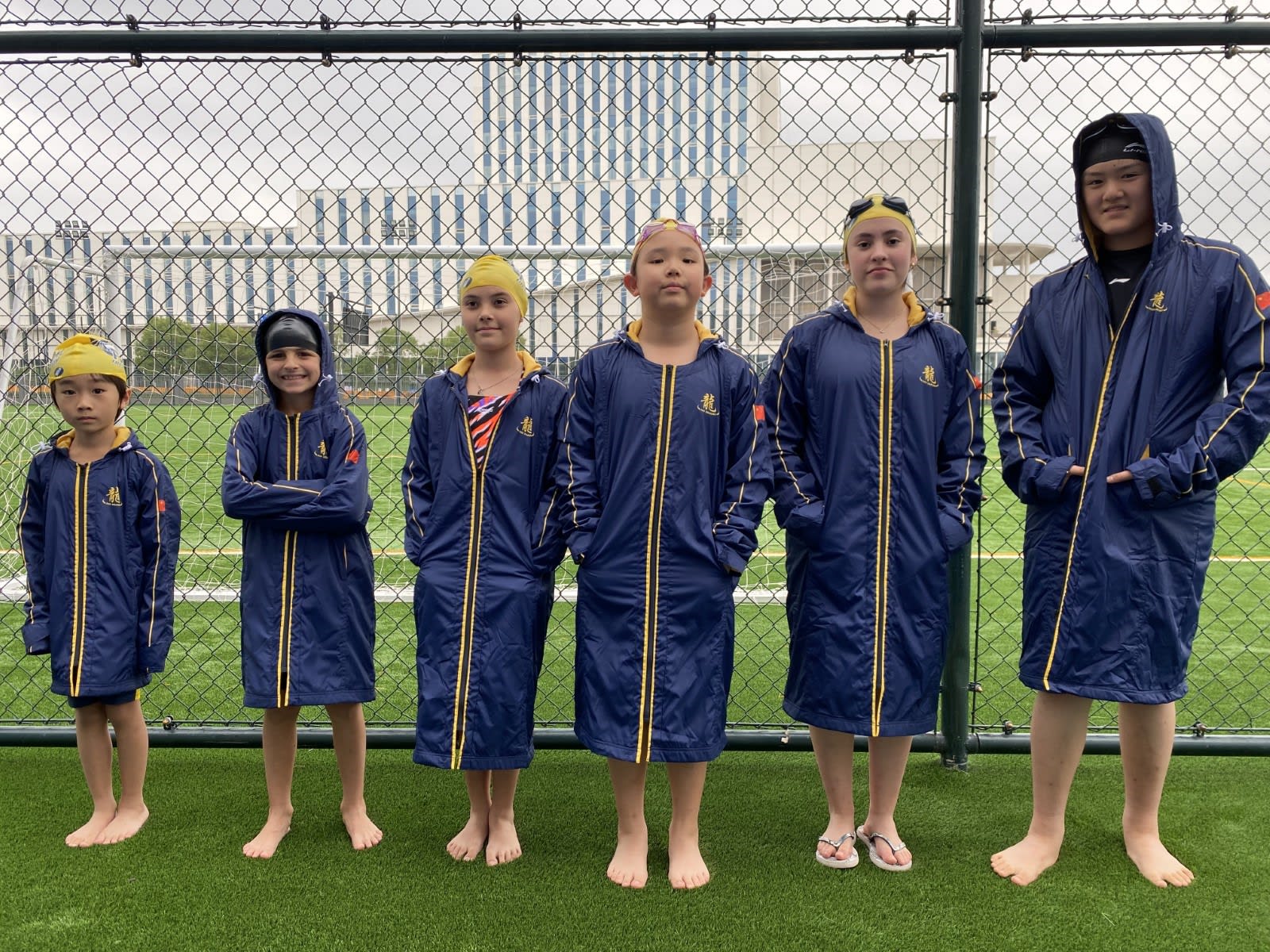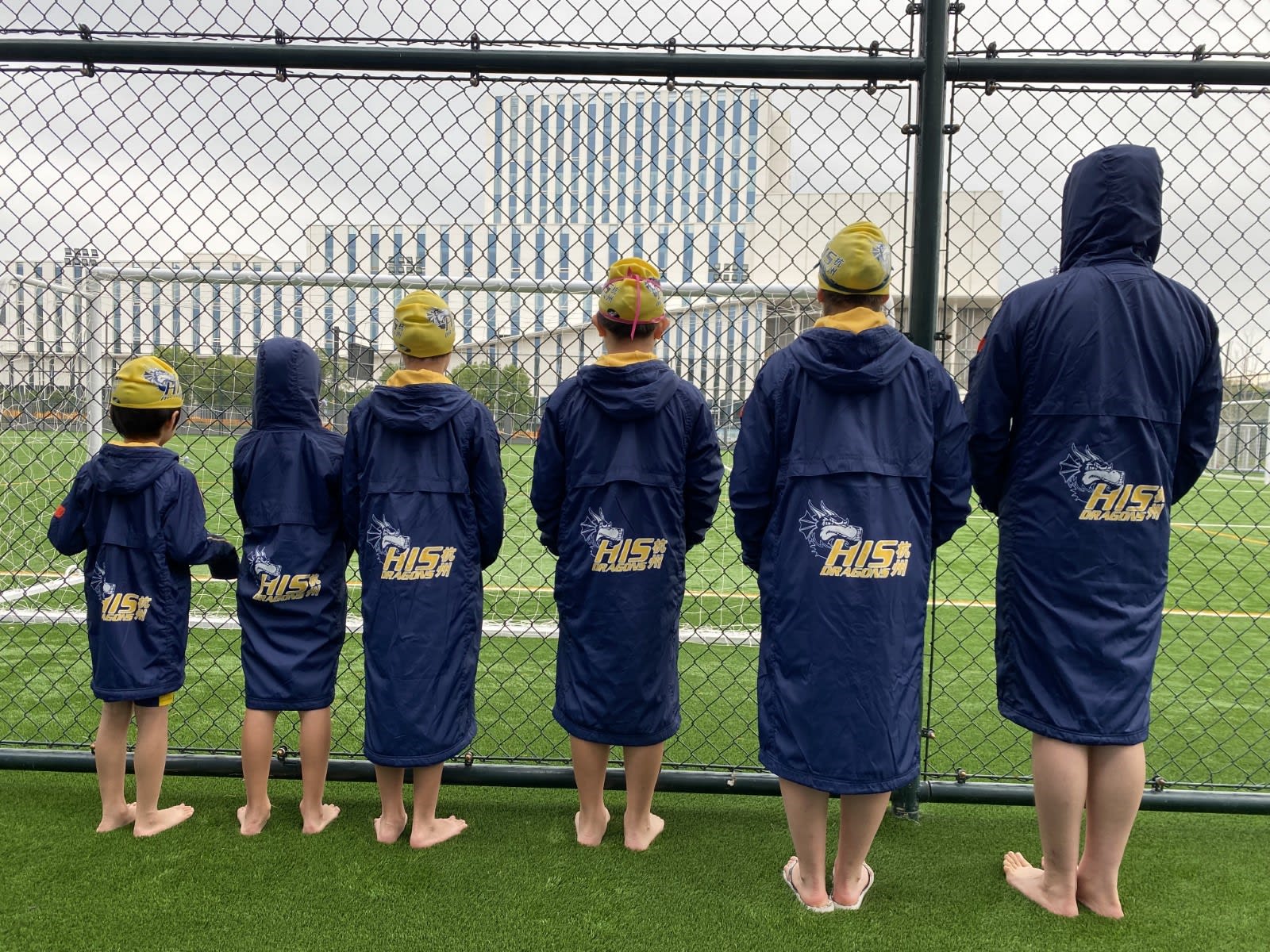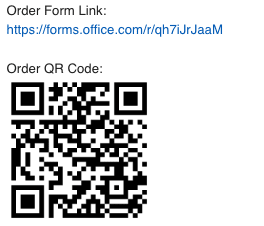 ACAMIS SENIOR SWIM CHAMPIONSHIPS (December 8 – 9)
The ACAMIS Senior Swim Championship is early this school year, with a whopping 29 schools registered and several on the waiting list. It is going to be a fantastic weekend in Beijing for two age groups (13-14, 15 & over). HIS will be sending 20 HIS Dragons swimmers. Eligible swimmers should have received a notification from the swim coaches.
HANGZHOU INTERNATIONAL JUNIOR SWIMMING INVITATIONAL
HIS will provide a bus service from HIS Campus to the Hangzhou Olympic Sports Center on November 18 & 19. Would anybody like to take the bus service on the 18th and/or 19th? Please confirm by Wednesday, November 8, by emailing swimming@hisdragons.org.cn or responding to the 2nd HISI WeChat group note so the Aquatics department can finalize the transportation arrangement.
US PE SWIM UNIT – WATER POLO AND LIFEGUARDING WELL UNDERWAY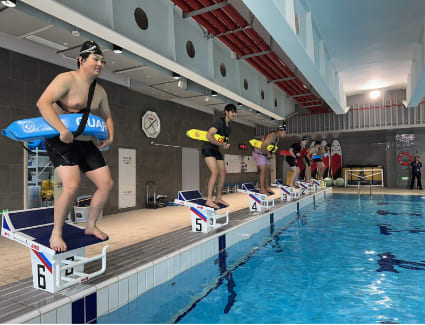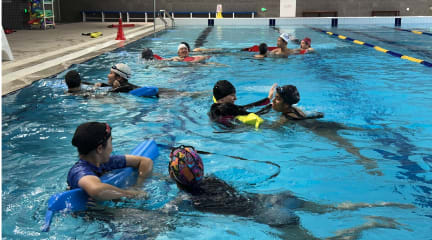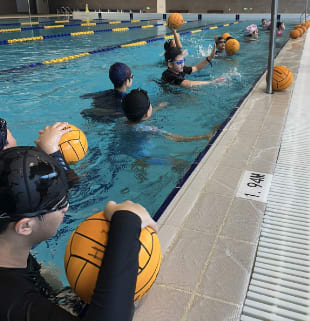 SAFETY AND TRAINING
Do you know what to do if you witness someone experiencing a cardiac arrest? Follow the important tips below. A moment can change everything during a cardiac arrest. Know what to do and how to identify the warning signs.
Hands-only CPR refers to continuous chest compressions without rescue breaths. It involves pushing hard and fast on the center of the victim's chest.
First, call Emergency Medical Services (120 or 119).
Get help and an AED when alone. Or ask a bystander to do so.
Start CPR.
Provide Hands-only CPR if you are untrained or unable to give full CPR.
Use an AED if available.
Turn it on and follow the voice prompts.
WHAT is cardiac arrest?
The heart stops beating to beats inconsistently to circulate blood to vital organs.
Comon signs to look for:
Unconsciousness
No breathing or only gasping
Not moving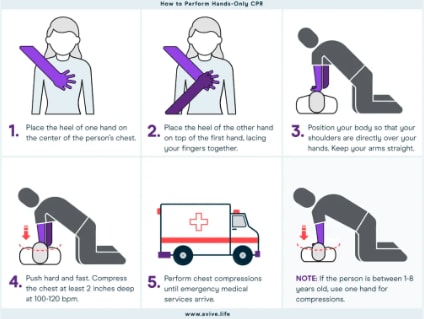 COMMUNICATION
Please direct any aquatics and swimming-related questions to swimming@hisdragons.org.cn and kindly include your child's full name, grade level, and squad in the message. Send them at least 24 hours before you require a response. Send at least 48 hours if you have a planned absence.
UPCOMING EVENTS:
November 18 – 2nd Hangzhou International Junior Swimming Invitational (Hangzhou Olympic Sports Center Swimming Pool)
December 2 – HIS Santa Splash 2023 (The Wave)
December 8-9 – ACAMIS Senior Swimming Championships (Beijing)
International Baccalaureate Diploma Programme

Praise and Feedback
All parents want to tell our kids how great they are because, let's face it, they are. They are smart, intelligent, athletic to name just a few. However, certain types of praise can inadvertently stunt a child's performance. Research has shown that calling our children gifted or talented can limit their potential.
We decide early on whether we are good or bad at something. This becomes part of our identity. For children, this could then limit the amount of time or effort they are going to put into a skill.
I am citing the work of Carol Dweck, a psychologist from Stanford University. Her research set the stage for how effort-based praise over intelligence-based praise is vital to improving performance.
Children who are told they were great or smart after completing a task tended to only engage in easier activities. Whereas, children who were praised for their effort and the process of working hard on a problem were more likely to seek out more challenging tasks.
Here's why, telling someone they are a great athlete may cause them to take less risks. After all, being "good" has become their identity, so they may fear what happens when they lose.
So, how to praise your child the "right" way?
Use effort verbs when praising your child and praise the outcome and the process. "I noticed how you ……", "Well done for not giving up in the middle when it got hard", "Look how much progress you have made since….", "I admire how hard you have worked on this…..", "I can see you really enjoyed that….", "I can see that you really didn't enjoy that, but you kept on going, I admire that".
If you have any questions or worries about your children please contact Dr Ryan Beddows by email ryanbeddows@hisdragons.org.cn.
Student Leadership is a priority here at HIS.
Each week, we spotlight a student leader and give them an opportunity to tell you about their clubs, sports, and activities.
LITERACY LAB
A New Era for Literacy at HIS
By Ruhi Gianchandani, Angel Li, and Sanyukta Shewakramani
From October 13th to 15th, 2023, some middle and high school students, including us three from HIS, attended a literacy lab workshop at the International School of Tianjin. We learned cognitive coaching techniques and had the opportunity to try them out as both coaches and students. Before the workshop, we were asked to bring a current assignment, project, or assessment. We were pleasantly surprised to discover that we would learn various techniques to improve our assignments. We also met friendly people who were part of the literacy lab at IST. These individuals taught us the four core beliefs of cognitive coaching and how to ask probing questions to guide students without giving them answers or advice. We also discussed the principles of implementing a similar concept and used the "3 P's" technique (pause, paraphrase, probe) to assist students.
Through one-on-one and group coaching, we found the beauty of it all as we got to learn and improve by ourselves instead of being tutored. We were guided to find our own answers and solutions, which we could apply in different scenarios. Practicing these techniques with other students helped us understand the student thinking process and become better cognitive coaches. We realized that cognitive coaching doesn't require expertise in a specific subject and can be applied to a variety of subjects. The goal is for students to improve themselves and their work, with student coaches providing guidance and motivation. We are excited to use our new knowledge at HIS to help teachers, parents, and students in need, and to encourage students to learn these techniques to help themselves.
We plan to implement this cognitive coaching method at HIS in our own student-led literacy lab, with the aim of guiding students to identify and solve their own problems without directly providing answers. We believe this approach will be beneficial for the growth of students at HIS. We are passionate about bringing this vision to life and are grateful to IST for hosting the workshop and inspiring us.
MEET IN THE LIBARY
Sara Freeman
Upper School Librarian
Hi parents!
For this week's newsletter, I thought it would be fun to share a library incentive I do every week with US students called "Word of the Week." I use some of the older textbooks to find what we Americans call "five-dollar words" for students to learn. To earn a small prize, the students must find the word in the textbook, tell me the definition, and use it correctly in a sentence. The word changes each week and I'm not exaggerating when I say that a handful of students rush in each week whenever the new word is up to try to get first dibs on a prize and absorb some new vocabulary in the process. I've had feedback from teachers that some students use the words they learn in the library for their daily schoolwork!
You are, of course, more than welcome to visit the library each week to see what the new word is—it's "kinship" this week—but I thought it would be more fun for parents to try their own hand at finding a vocabulary word in an article.
Here's the article (no vpn required): https://www.snexplores.org/article/analyze-this-white-wing-spots-monarch-butterflies-migration
The article is called "Analyze This: White wing spots may help monarch butterflies fly far" by Carolyn Wilke. (Citation can be found on the poster).
Here's what you need to do:
1) Read the article, or at the very least skim it
2) Find the word
3) Email me the definition
4) Use the word correctly in a sentence and email me that as well!
sarafreeman@hisdragons.org.cn
I usually offer the students something fun and silly for prizes like erasers, cute pencils, keychains, something like that. What kind of prizes would you, dear parents, like to earn for doing the Word of the Week? Please let me know!
I promise to email you back if you give the Word of the Week a try.
See you at the library!
Middle School Uniform Guidelines 6-8
Middle Schoolers should wear tan shorts, trousers, or skirts and a navy blue polo shirt (short or long sleeved) with the HIS book logo. A navy fleece or cardigan sweater with the HIS logo or other approved outerwear such as the HIS hoodie sweatshirt can be worn in the cooler weather. All students must wear laced shoes.
High School Uniform Guidelines 9-12
High Schoolers should wear tan shorts or trousers, or plaid skirts (girls only) and a light blue Oxford cloth button down short or long sleeved short with the HIS book logo. A navy fleece or cardigan sweater with the HIS logo or other approved outerwear such as the HIS hoodie sweatshirt can be worn in the cooler weather. All students must wear laced shoes.
Students will be asked to remove outerwear (coats, hoodies, sweatshirts, etc) in lessons unless they carry the HIS logos. Students who are cold will be invited to go to the Dragon Shop to purchase acceptable HIS items.
Families can purchase items at the Dragon Shop open
Mondays to Fridays from
8:05am - 2:45pm and 3:15pm - 4:00pm
For more information, please contact the Dragon Shop: olivexu@hisdragons.org.cn
See the updated lunch menu weekly and monthly as posted on the school website.
HIS Mission Statement
We provide international learners with opportunities to pursue academic and personal excellence within a caring community.