Upper School Newsletter November 28, 2022
Above: Turkey Trot

Below: MYP Science

UPCOMING EVENTS

November 29 US Assembly

November 29 Career Talk

December 1 Coffee Talk - 10:30am

December 2 Christmas Tree Lighting

- at Hotel Intercontinental

December 2-3 Lower School Production

- Seussical

December 13 Tech Tuesday

December 16 US Winter Arts Night

December 22 Winter Chill Out (STUCO)

December 23 End of Semester 1

January 30 Start of Semester 2
A NOTE FROM ADMINISTRATION
Dr. Monica Prieto

Upper School Vice-Principal

IBDP WOW!

WORDS OF WISDOM FROM THE IBDP COORDINATOR

This is a particularly stressful time for our grade 12 students as they work hard to complete all assignments and meet all deadlines for the IAs; they prepare university applications and try to keep up with the day-to-day schoolwork. While it might seem hard to see at this time, the students are developing invaluable skills that will serve them well in college and in their professional lives thereafter.
On several occasions students that I had taught while they completed the Diploma Programme came back to visit the school during their first year at top tier US and UK universities and told me how they found the first year easy compared to the Diploma Programme. They also commented on how they felt much better prepared than students than had completed other programs. Organizational skills, time management skills, research skills, thinking skills, and communication skills are all essential skills that the students are working hard to develop.
Exercise: find time to do some exercise, even if it is just going for a walk. Exercise will help you increase your levels of dopamine which will help increase your concentration.
We are confident you can do this, and we are all here to support you!
ITS A GREAT DAY TO BE AN HIS DRAGON!!!
P.S.: All parents are invited to our Coffee Morning on December 1st at 10:30am to hear about our Spring Timetable. More to come. See you then!
| | |
| --- | --- |
| HIS is doing great things and being noticed!!! Click on the button below or scan the QR code to see what they're saying about your HIS Dragons! | |
Leading International Schools in China
We are thrilled to once again have HIS nominated and endorsed as one of the Leading International Schools in China by the Educational Insight Team of Newsweek Magazine. Over the years, HIS has received numerous commendations for its outstanding programs and quality of instruction, especially for its IB Programmes, and we are so pleased to have the entire school recognized for its leading mission, facilities and commitment to international education.
THE LATEST NEWS ABOUT HIS
Jeffry R. Stubbs
Making HIS a benchmark for international schools
HIS Lower School present: Seussical Kids, The Musical!
Recommended for the whole family, this colorful new musical adventure follows the beautiful characters and worlds created by Dr. Seuss.
Saturday, December 03. Only two shows available. You need to buy your tickets in advance.
Please, notice that you won't be able to buy tickets at the door before the show!
SCAN the QR codes in the poster, and remember to book the right show if you child is performing:
11:00am: classes 3B, 3C, 4A, 5B, 5D, and all CCA Seussical performers
2:00pm: classes 3A, 3D, 4B, 4C, 5A, 5C, and all CA Seussical performers
Grade 8 Christmas Choir and MS String Orchestra Spreading Joy!
Last Saturday our students brought festive joy during the Christmas Tree Lighting Ceremony organized by the Four Seasons Hotel. A wonderful evening that supports the Carnation School for Children with Special Learning Disabilities. We, students, faculty, and parents, are proud to support and participate to give back to the whole community.
You can see photos of the event here: https://as.alltuu.com/album/1163063404/?from=link
and you can join this Friday to the
InterContinental Hotel Christmas Tree Lighting Ceremony.
Our Choir will be performing at 6pm. (Entrance is free)
HIS Turkey Trot 2022!
A beautiful day to run/hike the trails from the Lianhua Old Temple to the HIS Campus. Thank you, students, parents, and faculty that joined us!
Congratulations
to the winners of the
GIN Club Greeting Card Competition!
All winners will receive their free pack of cards from GIN club, and can pick them up next week at Ms. Andrea's office.
Thank you to all the participants. Please, collect your drawings, plus a chocolate, with Ms. Andrea. The winning submissions have been printed on greeting cards and will be sold at the different events at HIS. All proceeds help fund GIN club projects and charity experiences.
HIS PAFA Winter Lunch
Join us for the Winter Festival Lunch. Please, enjoy a wonderful lunch with fun activities, delicious food, and great company!
GIN Club –Advent Calendar delivery orders
If you ordered an Advent Calendar,
this will be distributed by November 28th to your child, but if you wish to collect the calendar yourself, please send an email to
Ms. Andrea: andreastubbs@hisdragons.org.cn
Thank you for supporting the HIS GIN Club Projects in the community while giving a special gift during the festive period!
Individual Studio Photos are available to see and order!
Individual Studio Photos are available to see and order! Following Dave's Studio recent visit to take school photographs, you are able to see the photos and if you wish, order online directly with them by scanning the QR Code below. If you have questions, you can contact them by email: davesstudioinfo@qq.com or by scanning their WeChat contact below:
Instructions in the Ordering Guidelines Poster below
Hello students and parents!
HIS is proud of our strong tradition of college counseling. We are committed to not only giving our students the best education possible while here with us in Hangzhou but we also work to insure that they find the right fit university for life after HIS. These decisions are not always easy.
At HIS, we help each student find the exact right fit for their personality and their choice of study. This year, we have decided to help our students do 'a little research'...
To this end, we have decided to spotlight excellent schools from around the world that may not have heard of before. Please take a moment to see if any of these schools might pique your interest. If you have any questions, please feel free to contact our any of our College Counselors.
We encourage students to contact one of the university counselors with any questions about university entrance requirements.
Ms. Iris Zhang iriszhang@hisdragons.org.cn
Mr. Fursey Gotuaco furseygotuaco@hisdragons.org.cn
Dr. Aaron Ayers aaronayers@hisdragons.org.cn
Dr. Monica Prieto monicaprieto@hisdragons.org.cn
Dr. Ryan Beddows ryanbeddows@hisdragons.org.cn
UPPER SCHOOL ATHLETICS
Varsity Basketball
The Varsity Boys unfortunately had their HISAC Tournament postponed on the weekend but did have a successful start to their season on Thursday evening with a 32-20 win over Chinese International School (CIS). A 15-player roster was rotated regularly to get everyone on court to remove some off-season rust. Standout players were Ben He with his dominance in the low-post, Gaspard Roubin-Lenzlinger playing his first game for HIS and grabbing boards on both ends of the court, and Benjamin Branham with steady point guard play to keep the team on track. The JV team will take on the CIS boys this Tuesday in the Upper Gym. Also opening their season this Tuesday will be the Varsity Girls who play CIS on Tuesday. These girls played a spirited internal game on Thursday and are looking forward to hitting the court for the first time this season. They are preparing for their HISAC tournament scheduled for 10th December.
HISAC Cross-Country Championships – POSTPONED
We were scheduled to host the HISAC Championships this Saturday but have had to postpone this event with a number of schools not able to attend. We will reschedule the event in Spring. We have an enthusiastic group of MS/HS runners who have been training 3 times each week since September, as well as the Grade 3-5 Junior Runners CCA which meet each Monday with Mr. Bosley. Well done to these students and their committed coaches Mr. Bosley, Mr. Hamilton and Ms. Rojas who have been taking the runners on their after-school training runs.
UPCOMING EVENTS IN NEXT 2 WEEKS
VARSITY GIRLS BASKETBALL FRIENDLY
HIS vs Chinese International School @ HIS Lower Gymnasium
Tuesday 29th November - 5pm tip-off
JUNIOR VARSITY BOYS BASKETBALL FRIENDLY
HIS vs Chinese International School @ HIS Upper Gymnasium
Tuesday 29th November - 5pm tip-off
VARSITY BASKETBALL TEAM BONDING DAY
3v3 Tournament for all Varsity Boys and Girls & Team Dinner
Saturday 3rd December
-------POSTPONED -------- 2022 HISAC CROSS-COUNTRY CHAMPIONSHIPS – ALL AGES (U11 / U14 / U19)
Hosted by Hangzhou International School
Saturday 3rd December
VARSITY BOYS BASKETBALL FRIENDLY
HIS vs Wycombe Abbey School Hangzhou @ HIS Upper Gymnasium
Wednesday 7th December – 4:45pm tip-off
FRIDAY NIGHT LIGHTS – MIDDLE SCHOOL FLOOR HOCKEY
Middle School Floor Hockey + HIS Faculty – Floor Hockey
Friday 9th December 3:30-4:30pm
2022 HISAC TABLE TENNIS TOURNAMENT – ALL AGES (U11 / U14 / U19)
Hosted by Hangzhou International School
Saturday 10th December
2022 HISAC VARSITY GIRLS BASKETBALL TOURNAMENT
Hosted by BASIS International School
Saturday 10th December
AQUATICS
Monday, Nov. 28, 2022 - Newsletter
Email swimming@hisdragons.org.cn for inquiries, and visit the Aquatics Swim Meet Calendar webpage for updated events.
International Baccalaureate
Diploma Programme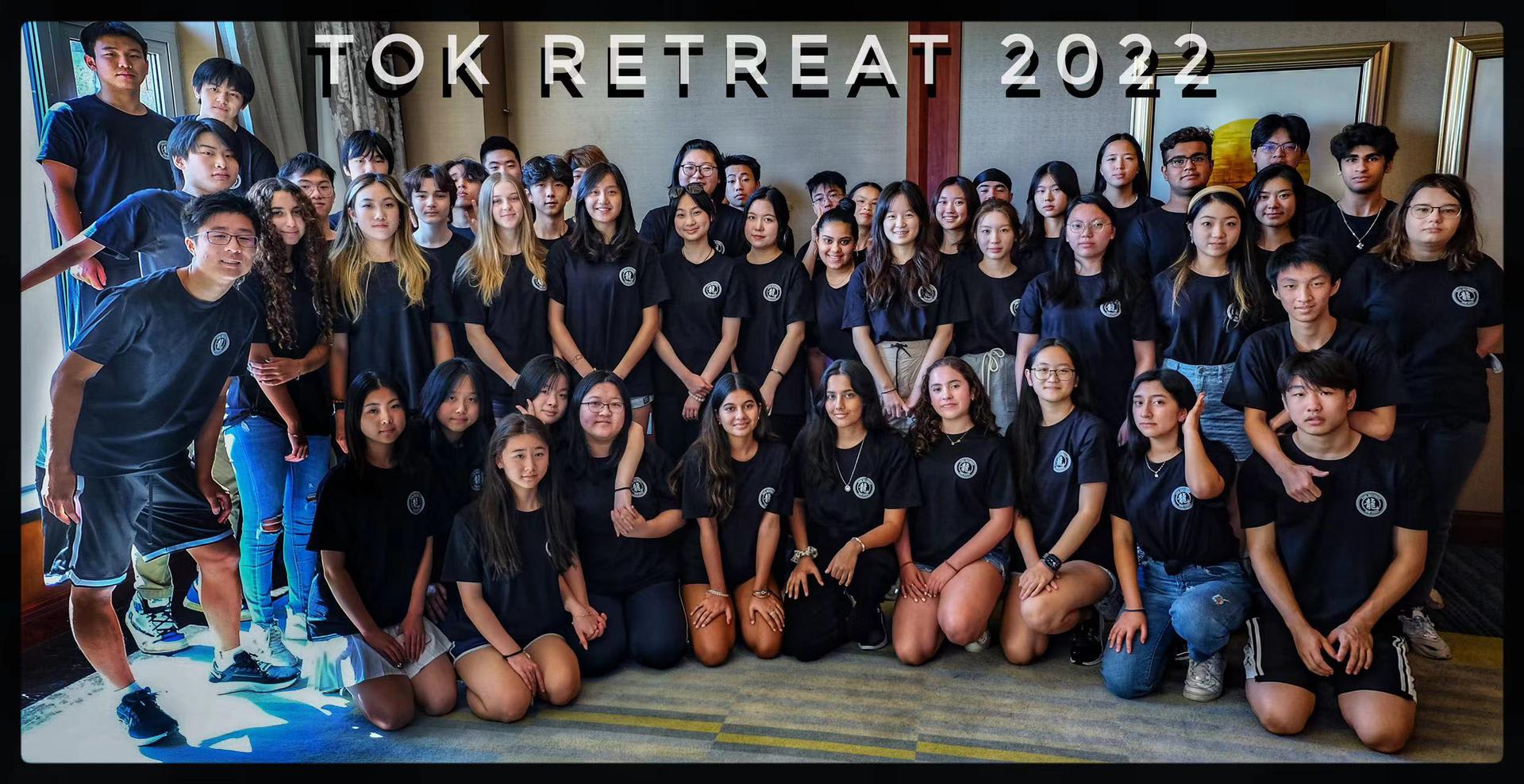 Terry Strombeck
TOK/DP History Teacher
As the football-soccer World Cup in Qatar begins, there are friendly and for-profit prediction games about which country will win the tournament. Hours of television programs have been spent building 'evidence-based cases' predicting which teams are the most likely to win. In the past week many teachers and students have also made friendly predictions on who will win. In general, it is fair to say that we are fascinated with predicting the future. In fact, we all often want to know the future.
Our Grade 12 students want to know what scores they will receive in May and if the university of choice will accept them as students. Adults may want to know their professional and personal futures. In TOK, students explore how each of their subjects tries to predict the future. Some subjects do this more obviously than others. For example, economic data and interpretation is used to predict inflation and unemployment rates. Mathematics helps predict how much food there will be. Through TOK reflection, students in all grades can see that one of the purposes or values of studying a subject is not just to understand what and why something happened but also to see how various subjects can help us 'know' what may happen in the future.
However, a question about predicting the future comes up: 'can we know the future with certainty?' In TOK, 'knowing' implies that 'we have proof' so can we have actually 'know' with certainty before an event happens? Some subjects like to think they can get close to 'knowing the future with certainty.' Can you guess which subjects these might be?
DEADLINES FOR DP 2 (IAs & EEs)

Parents, Just Listen.
The most simple piece of advice I can give to parents of teenagers is to listen. Listening well isn't as easy as it sounds especially when they are sharing something emotionally painful. It is called active listening and it can be really effective. It builds better connections within the family and is also allows the children to feel like their feelings and experiences are important and acknowledged.
Listen for meaning, not to respond. When we listen to someone and actively try and understand their experiences it can really transform the conversation. Often people are listening but also thinking about how they are going to respond. Focus on what they are saying and what they are experiencing.
Don't slip into problem-solving mode. Often when a teenager is opening up about something that happened they are looking for someone to share the pain. They don't need advice at this time.
Acknowledge and validate. Telling anyone "not to worry" is very unhelpful. Telling a teenager, "yes I went through the same thing" is even more unhelpful. When people are going through a tough time they need to know people understand and they are taking it seriously. Validate their emotions without over-reacting by using phrases like, "that sounds like a tough situation" or, "you must've felt a little bit stressed"
If you have any questions or worries about your children please contact Dr Ryan be email ryanbeddows@hisdragons.org.cn
Student Leadership is a priority here at HIS. Each week, we will spotlight a student leader and give them an opportunity to tell you what they are doing in their clubs, sports, and activities.
Jayden Hwang/Benjamin Branham
Student Council
Hey everyone! This is Jayden Hwang and Benjamin Branham from the Student Council Officer team.
On October 29th, the Student Council arranged the first Upper School Halloween Event on our new campus! What a wonderful night it was, laughing and scaring each other. Reflecting on this event, overall, we were successful. Students have enjoyed the variety of activities in the event and were given a great chance to get to know each other more. After the event, the Student Council representatives communicated with their advisories and asked for their feedback regarding what the student body thought about this Halloween event. This will help us with our organization for our next event - The Winter Carnival on December 22nd!
This will be an opportunity for students and teachers to express their Christmas Spirit by celebrating, performing, or by simply hanging out with each other. Throughout the process, the Student Council representatives learned how to come up with different viewpoints of how their ideal Winter Carnival would be like, and then integrated them together in planning. We are looking forward to your smiles and Christmas Spirit! Also, don't forget about the second Career Talk for the highschoolers focusing on the Fashion industry at the end of November! Thank you!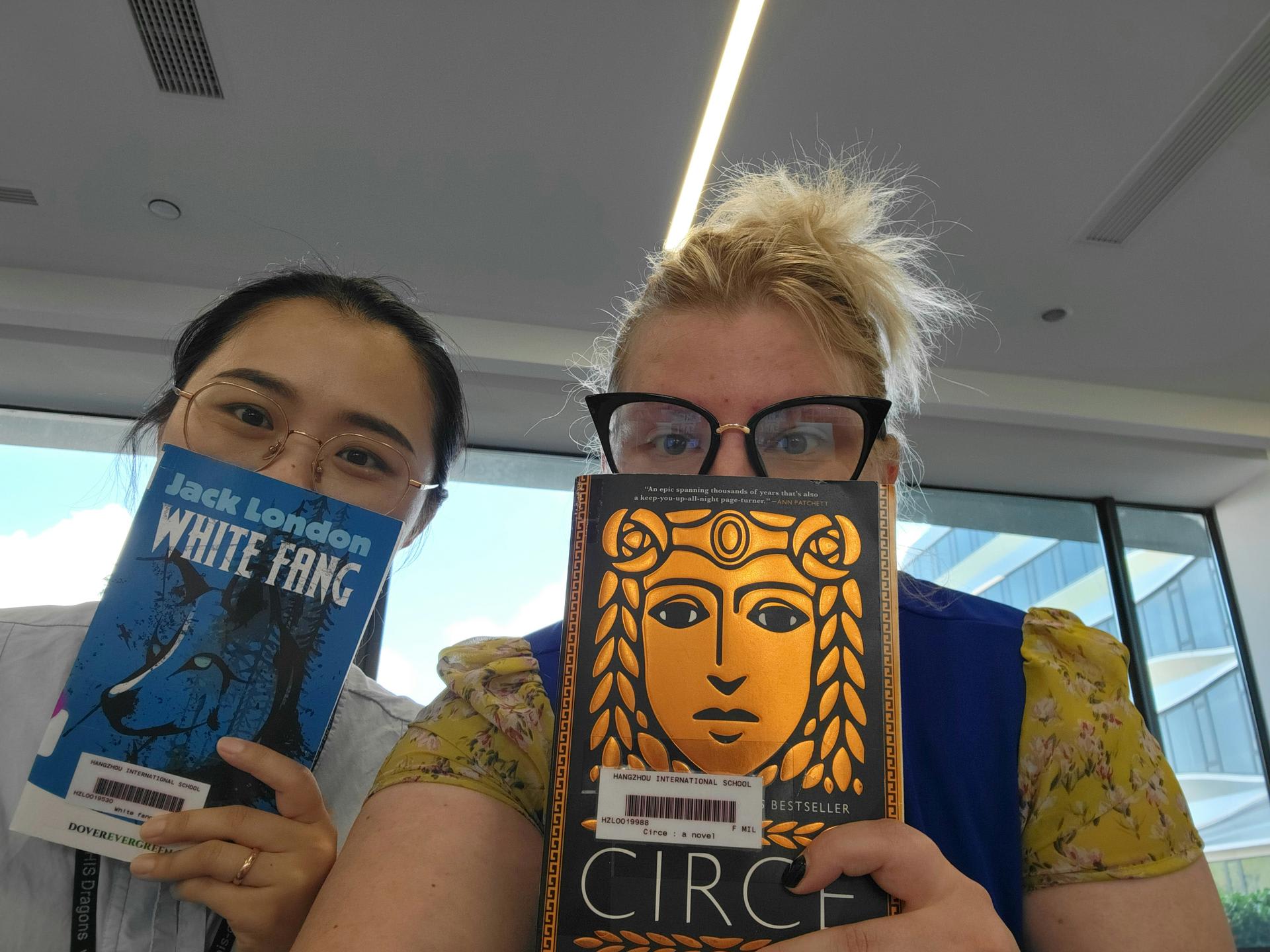 Sara Freeman
Newsletter – Upper School Library
NOVEMBER 28th, 2022
Hello Upper School Parents,
The US Library is already thinking ahead to events we want to have in the spring semester. Every year, save for Covid times, HIS hosts something called "The Living Library" where students, parents, teachers, and guest speakers volunteer their personal storytelling skills for an afternoon. Started in Denmark in 2000, the Council of Europe describes the Living Library like this[1]:
"The Living Library is a tool that seeks to challenge prejudice and discrimination. It works just like a normal library: visitors can browse the catalogue for the available titles, choose the book they want to read, and borrow it for a limited period of time. After reading, they return the book to the library and, if they want, borrow another. The only difference is that in the Living Library, books are people, and reading consists of a conversation."
The US Library will likely have its Living Library event in late April or early May next year. We hope to get many people involved! Are you interested in participating? Have a good story to tell? Please email uslibrary@hisdragons.org.cn if you want to sign-up. Thank you!
[1] "Living Library," Youth. https://www.coe.int/en/web/youth/living-library (accessed Nov. 28, 2022).

Ordering Uniforms or School Merchandise
Parents can go to following link and look at the uniform web page (https://www.his-china.org/support/dragon-shop).
Parents can place an order with Nancy in the Dragon Shop (dragonshop@his-china.org) by email or by calling the school directly (Tel# 8669-0045 X109) during office hours (Monday-Friday 7:45am - 11:30am and 12:30pm - 4:30pm).
Also parents may make an appointment to go to the Dragon Shop between 3:45pm – 4:30pm when the regular school day is over.
Older students may come to the Dragon Shop to select sizes and purchase uniforms if they have time before or after school during open hours.
Payment may be made through AliPay or by giving students cash.
You can choose from the following options to receive uniform orders:
1. Give items directly to students
2. Wait for pickup at the school gate
3. Deliver home 12RMB pay on delivery fee.
Middle School Uniform Guidelines 6-8
Middle Schoolers should wear tan shorts, trousers, or skirts and a navy blue polo shirt (short or long sleeved) with the HIS book logo. A navy fleece or cardigan sweater with the HIS logo or other approved outerwear such as the HIS hoodie sweatshirt can be worn in the cooler weather. All students must wear laced shoes.
High School Uniform Guidelines 9-12
High Schoolers should wear tan shorts or trousers, or plaid skirts (girls only) and a light blue Oxford cloth button down short or long sleeved short with the HIS book logo. A navy fleece or cardigan sweater with the HIS logo or other approved outerwear such as the HIS hoodie sweatshirt can be worn in the cooler weather. All students must wear laced shoes.
Students will be asked to remove outerwear (coats, hoodies, sweatshirts, etc) in lessons unless they carry the HIS logos. Students who are cold will be invited to go to the Dragon Shop to purchase acceptable HIS items.
Dragon Shop Winter Merchandise - Stay warm and comfy!

The hoodies and fleece below are available to buy at the Dragon Shop.
With Covid 19 cases appearing locally, parents are reminded to keep an eye on Managebac and WeChat for any updates. If students' health codes are green and the child is healthy, campus remains open.
Parents are respectfully requested to keep ill students at home until they are recovered and ready to participate fully in lessons.
COVID VACCINE UPDATE:
While it is not required for HIS students to be vaccinated, if parents wish to get the vaccine for their children, the information below contains the most up-to-date clinic address and times:
Students (aged 3-17) can be accompanied by a parents/guardian to No. 368 Liu He Road, Binjiang to get the vaccine.
Address: 杭州市滨江区六合路368号海创基地南楼 滨江主舱临时接种点
Phone #: 0571-56234087
Students (aged 3-17) have to be accompanied by one of the parents/guardians, but must also take:
Passport
Police registration
Guardian's Passport
Schedule: Monday to Sunday, 8:30am to 6:30pm
**Please note that these details can change with very little notice. You should call the clinic ahead of time to confirm that the information above is correct. **
See the updated lunch menu weekly and monthly as posted on the school website.
HIS Mission Statement
We provide international learners with opportunities to pursue academic and personal excellence within a caring community.