Upper School Newsletter December 5, 2022
Above: HPE Badminton

Below: DP History

UPCOMING EVENTS

December 9 Tree Lighting

- Intercontinental Hotel

December 12,13 AUDITIONS US Musical

December 13 Tech Tuesday

December 15 Coffee Morning

December 16 US Winter Arts Night

December 22 Winter Chill Out (STUCO)

December 23 End of Semester 1

January 30 Start of Semester 2
A NOTE FROM ADMINISTRATION
Mr. Liam O'Shea

Upper School Vice-Principal

MYP ASSESSMENT

"LEARNERS NEED ENDLESS FEEDBACK MORE THAN THEY NEED ENDLESS TEACHING."

Grant Wiggins

"WE THINK TOO MUCH ABOUT EFFECTIVE METHODS OF TEACHING AND NOT ENOUGH ABOUT EFFECTIVE METHODS O LEARNING"

John Carolus S.J.

Assessment – Why do it? What is it? What does it look like?
At HIS, the purpose of assessment is to provide feedback on the learning process for students. The components of this process celebrate and certify the attainment of learning goals, identify where additional work is needed, and provide a basis for improvement efforts. Assessment is an integral part of teaching which permeates all areas of learning and informs planning and practice.
We also believe that assessment should be:
- honest, accurate, fair and reliable
- modified or accommodated to suit different learning needs and styles
- cumulative, consistent and valid
- reflective of the international nature of the school, curriculum and community
- significant, engaging, relevant and challenging
- authentic to the task undertaken
- regularly and accurately reported to students and parents
(HIS Assessment Policy, p. 2).
Your child's reports include information about quantitative assessment (the 'number') for their academic achievements, AND qualitative assessments about what s/he does in the classroom, including the approaches to learning (ATL) skills they are continuing to develop for longer term success. These include communication, social, self-management, research and thinking skills.
At HIS we focus on developing positive learning skills and growth-oriented states of mind. We KNOW that developing these character traits leads to not only academic success, but well-rounded, internationally minded young people who succeed in life!
ITS A GREAT DAY TO BE AN HIS DRAGON!!!
COVID Protocol update: Though many of the restrictions and guidelines have been relaxed for other areas of the city, schools remain a priority for safety and have procedures that other business and institutions do not have to follow. HIS will continue to follow the health and safety protocols that we have been using for the safety of our community.
| | |
| --- | --- |
| HIS is doing great things and being noticed!!! Click on the button below or scan the QR code to see what they're saying about your HIS Dragons! | |
Leading International Schools in China
We are thrilled to once again have HIS nominated and endorsed as one of the Leading International Schools in China by the Educational Insight Team of Newsweek Magazine. Over the years, HIS has received numerous commendations for its outstanding programs and quality of instruction, especially for its IB Programmes, and we are so pleased to have the entire school recognized for its leading mission, facilities and commitment to international education.
THE LATEST NEWS ABOUT HIS
Jeffry R. Stubbs
Making HIS a benchmark for international schools
Grade 8 Christmas Choir and MS String Orchestra Spreading Joy!
Last Saturday our students brought festive joy during the Christmas Tree Lighting Ceremony organized by the Four Seasons Hotel. A wonderful evening that supports the Carnation School for Children with Special Learning Disabilities. We, students, faculty, and parents, are proud to support and participate to give back to the whole community.
You can see photos of the event here: https://as.alltuu.com/album/1163063404/?from=link
and you can join this Friday, December 9th, to the
InterContinental Hotel Christmas Tree Lighting Ceremony.
Our Choir will be performing at 6pm. (Entrance is free)
HIS Social Media.
Follow us and subscribe to our channels!
#GoHISDragons!
Congratulations
to the winners of the
GIN Club Greeting Card Competition!
All winners will receive their free pack of cards from GIN club, and can pick them up next week at Ms. Andrea's office.
Thank you to all the participants. Please, collect your drawings, plus a chocolate, with Ms. Andrea. The winning submissions have been printed on greeting cards and will be sold at the different events at HIS. All proceeds help fund GIN club projects and charity experiences.
Hi, everyone! As we are about to approach the new year. Our Longyin Club would like to welcome the Year of the Rabbit with our calligraphy works again this year! The members of Longyin Club look forward to sharing their original calligraphy works with you. All money raised from this student's activity will be donated to support our current ongoing Aspiration Project.
It is better to give than to take. We hope that you will support us by purchasing our works to either decorate your place or give out as a gift. Thank you for your support and we wish you a happy and prosperous New Year in advance!
HIS PAFA Winter Lunch
Join us for the Winter Festival Lunch.
Please, enjoy a wonderful lunch with fun activities, delicious food, and great company!
Hello students and parents!
HIS is proud of our strong tradition of college counseling. We are committed to not only giving our students the best education possible while here with us in Hangzhou but we also work to insure that they find the right fit university for life after HIS. These decisions are not always easy.
At HIS, we help each student find the exact right fit for their personality and their choice of study. This year, we have decided to help our students do 'a little research'...
To this end, we have decided to spotlight excellent schools from around the world that may not have heard of before. Please take a moment to see if any of these schools might pique your interest. If you have any questions, please feel free to contact our any of our College Counselors.
OUR COLLEGE ACCEPTANCES THUS FAR
CARDIFF UNIVERSITY
KINGS COLLEGE OF LONDON
UNIVERSITY OF MANCHESTER
MICHIGAN STATE
YORK UNIVERSITY OF CANADA
We encourage students to contact one of the university counselors with any questions about university entrance requirements.
Ms. Iris Zhang iriszhang@hisdragons.org.cn
Mr. Fursey Gotuaco furseygotuaco@hisdragons.org.cn
Dr. Aaron Ayers aaronayers@hisdragons.org.cn
Dr. Monica Prieto monicaprieto@hisdragons.org.cn
Dr. Ryan Beddows ryanbeddows@hisdragons.org.cn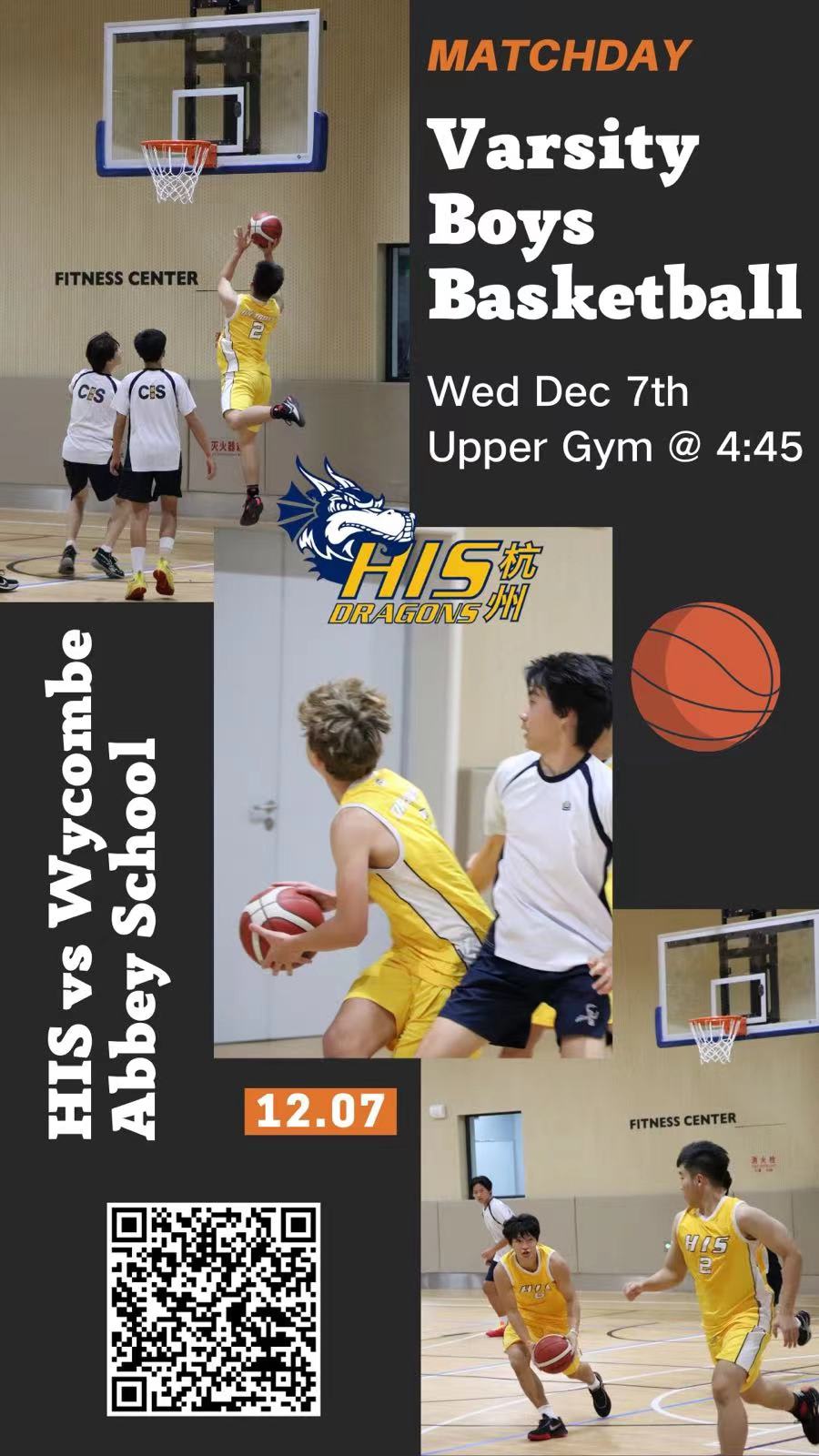 UPPER SCHOOL ATHLETICS
Varsity Basketball
The Varsity Boys unfortunately had their HISAC Tournament postponed on the weekend but did have a successful start to their season on Thursday evening with a 32-20 win over Chinese International School (CIS). A 15-player roster was rotated regularly to get everyone on court to remove some off-season rust. Standout players were Ben He with his dominance in the low-post, Gaspard Roubin-Lenzlinger playing his first game for HIS and grabbing boards on both ends of the court, and Benjamin Branham with steady point guard play to keep the team on track. The JV team will take on the CIS boys this Tuesday in the Upper Gym. Also opening their season this Tuesday will be the Varsity Girls who play CIS on Tuesday. These girls played a spirited internal game on Thursday and are looking forward to hitting the court for the first time this season. They are preparing for their HISAC tournament scheduled for 10th December.
HISAC Cross-Country Championships – POSTPONED
We were scheduled to host the HISAC Championships this Saturday but have had to postpone this event with a number of schools not able to attend. We will reschedule the event in Spring. We have an enthusiastic group of MS/HS runners who have been training 3 times each week since September, as well as the Grade 3-5 Junior Runners CCA which meet each Monday with Mr. Bosley. Well done to these students and their committed coaches Mr. Bosley, Mr. Hamilton and Ms. Rojas who have been taking the runners on their after-school training runs.
UPCOMING EVENTS IN NEXT 2 WEEKS
-------POSTPONED -------- 2022 HISAC CROSS-COUNTRY CHAMPIONSHIPS – ALL AGES (U11 / U14 / U19)
Hosted by Hangzhou International School
Saturday 3rd December
VARSITY BOYS BASKETBALL FRIENDLY
HIS vs Wycombe Abbey School Hangzhou @ HIS Upper Gymnasium
Wednesday 7th December – 4:45pm tip-off
FRIDAY NIGHT LIGHTS – MIDDLE SCHOOL FLOOR HOCKEY
Middle School Floor Hockey + HIS Faculty – Floor Hockey
Friday 9th December 3:30-4:30pm
2022 HISAC TABLE TENNIS TOURNAMENT – ALL AGES (U11 / U14 / U19)
Hosted by Hangzhou International School
Saturday 10th December
2022 HISAC VARSITY GIRLS BASKETBALL TOURNAMENT
Hosted by BASIS International School
Saturday 10th December
AQUATICS
Monday, Dec. 5, 2022 - Newsletter
Email swimming@hisdragons.org.cn for inquiries, and visit the Aquatics Swim Meet Calendar webpage for updated events.
International Baccalaureate Diploma Programme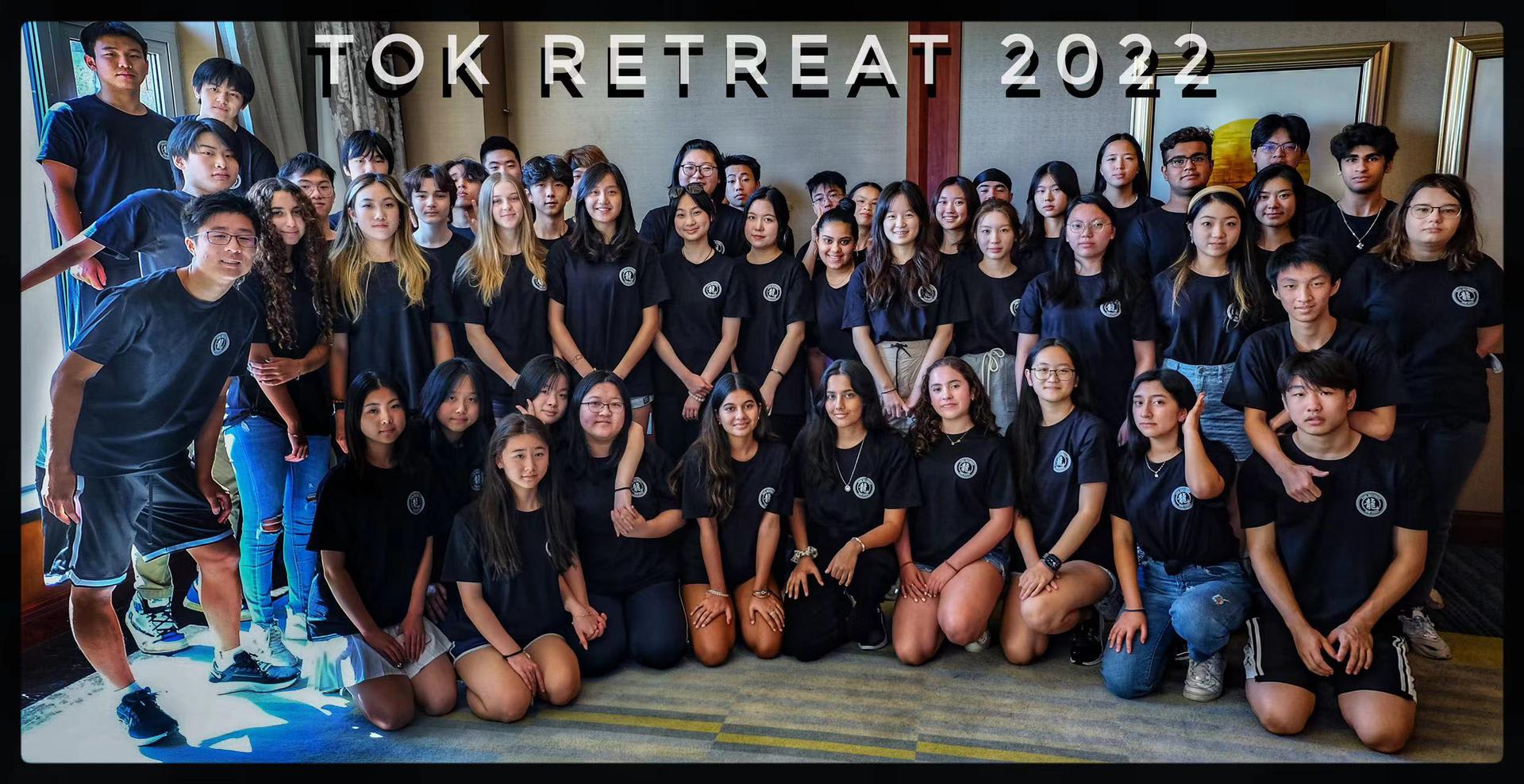 Terry Strombeck
TOK/DP History Teacher
A basic assumption in TOK is that all subjects help us understand some aspect of 'our universe.' Students - and teachers - are encouraged to understand the reason for studying a course and thus the value of studying the courses. The value of some subjects can be easily understood. At the same time, the value of studying some subjects is less understood. One reason we find the Arts useful or of value is because other than providing beauty, the arts can show us that other people feel the same way we do. The arts can be something we 'relate to' and can tell us that 'we are not alone' in our experiences. This point was made real last week when some Grade 12 TOK students shared how a book can be relevant to their personal experiences (in the universe).
Students shared titles of a book and told of the personal significance. For example (in the photo): 1. Being a 'Third Culture Kid' leaves us feeling uncertain of where home is. 2. Being in a wheelchair is like being a NASCAR driver. 3. Sometimes Grade 12 DP leaves us feeling 'upside down.' 4. Operating out of multiple languages is like facing a monster. 5. 'Life is full of mountains to climb and even when we reach the top of one mountain there is still another mountain.' 6. Some students have not really lived in their passport country and only visit their country, thus being 'part-time citizens.' 7.
Some art can remind us that it is possible to overcome the challenges we face. So while the arts can bring beauty to life, art can also be useful in reminding us that we are not alone in our experiences in the universe.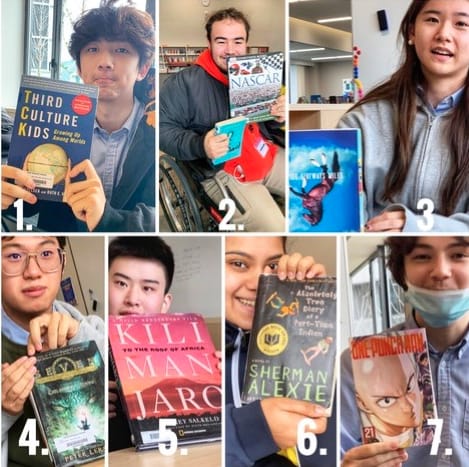 DEADLINES FOR DP 2 (IAs & EEs)
Look after your mental health during the winter season.
* Wrap up warm and get some sunlight when you can.
* Keep up with regular exercise. Moving your body is essential for good mental health.
* Keep up healthy eating by making the most of seasonal nutritious fruits and vegetables
* Adjust your sleeping environment to make sure you still have healthy sleep habits.
* Stay connected with your social support networks.
* Explore mindfulness and meditation.
If you have any questions or worries about your children please contact Dr Ryan be email ryanbeddows@hisdragons.org.cn
Student Leadership is a priority here at HIS. Each week, we will spotlight a student leader and give them an opportunity to tell you what they are doing in their clubs, sports, and activities.
A lot of people laughed, some thought that I was embarrassed for being a trash on stage in front of the whole upper school for the assembly. But I wasn't, not even a bit. Because it was a contribution for the environment. To send and express the message of GIN and teaching us how and why we should protect the community.
Garbage is a thing we are familiar with because every day we make all kinds of garbage. The milk carton left after drinking milk, the leftovers after eating dinner, the cans after eating the canned food, a wrapper here and there after break... We all throw this garbage into the trash can, and then the garbage truck will pick them up. Little do we know that the garbage we throw away will bring much work to the environmental sanitation workers. They must sort and then dispose of the garbage we throw away, and the garbage we throw away will also bring great harm to the environment. It takes 2 million years for a glass bottle to decompose naturally, 2 million years, what a thought!
But many people still think "Why should I recycle or organize trash? It's trash. I don't see how it damages the environment." But garbage sorting helps to improve the efficiency of garbage sorting and disposal. Before, almost all garbage was mixed in the dump. These wastes include some recyclable and non-recyclable wastes, which need to be separated, and that requires a lot of time. Later, there was a classification of recyclable and non-recyclable waste, but it was only a procedure because few people dumped their waste according to the classification. There has been a craze across the country for sorting rubbish into recyclable, non-recyclable, dry and wet waste. And the time of dumping garbage is regulated, and there is special crew supervision, so that the residents can classify the types of garbage and then dump them respectively, which greatly improves the efficiency of garbage disposal.
The garbage disposal capacity of major cities has been saturated, and garbage classification is essential. In Shanghai, for example, its residents produce enough garbage to cover a building of more than 400 stories every day, so it is difficult to get rid of. And the garbage is not classified. Garbage disposal capacity cannot meet the speed of dumping. Therefore, to improve the productivity of the work and make the best use of the waste disposal capacity, Shanghai has had to introduce measures such as mandatory waste sorting and fines for individuals and enterprises that do not dump their waste in accordance with the regulations. There are many other cities with the same problem as Shanghai, and they will be increasing.
But the GIN club is trying the best we can to classify garbage and protect the environment. It might not be a big influence, but we are making a difference. Starting right here, in HIS.
Support GIN!
Citations:
https://zhidao.baidu.com/question/1930992626805157867.html
https://baijiahao.baidu.com/s?id=1636476188702616100&wfr=spider&for=pc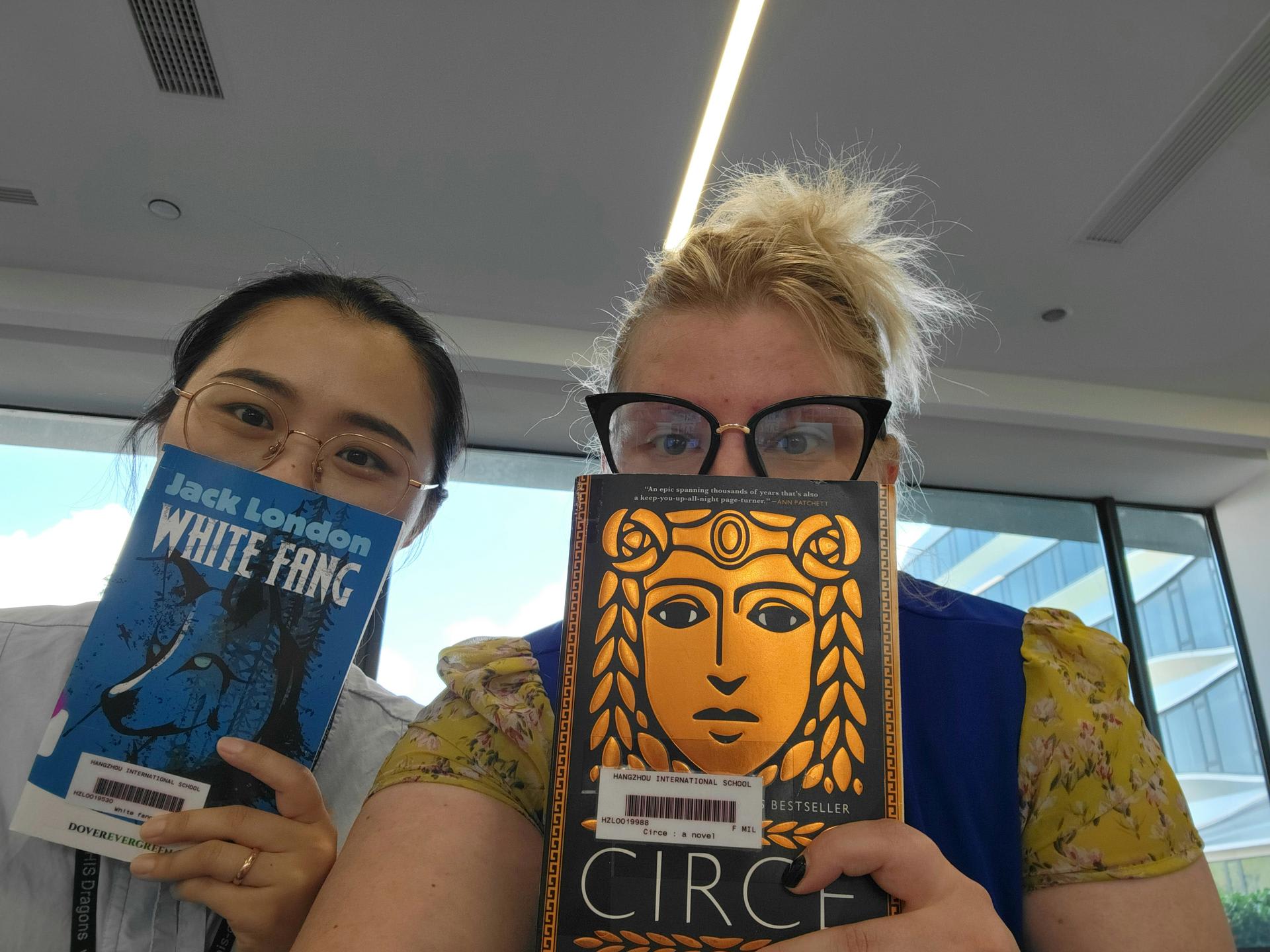 Sara Freeman
Newsletter – Upper School Library
NOVEMBER 28th, 2022
Hello Upper School Parents,
The US Library is already thinking ahead to events we want to have in the spring semester. Every year, save for Covid times, HIS hosts something called "The Living Library" where students, parents, teachers, and guest speakers volunteer their personal storytelling skills for an afternoon. Started in Denmark in 2000, the Council of Europe describes the Living Library like this[1]:
"The Living Library is a tool that seeks to challenge prejudice and discrimination. It works just like a normal library: visitors can browse the catalogue for the available titles, choose the book they want to read, and borrow it for a limited period of time. After reading, they return the book to the library and, if they want, borrow another. The only difference is that in the Living Library, books are people, and reading consists of a conversation."
The US Library will likely have its Living Library event in late April or early May next year. We hope to get many people involved! Are you interested in participating? Have a good story to tell? Please email uslibrary@hisdragons.org.cn if you want to sign-up. Thank you!
[1] "Living Library," Youth. https://www.coe.int/en/web/youth/living-library (accessed Nov. 28, 2022).

Ordering Uniforms or School Merchandise
Parents can go to following link and look at the uniform web page (https://www.his-china.org/support/dragon-shop).
Parents can place an order with Nancy in the Dragon Shop (dragonshop@his-china.org) by email or by calling the school directly (Tel# 8669-0045 X109) during office hours (Monday-Friday 7:45am - 11:30am and 12:30pm - 4:30pm).
Also parents may make an appointment to go to the Dragon Shop between 3:45pm – 4:30pm when the regular school day is over.
Older students may come to the Dragon Shop to select sizes and purchase uniforms if they have time before or after school during open hours.
Payment may be made through AliPay or by giving students cash.
You can choose from the following options to receive uniform orders:
1. Give items directly to students
2. Wait for pickup at the school gate
3. Deliver home 12RMB pay on delivery fee.
Middle School Uniform Guidelines 6-8
Middle Schoolers should wear tan shorts, trousers, or skirts and a navy blue polo shirt (short or long sleeved) with the HIS book logo. A navy fleece or cardigan sweater with the HIS logo or other approved outerwear such as the HIS hoodie sweatshirt can be worn in the cooler weather. All students must wear laced shoes.
High School Uniform Guidelines 9-12
High Schoolers should wear tan shorts or trousers, or plaid skirts (girls only) and a light blue Oxford cloth button down short or long sleeved short with the HIS book logo. A navy fleece or cardigan sweater with the HIS logo or other approved outerwear such as the HIS hoodie sweatshirt can be worn in the cooler weather. All students must wear laced shoes.
Students will be asked to remove outerwear (coats, hoodies, sweatshirts, etc) in lessons unless they carry the HIS logos. Students who are cold will be invited to go to the Dragon Shop to purchase acceptable HIS items.
| | |
| --- | --- |
| | Dragon Shop Winter Merchandise - Stay warm and comfy! |
With Covid 19 cases appearing locally, parents are reminded to keep an eye on Managebac and WeChat for any updates. If students' health codes are green and the child is healthy, campus remains open.
Parents are respectfully requested to keep ill students at home until they are recovered and ready to participate fully in lessons.
COVID VACCINE UPDATE:
While it is not required for HIS students to be vaccinated, if parents wish to get the vaccine for their children, the information below contains the most up-to-date clinic address and times:
Students (aged 3-17) can be accompanied by a parents/guardian to No. 368 Liu He Road, Binjiang to get the vaccine.
Address: 杭州市滨江区六合路368号海创基地南楼 滨江主舱临时接种点
Phone #: 0571-56234087
Students (aged 3-17) have to be accompanied by one of the parents/guardians, but must also take:
Passport
Police registration
Guardian's Passport
Schedule: Monday to Sunday, 8:30am to 6:30pm
**Please note that these details can change with very little notice. You should call the clinic ahead of time to confirm that the information above is correct. **
See the updated lunch menu weekly and monthly as posted on the school website.
HIS Mission Statement
We provide international learners with opportunities to pursue academic and personal excellence within a caring community.