Upper School Newsletter February 13th, 2023
UPCOMING EVENTS

February 16-18 ACAMIS Basketball

February 22 Mandarin Curriculum Night

February 23 Coffee Morning

February 24 Sign-Up Deadline for March 11 S.A.T

March 2 HIS College Invitational -Hong Kong Universities

March 9 Coffee Morning

March 11 SAT College Entrance Exam

March 15-30 DP Mock Exmas

March 23 Coffee Morning

March 28 Student Led Conferences

March 30 Personal Projects Exhibition

March 31 Mid-Term Progress Reports

April 3-5 Spring Break (no school) Qingming Tomb Sweeping Festival

May 1 Labor Day (no school)

June 22 Dragon Boat Festival (no school)

June 30 End of Semester 2/ Semester Reports
A NOTE FROM ADMINISTRATION
Mr. Fursey Gotuaco

UPPER-SCHOOL PRINCIPAL

VALENTINE'S DAY LOVE

"WHEN WE LOVE, WE ALWAYS STRIVE TO BECOME BETTER THAN WE ARE. WHEN WE STRIVE TO BECOME BETTER THAN WE ARE, EVERYTHHING AROUN DUS BECOMES BETTER TOO."

Paulo Coelho

"LOVE LOOKS NOT WITH THE EYES BUT WITH THE MIND"

William Shakespeare
I love my job.
I love the students who walk our halls
I love our teachers and their passion
I love our support staff who are so professional
I love the kindness each person on campus shows for each other
I love that we are hosting ACAMIS Basketball on campus this weekend
I love that our self-directed fine arts students hosted a talent show with clothing designs
I love that our MUN team is attending the Suzhou Conference this weekend
I love how our arts teachers inspire the love of the arts
I love that we have a school that puts student and their learning first
I love the international mindset that we cultivate
I love that we help students find the right college for their unique needs
I love our community
I love our parental support
I love that you can't spell 'teacher' without H.E.A.R.T.
I love how we greet every student every morning
I love how we love to laugh
I love that inquiry is a key element in every subject that we study
I love that we are a community of learners - adults included
I love that we welcome all new students with open arms
I love our new building and I love our old traditions
I love that I get to spend the minutes of my day with the moments of my students
I love HIS!
HEALTH & WELL BEING UPDATE
- Masks will be optional for students and faculty upon entering campus. But guests will still need to wear masks as they pass through our gates.
ITS A GREAT DAY TO BE AN HIS DRAGON!!!
2023-2024 CALENDAR DATES
Semester I: August 23 (Wednesday) - December 15 (Friday), 2023
Semester II: January 09 (Tuesday) - June 21 (Friday), 2024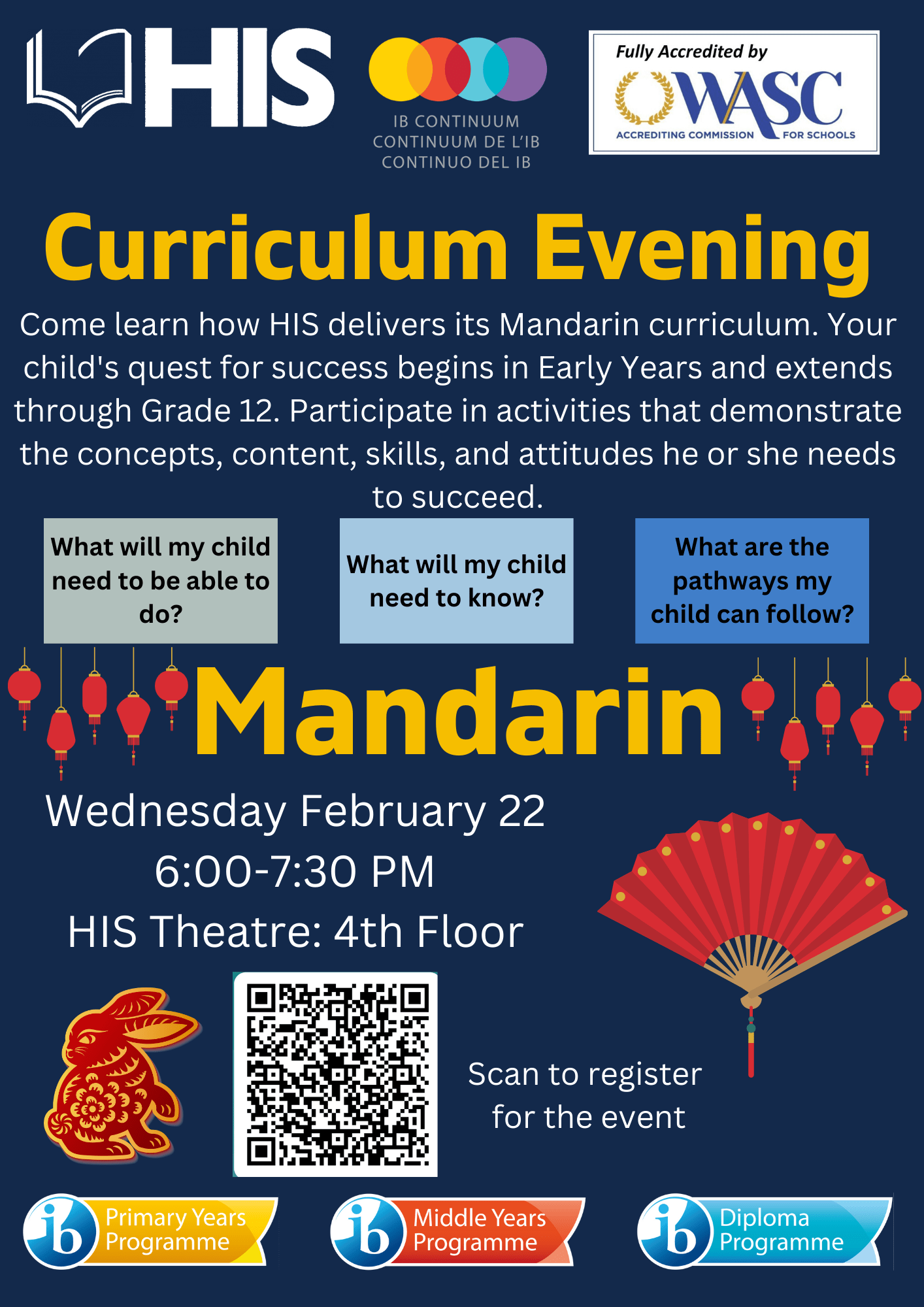 SLOW SMOOTH SAFE
With our move to our new campus, we have had an increase in the number of students who ride our buses and the number of buses. But our commitment to student safety is still a priority. Additionally, it is also our goal to give our students a welcoming experience that allows them to work while commuting to school or returning home.
We have reminded our drivers and monitors:
- Drive Slow: We would rather buses arrive a little late to ensure the safety and comfort of our students. The routes are fixed and the drivers do not need to speed or be inventive in choosing a route.
- Drive Smooth: We realize that many of our students spend 1-2 hours a day on the bus. We want the kids to be able to read, study, and talk without being jostled.
- Drive Safe: There is nothing more important to HIS than the children on these buses. Our drivers are reminded that they have this immense responsibility to our families and communities. To this end, we see no reason for any bus to break the PRC driving laws for any reason.
If you see anything that is a cause for concern, please contact our transportaition coordinator, Tracy Zhu at TracyZhu@hisdragons.org.cn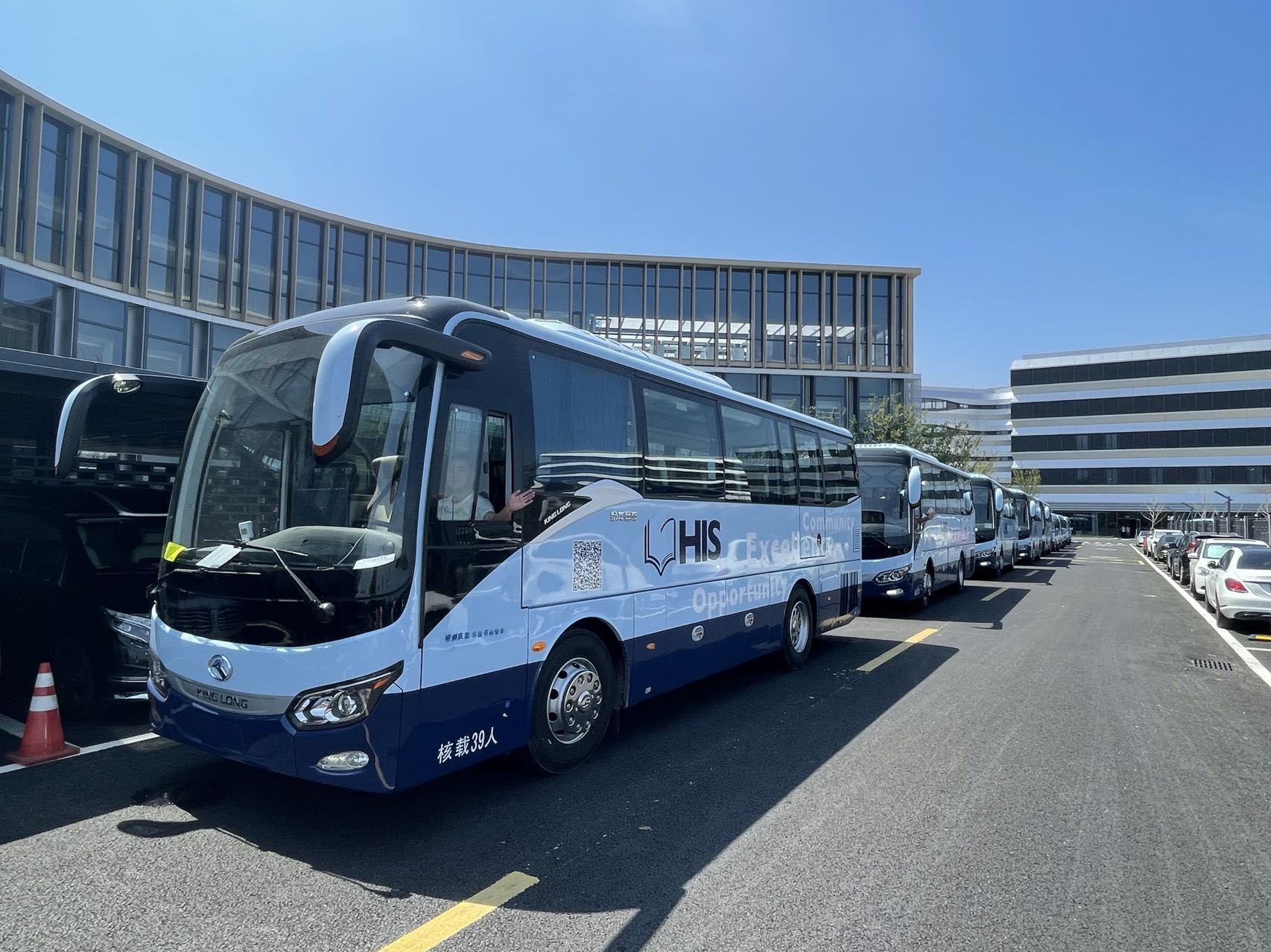 | | |
| --- | --- |
| | Fine Arts Head of Department, Brian Vincent |
Friday, February 10, was a remarkable evening at HIS! The Black Box theatre played home to a remarkable event which would rival any fashion week you could find around the globe. The Fashion and Talent show allowed our student designers to collaborate with student musicians to create a visual and aural masterpiece for their eager audience.
Student Directors Nicole and Yvonne did a masterful job auditioning and selecting the musical acts and helping each group select the repertoire that matched each designer's style and message. These two student leaders joined with the designers, and marketing the evening elicited a healthy and robust audience.
Fellow team members August, Martina, Joshua, Polly, Allison, Sissi, and Bonnie rounded out the organization and development team. Their combined efforts and flawless collaboration efforts developed a level of pagentery and refinedment not often seen in student lead performances. In short, these remarkable young people produced a remarkable evening.
One question thast was raised during the proceedings was whether this event was connected to any curricular learning outcomes the students were working on in one or several of their classes. Proudly I realy that this event was entirely student-run and it's creation; motivated by the development teams' curiosity and commitment.
HIS is walking the walk and talking the talk of a true IB experience. Daily our faculty guide student learning by integrating Inquiry in their lessons. Factual, Debatable, and Conceptual questions are asked and wrestled with, and ATL Skills (Approaches to Learning), described at times as "soft skills," are all modelled and explicitly taught. The product of our IB framework is that our students then use the skills they have developed in school and collaborate to plan, develop and execute outstanding performances like we witnessed last Friday evening.
Bravo to all the students involved! May you never stop creating and imagining, full in the knowledge the community at HIS stands ready to support your vision.
Brian Vincent
HIS Social Media.
Follow us and subscribe to our channels!
#GoHISDragons!
On March 2nd, we will be hosting our 2nd COLLEGE INVITATIONAL.
We will focus on Hong Kong universities. These will be zoom meetings that parents and will be able to join.
SEE YOU THEN!!!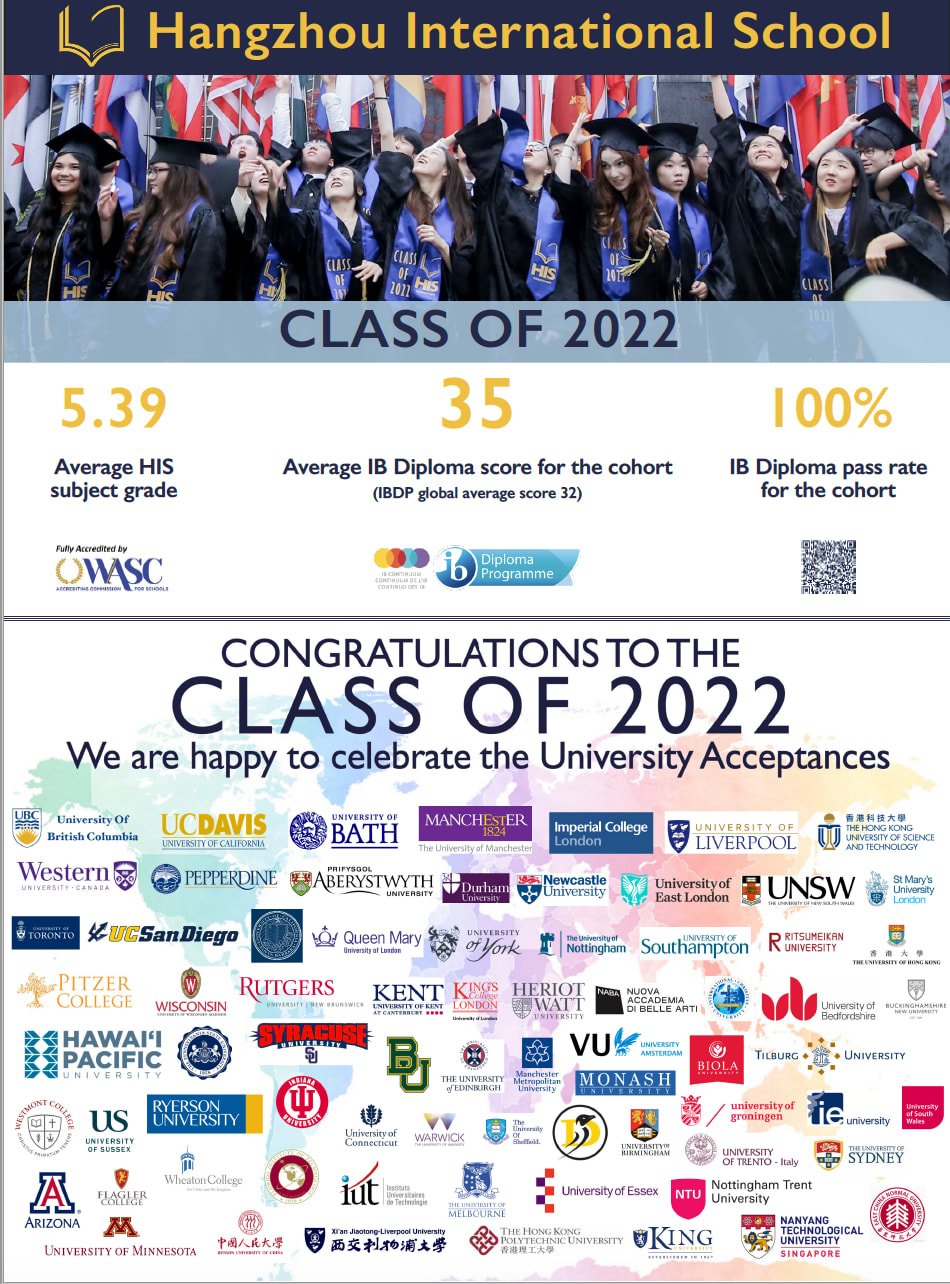 Hello students and parents!
HIS is proud of our strong tradition of college counseling. We are committed to not only giving our students the best education possible while here with us in Hangzhou but we also work to insure that they find the right fit university for life after HIS. These decisions are not always easy.
At HIS, we help each student find the exact right fit for their personality and their choice of study. This year, we have decided to help our students do 'a little research'...
To this end, we have decided to spotlight excellent schools from around the world that may not have heard of before. Please take a moment to see if any of these schools might pique your interest. If you have any questions, please feel free to contact our any of our College Counselors.
OUR COLLEGE ACCEPTANCES THUS FAR
ARIZONA STATE UNIVERSITY
CARDIFF UNIVERSITY
CASE WESTERN RESERVE UNIVERSITY
CHINESE UNIVERSITY OF HONG KONG
CITY UNIVERSITY OF HONG KONG
EMORY UNIVERSITY
HONG KONG BAPTIST UNIVERSITY
HONG KONG UNIVERSITY
HONG KONG UNIVERSITY OF SCIENCE & TECHNOLOGY
HONG KONG POLYTECHNIC UNIVERSITY
KINGS COLLEGE OF LONDON
LANCASTER UNIVERSITY
LOUGHBOROUGH UNIVERSITY
MCMASTER UNIVERSITY
MICHIGAN STATE UNIVERSITY
OHIO STATE UNIVERSITY
PENN STATE BEHREND
QUEEN MARY UNIVERSITY OF LONDON
UNIVERSITY OF BIRMINGHAM
UNIVERSITY OF BRISTOL
UNIVERSITY OF MANCHESTER
UNIVERSITY OF NOTTINGHAM
UNIVERSITY OF PENNSYLVANIA
UNIVERSITY OF SHEFFIELD
UNIVERSITY OF SOUTHAMPTON
UNIVERSITY OF WARWICK
WARWICK UNIVERSITY
YORK UNIVERSITY OF CANADA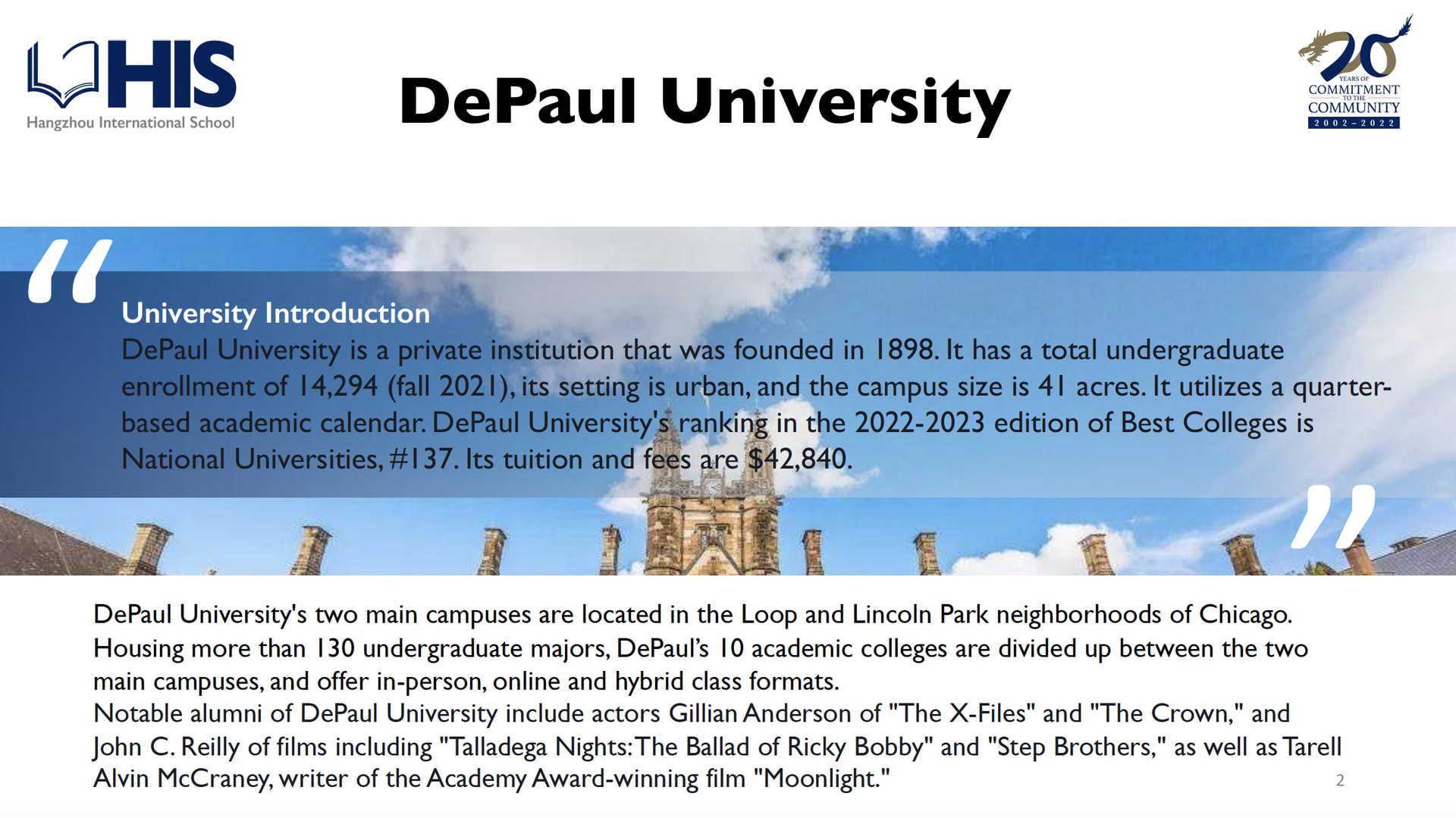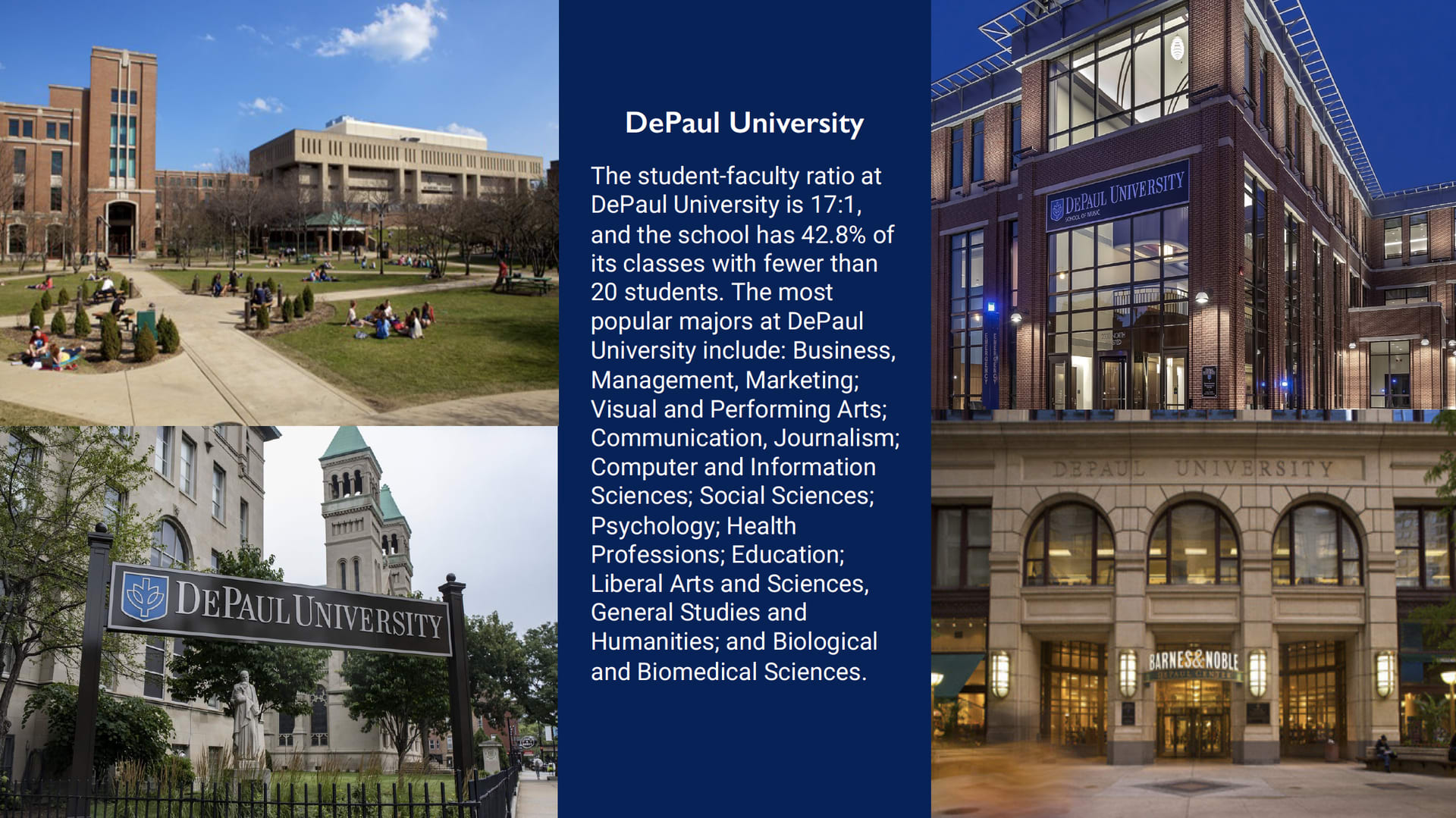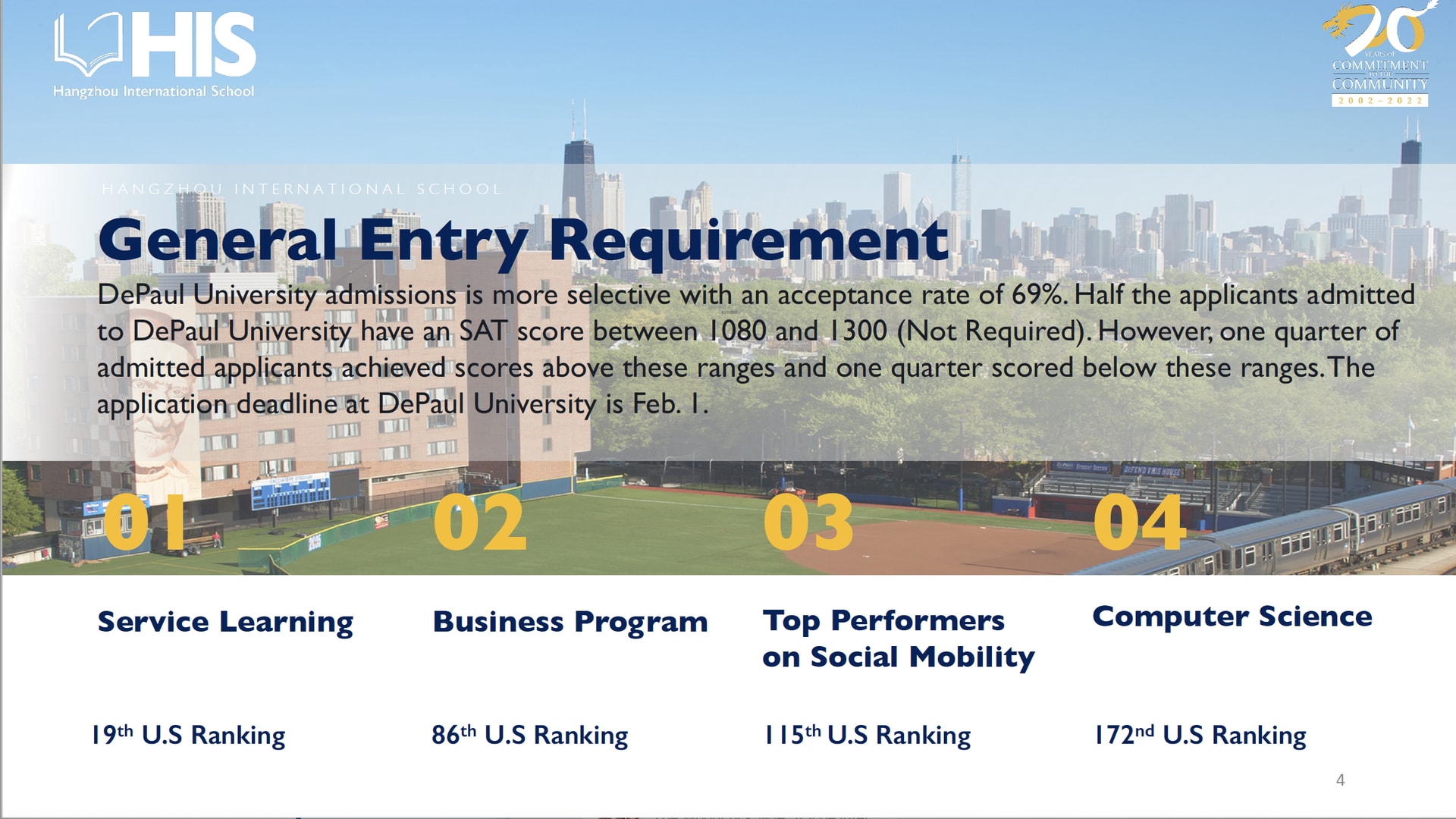 Analysis: Undergraduate Colleges Have Not Followed Elite Law Schools In Abandoning US News Rankings
Inside Higher Ed (12/5) explores the question: "Will the moves by leading law schools against the rankings of U.S. News & World Report spread to undergraduate institutions?"
So far, 11 law schools, led by Yale University, announced they will stay out of the rankings. Yet those who were waiting "for a similar push by undergraduate colleges" have so far "been disappointed." One theory put forward by former Reed College President Colin Diver is that "undergraduate schools view their constituency (mostly 16- to 18-year-old high schoolers) as more naïve, gullible, impressionable (and therefore rankings-bewitched) than law schools view their constituencies (22- to 30-year-old college graduates and often early-careerists)." As a result, "at least many of the top-tier law schools are willing to take the risk that a postboycott drop in their ranking won't hurt them and might actually help them with their more worldly constituencies."
David Hawkins, chief education and policy officer at the National Association for College Admission Counseling, told Inside Higher Ed via email: "The fact that high-profile law schools are walking away from the rankings constitutes a potentially important step toward 'unilateral disarmament,' so to speak. Many institutions, whether law schools or undergraduate institutions, have heretofore been hesitant to step away for fear of the negative effects. Such effects include, but are not limited to, actions that U.S. News could take to 'estimate' data and blowback from institutional stakeholders, such as boards, state legislators, or alumni if there is a perceived drop in prestige. These law schools may have signaled to all institutions that with enough alignment at the institutional level, colleges can step away if they do not benefit from either the rankings themselves or the methods used to compile the rankings."
We encourage students to contact one of the university counselors with any questions about university entrance requirements.
Ms. Iris Zhang iriszhang@hisdragons.org.cn
Mr. Fursey Gotuaco furseygotuaco@hisdragons.org.cn
Dr. Aaron Ayers aaronayers@hisdragons.org.cn
Dr. Monica Prieto monicaprieto@hisdragons.org.cn
Dr. Ryan Beddows ryanbeddows@hisdragons.org.cn
UPPER SCHOOL ATHLETICS
ACAMIS Basketball Tournament
HIS is very excited to be hosting the 2023 ACAMIS Basketball Tournament this week from Thursday 16th – Saturday 18th February. 6 Schools from throughout China will be competing in the first tournament of this kind since January 2019.
Schools participating are:
Hangzhou International School (HIS)
Xiamen International School (XIS)
Dalian American International School (DAIS)
Nanjing International School (NIS)
International School of Tianjin (IST)
Shanghai Community International School (SCIS Pd)
Parents and HIS Community members are invited to come and watch the matches and cheer on our boys and girls teams. Remember to come in Gold and Blue!! Click on the link below for the full schedule of matches.
https://hischina-my.sharepoint.com/:w:/g/personal/filipenogueira_hisdragons_org_cn/EU3r0xxDKNRMlbsrcnP1l_ABTU9yO7bmun8Hq9aglC1YzQ?e=U2sxDs
Visitors to the campus should be wearing their HIS Parent ID Badges. If you have not got one, please order through our school website - https://www.his-china.org/join/id-card
Practice cancellations this week - Middle School Volleyball and Badminton
Practices this Thursday (Badminton) and Friday (Volleyball) will be cancelled due to the gymnasia being used for the ACAMIS Basketball Tournament.
Upcoming Athletics Seasons
Varsity Soccer Season
20th February – April 22
Practices every Monday 3:30-5, Wednesday 3:30-5:30, Friday 3:30-5
Varsity Badminton Season
20th February – April 22
Practices every Monday 3:30-5, Wednesday 3:30-5:30, Friday 3:30-5
Varsity and Middle School Track and Field Season
20th Feb – 6th May
Practices every Monday 3:30-5. Tuesday 3:30-5, Thursday 3:30-5
*** NOTE A CHANGE IN SEASON DATES FOR
Middle School Touch Rugby Season
Originally scheduled to begin 14th February and end 24th April this season will now run from 23rd March – 13th May.
AQUATICS
Monday, Feb. 13, 2023 - Parent Newsletter
Email swimming@hisdragons.org.cn for inquiries, and visit the Aquatics Swim Meet Calendar webpage for updated events.
International Baccalaureate Diploma Programme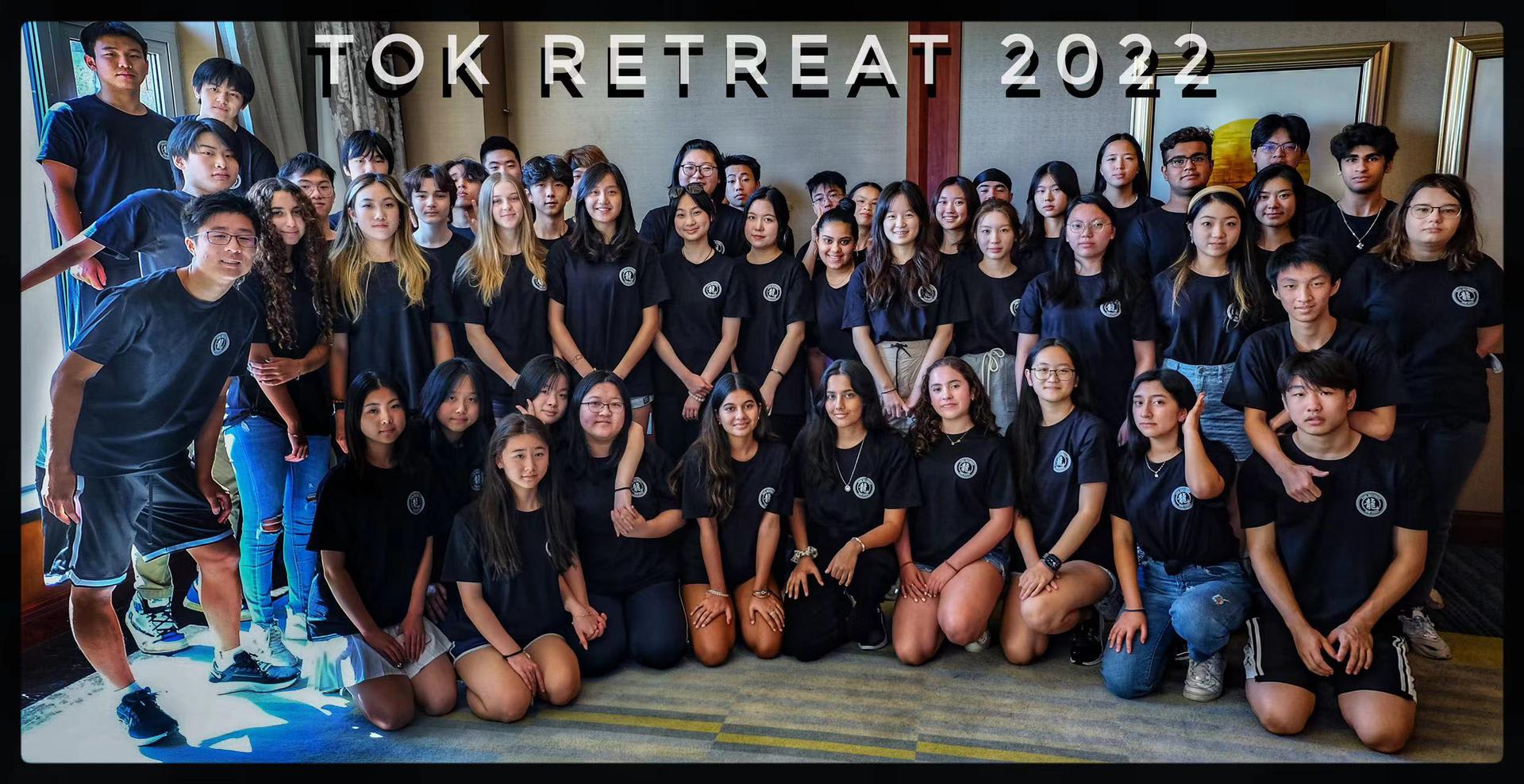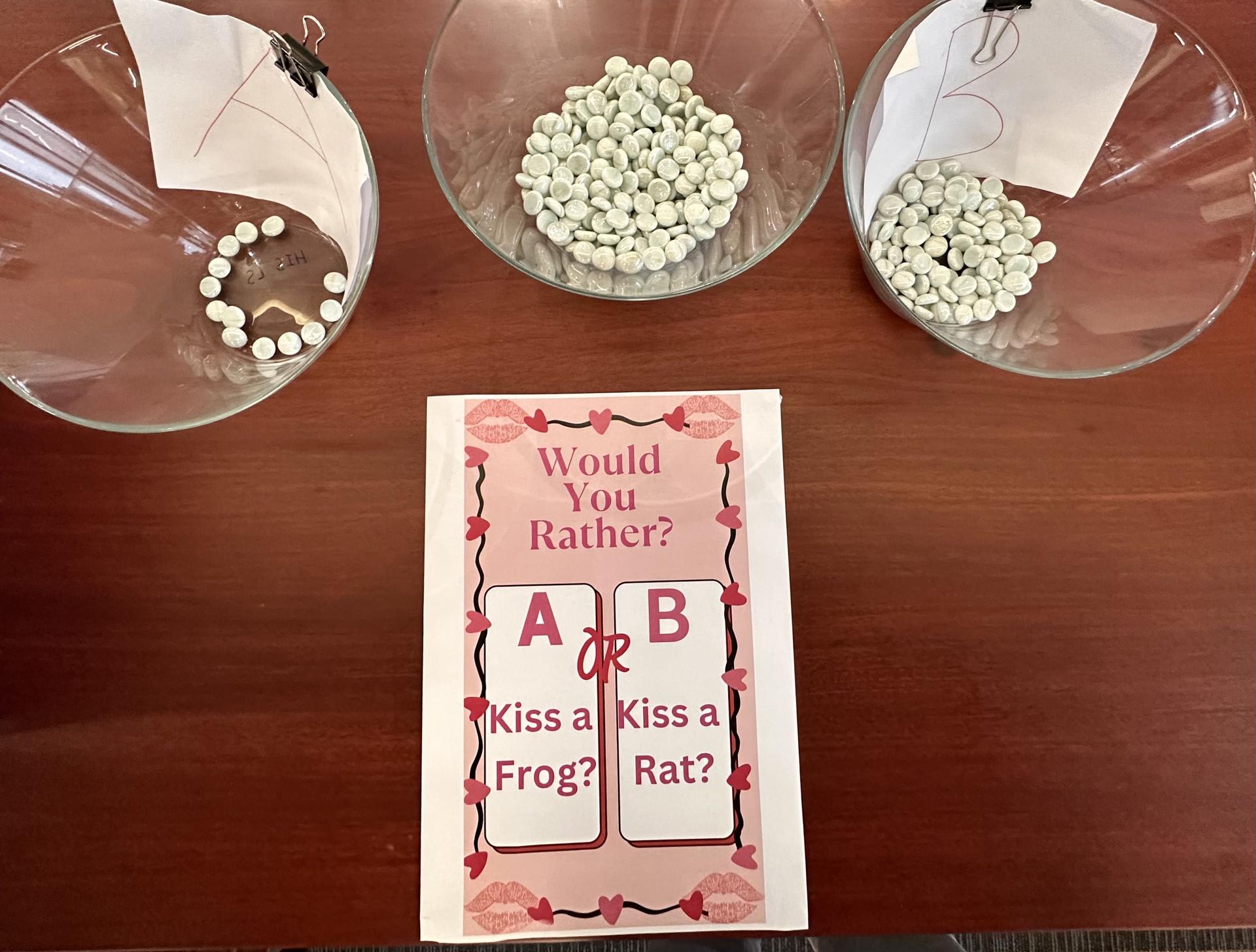 Terry Strombeck
TOK/DP History Teacher
Feb 13.
Judgements and Choices.

Tomorrow is, in some cultures, Valentine's Day; a day for thinking about romance. Our Upper School librarians often have a question to which everyone is invited to vote for a response. This week's question considers Valentine's Day. While the question and vote this week is fun and light-hearted, there are TOK questions or 'issues' that can enter in to the fun.
As you see, the question asks us to make a judgement about what we would choose. You can see by the vote-response that more people chose to kiss a rat. We could ask, what influenced people to judge that 'kissing a rat' is better than 'kissing a frog?'
In TOK students are encouraged to consider how and why we arrive at making certain judgements. Students are also encouraged to consider this: 'What if my response is neither A or B?' Sometimes judgements require a response of 'A' or 'B.' But sometimes, in fact many times in life, the best judgement is 'neither' or 'none of the above.' Conversely, sometimes the best judgement is 'all of the above.' Sometimes, then, making a judgement and a choice is simple and then sometimes the judgement or choice is more complicated.
TOK encourages us to be mindful of our judgments and to consider the choices we make.
DEADLINES FOR DP 2 (IAs & EEs)

In this edition I will briefly explore the idea of identity development and how, as parents, we influence the development of our teens' identity.
So to begin with, what is identity?
Our identity is how we define ourselves and this consists of pre-determined family and societal factors (e.g., a brother or ethnicity) and also consists of areas such as hobbies, values, beliefs, or interests.
As parents, we have influence on how our teens develop an identity. Our role in society has a huge impact on our identity development. For example, we are parents. This is a big part of our societal role so it makes up big part of our identity. However, we also need confirmation from the outside world to confirm this about ourselves. If you enjoy cooking and people tell us we make good food, being a 'good cook' will make up part of our identity.
Teenagers need this confirmation as their identity is developing. Their role in society is changing as they begin to move from a child to an adult and gain more responsibility. So give your child that confirmation as they demonstrate desirable qualities and also allow them to explore their own identity.
We can influence our teens' identity through direct and indirect means. We can actively and directly teach our teens important values and beliefs. We can instruct our teens about what is right and wrong, but we know that teens don't always listen to everything their parents say. Humans learn more from watching and imitating. Parents can actively demonstrate the difference between right and wrong. Practice what you preach. Adolescents often actively seek interests and demonstrate values which are directly contrary to their parents as a defense mechanism to feeling restricted. However, teenagers often revert back to their parents' behavior.
So encourage your children to explore different talents and interests. Take notice of the things they enjoy doing and reinforce and praise their talents. "Actions speak louder than words". Teenagers will learn more about life from what they see us do than they will from our life lessons.
Also, don't abandon your own identity. Do you know who you are as a person? Do you actively pursue interests and hobbies in a way which is in line with your values? Connecting positively and confidently to who you are as a person is the cornerstone of healthy thinking.
If you have any questions or worries about your children please contact Dr Ryan be email ryanbeddows@hisdragons.org.cn
Student Leadership is a priority here at HIS.
Each week, we spotlight a student leader and give them an opportunity to tell you about their clubs, sports, and activities.
MODEL UNITED NATIONS
Divay Agarwal
Grade 7
MUN is an organization that hosts conferences throughout the year and aims to bring together students from around the world to discuss various topics in international relations. These broad topics ranging from politics, peacekeeping, economics, environmental policy, social justice, nuclear war prevention, etc. On top of the morning sessions where you listen to debates by representatives of different countries and nations on these varied issues; it also includes lunchtime talks by successful figures in international affairs as well as an evening gala dinner where awards are given to those who have made exceptional contributions toward World Peace.
As debate was one of my favorite subjects at school, this was the perfect opportunity to improve my debating skills personally and academically. 6th grade was when I first joined the ASA, I immediately fitted in, I still remember the countless hours I spent arguing about little topics, which some might find funny but for me it was beautiful, the way each one of us found a loophole in another. It was interesting and helped me quite a lot with my school teachers. This year when I got elected as Secretary General, my mind was flowing with all the things I used to despise or didn't learn, and I thought of teaching the youngsters all about it, but as a mere 7th grader it wasn't easy. I wouldn't have gotten anywhere without my team or my mentors and teachers whom I would like to thank, especially Mr.Barningham.
I believe if one ever talks to my 5th-grade teacher or any other teacher before 6th grade, they would describe me as a bit too enthusiastic in many ways. But if one were to ask my teachers this year they would probably describe me as a talkative and arguably annoying student at times, mostly due to my habit of arguing. This argumentation has improved my writing, understanding, and speaking skills. Since I joined MUN, the world around me gets clearer and clearer every day. This has proven to be very helpful and I would encourage any new middle schooler to join MUN. Even though it might seem boring, in the end, it has proven to be highly effective in many academically related situations. On another note, if anyone would like to take part in some MUN activities, feel free to email or talk to your teachers! Overall the past semester has been a great journey, I have learned a lot of things and I'm excited about how this year will end.
THE MUN TEAM WILL BE PARTICIPATING IN THE DULWICH COLLEGE CONFERENCE IN SUZHOU THIS WEEKEND! WISH THEM LUCK!!!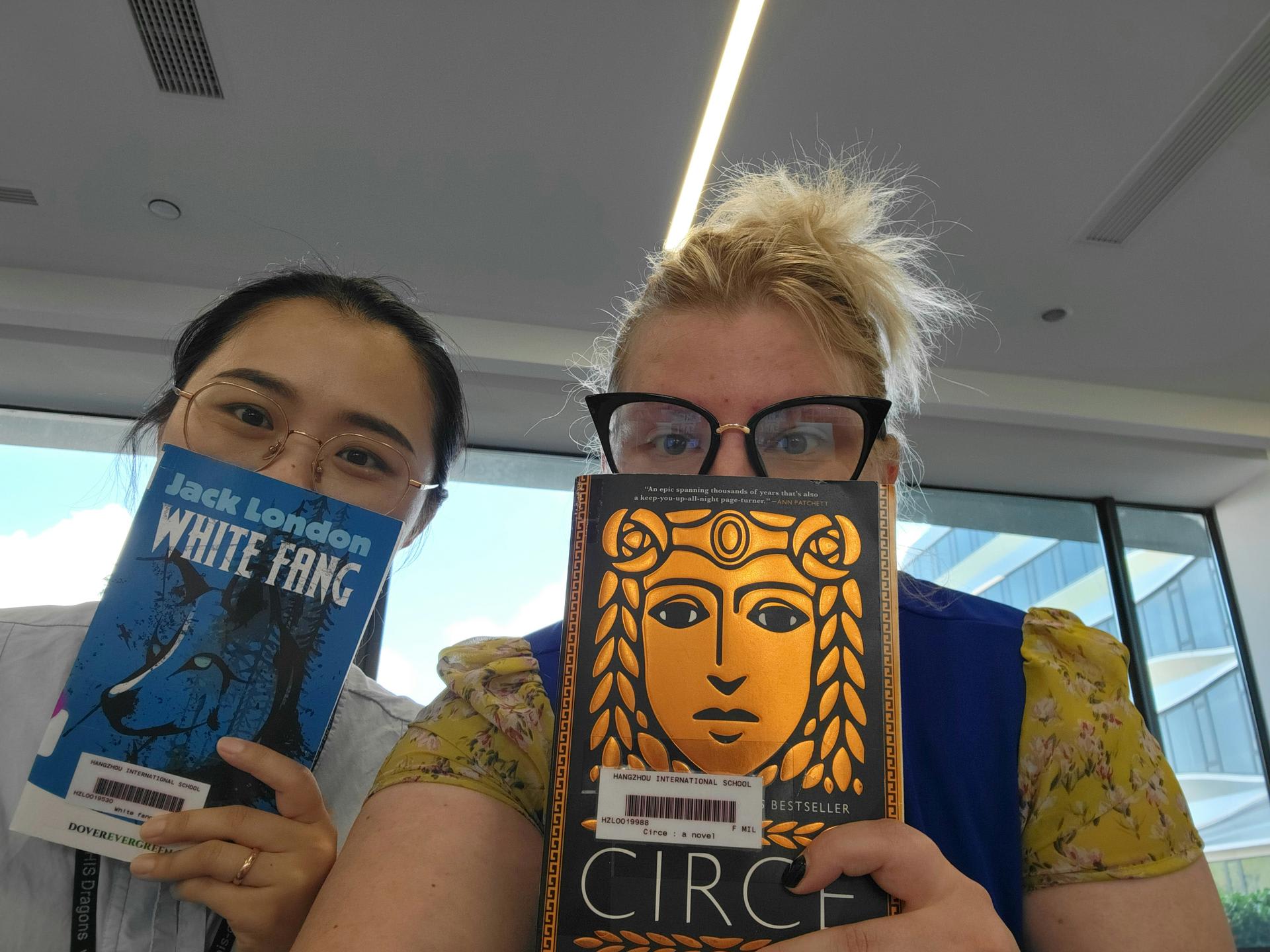 Sara Freeman
Newsletter – Upper School Library
February 13th 2023
US Library Newsletter, 2/13/2023
Love is in the air in the US library! The student council has been selling Valentinegrams (cards, chocolate, flowers) over the past few school days and everyone is very excited to see what, if anything, they receive tomorrow once all the goodies are delivered. Students have gathered in the library all week to watch each other buy cards and try to sneak a peek at who they are writing to. Let's just hope that no hearts get broken tomorrow!
As promised, I am here to recommend a few new romantic books that we have in the library. This genre doesn't get checked out very often, but we do have a few diehard romantics who couldn't live without our library selection.
Here are three lovey-dovey books that deserve a read:
1) "Tokyo Ever After" by Emiko Jean
Izumi Tanaka has never really felt like she fit in―it isn't easy being Japanese American in her small, mostly white, northern California town. Raised by a single mother, it's always been Izumi―or Izzy, because "It's easier this way"―and her mom against the world. But then Izumi discovers a clue to her previously unknown father's identity…and he's none other than the Crown Prince of Japan. Which means outspoken, irreverent Izzy is literally a princess. In a whirlwind, Izumi travels to Japan to meet the father she never knew and discover the country she always dreamed of. But being a princess isn't all ball gowns and tiaras. There are conniving cousins, a hungry press, a scowling but handsome bodyguard who just might be her soulmate, and thousands of years of tradition and customs to learn practically overnight. Izumi soon finds herself caught between worlds, and between versions of herself―back home, she was never "American" enough, and in Japan, she must prove she's "Japanese" enough. Will Izumi crumble under the weight of the crown, or will she live out her fairy tale, happily ever after? [description from Amazon]
2) "XOXO" by Axie Oh
Jenny didn't get to be an award-winning, classically trained cellist without choosing practice over fun. That is, until the night she meets Jaewoo. Mysterious, handsome, and just a little bit tormented, Jaewoo is exactly the kind of distraction Jenny would normally avoid. And yet, she finds herself pulled into spending an unforgettable evening wandering Los Angeles with him on the night before his flight home to South Korea.
With Jaewoo an ocean away, there's no use in dreaming of what could have been. But when Jenny and her mother move to Seoul to take care of her ailing grandmother, who does she meet at the elite arts academy she's just been accepted to? Jaewoo.
Finding the dreamy stranger who swept you off your feet in your homeroom is one thing, but Jaewoo isn't just any student. Turns out, Jaewoo is a member of one of the biggest K-pop bands in the world. And like most K-pop idols, Jaewoo is strictly forbidden from dating anyone.
When a relationship means not only jeopardizing her place at her dream music school but also endangering everything Jaewoo's worked for, Jenny has to decide once and for all just how much she's willing to risk for love. XOXO is a new romance that proves chasing your dreams doesn't have to mean sacrificing your heart, from acclaimed author Axie Oh. [description from Amazon]
3) "When Dimple Met Rishi" by Sandhya Menon
Dimple Shah has it all figured out. With graduation behind her, she's more than ready for a break from her family, from Mamma's inexplicable obsession with her finding the "Ideal Indian Husband." Ugh. Dimple knows they must respect her principles on some level, though. If they truly believed she needed a husband right now, they wouldn't have paid for her to attend a summer program for aspiring web developers…right? Rishi Patel is a hopeless romantic. So when his parents tell him that his future wife will be attending the same summer program as him—wherein he'll have to woo her—he's totally on board. Because as silly as it sounds to most people in his life, Rishi wants to be arranged, believes in the power of tradition, stability, and being a part of something much bigger than himself. The Shahs and Patels didn't mean to start turning the wheels on this "suggested arrangement" so early in their children's lives, but when they noticed them both gravitate toward the same summer program, they figured, Why not? Dimple and Rishi may think they have each other figured out. But when opposites clash, love works hard to prove itself in the most unexpected ways. [description from Amazon]
Whether you are the Grinch of Valentine's Day or believe in love at first sight, I hope you have a s'wonderful day this February 14th.
See you in the library!
Middle School Uniform Guidelines 6-8
Middle Schoolers should wear tan shorts, trousers, or skirts and a navy blue polo shirt (short or long sleeved) with the HIS book logo. A navy fleece or cardigan sweater with the HIS logo or other approved outerwear such as the HIS hoodie sweatshirt can be worn in the cooler weather. All students must wear laced shoes.
High School Uniform Guidelines 9-12
High Schoolers should wear tan shorts or trousers, or plaid skirts (girls only) and a light blue Oxford cloth button down short or long sleeved short with the HIS book logo. A navy fleece or cardigan sweater with the HIS logo or other approved outerwear such as the HIS hoodie sweatshirt can be worn in the cooler weather. All students must wear laced shoes.
Students will be asked to remove outerwear (coats, hoodies, sweatshirts, etc) in lessons unless they carry the HIS logos. Students who are cold will be invited to go to the Dragon Shop to purchase acceptable HIS items.
Families can purchase items at the Dragon Shop open
Mondays to Fridays from
9:00am - 11:00am and 1:00pm - 3:00pm
For more information, please contact the Dragon Shop: olivexu@hisdragons.org.cn
See the updated lunch menu weekly and monthly as posted on the school website.
HIS Mission Statement
We provide international learners with opportunities to pursue academic and personal excellence within a caring community.