Upper School Newsletter March 13th, 2023
UPCOMING EVENTS

March 13 DP Arts Exhibit March 15-30 DP Mock Exams March 23 Coffee Morning (10:00am) March 28 Student Led Conferences March 30 Personal Projects Exhibition March 31 Mid-Term Progress Reports April 3-5 Spring Break (no school) Qingming Tomb Sweeping Festival April 21 Last Day to Register for SAT May 1 Labor Day (no school) May 6 SAT May 6 The Addams Family Musical June 22 Dragon Boat Festival (no school) June 30 End of Semester 2/ Semester Reports
A NOTE FROM ADMINISTRATION
Mr. Fursey Gotuaco

UPPER-SCHOOL PRINCIPAL

GROWTH MINDSET

"A GROWTH MINDSET IS NOT A DECLARATION, IT'S A JOURNEY" Carol Dweck

"MAY YOUR CHOICES REFLECT YOUR HOPES, NOT YOUR FEARS" Nelson Mandela

"THE GREATEST MISTAKE YOU CAN MAKE IN LIFE IS CONTINUALLY FEARING YOU WILL MAKE A MISTAKE." Elbert Hubbard
Spring blossoming and so are our minds.
There is an optimism in the spring time. There is a desire to believe that things will grow and be better than what they were. I would imagine that some of this good feeling this year is buoyed by the visions of COVID restrictions in our rear view mirror. Nevertheless, we are surrounded by the up-swelling energy of nature coming alive after the winter season.
On campus, not only do we have the opening of flower buds but we also have the opening of minds. We have young hearts pounding with the passion to challenge themselves physically on the soccer pitch as well as badminton players in the gym. In the Fine Arts, you see students taking creative risks everyday and everyday they grow just a little bit more. In our science labs, I see students opening their minds to the exploration and discovery of the laws that govern our universe. Today I saw experiments in electricity and the dissection of pig kidneys!!!
Students are flourishing because they are open to new challenges and new ideas. They will themselves to overcome their doubts and fears - like seedlings breaking through the soil to reach for the sun! This incremental advancement of their academic journey is organically evolving with every moment of success whether it be while they are working on a Math problem, a Social Studies project, or a painting in Art class. Learning to play the saxophone in band or using a drafting program in Design will both require an expansion of one's comfort zone which will then lead to the sprouting of confidence - and even greater success.
The opening of the mind will lead to the flowering of the confidence and that will be the fertile ground for future success based a 'can do' attitude... and an ever blooming growth mindset. They learn new skills, gather new knowledge but most importantly, they are growing their talents!
Spring is here! And so is student success!
Want to really stretch your comfort zone? Starting March 16th, I will be hosting workshops on PUBLIC SPEAKING. All students are welcome to join me on Thursdays, from 3:15-4:15pm. This is a great opportunity for any student to improve his/her presentation skills for the upcoming events. 1st session is Thursday, March 16th.
At HIS, we are committed to helping each and every kid to find their moment to bloom. We will continue to provide opportunities and support for every student to find the best version of themselves. I hope you continue to enjoy the journey with us. Please remember to read over the re-enrollment information below.
ITS A GREAT DAY TO BE AN HIS DRAGON!!!
2023-2024 CALENDAR DATES
Semester I: August 23 (Wednesday) - December 15 (Friday), 2023
Semester II: January 09 (Tuesday) - June 21 (Friday), 2024
Re-enrollment Information 2022-2023
Re-enrollment 2022-2023
Deadline to return the enrollment contract, save, and pay at least the seat guarantee fee for the 2023-2024 is this Friday, March 17, 2023.
After March 17, we will start placing new applicants, and we won't save seats for any returning students who didn't complete the re-enrollment payment.
If you have questions, please contact: astubbs@his-china.org or payment@his-china.org
HIS GIN Club is collecting plastic!
Please, join to HIS GIN club members and recycle the plastic at home. They will be creating an artwork piece while supporting multiple recycle efforts around the community.
PAFA Spring Lunch
-March 15-
Join us! Let's welcome the spring season in great company, enjoying a nice meal, and making a flower arrangement!
Scan the QR code to register.
HIS International Day!
-Save the date, Saturday, April 29-
What is International Day?
Is our traditional event open to HIS students, parents, faculty, staff members, and the wider HIS community. During the event, we all represent our cultural backgrounds participating in the "Parade of Nations" followed by the Dragon and Lion Dance, traditional performances, activities, food from all over the world, and much more. This year we will be celebrating our 20th anniversary as well!
If you would like to organize as a country and participate in any way to celebrate your cultural background and community (for example, sharing traditional food, preparing games, performing on stage, or sharing celebrations from your country) please, contact Ms. Andrea Stubbs.
Fine Arts Head of Department, Brian Vincent

Guest Contributor, Ellie Caven MYP Theatre Teacher
The Addams Family, a New Musical Comedy
Saturday, May 06 @ the HIS Theater.
An Upper School musical production for the whole family!
OUR COLLEGE ACCEPTANCES THUS FAR
ARIZONA STATE UNIVERSITY
CARDIFF UNIVERSITY
CASE WESTERN RESERVE UNIVERSITY
CHINESE UNIVERSITY OF HONG KONG
CITY UNIVERSITY OF HONG KONG
EMORY UNIVERSITY
HONG KONG BAPTIST UNIVERSITY
HOUGHTON UNIVERSITY
HONG KONG UNIVERSITY OF SCIENCE & TECHNOLOGY
HONG KONG POLYTECHNIC UNIVERSITY
KING'S COLLEGE OF LONDON
LANCASTER UNIVERSITY
LOUGHBOROUGH UNIVERSITY
MCMASTER UNIVERSITY
MICHIGAN STATE UNIVERSITY
OHIO STATE UNIVERSITY
PENN STATE BEHREND
QUEEN MARY UNIVERSITY OF LONDON
QUEEN'S UNIVERSITY
STONY BROOK UNIVERSITY
SYRACUSE UNIVERSITY
UNIVERSIDAD EUROPA
UNIVERSITY OF THE ARTS LONDON
UNIVERSITY OF BIRMINGHAM
UNIVERSITY OF BRISTOL
UNIVERSITY OF BRITISH COLUMBIA
UNIVERSITY OF CONNECTICUT
UNIVERSITY OF HONG KONG
UNIVERSITY OF ILLINOIS URBANA-CHAMPAIGNE
UNIVERSITY OF MANCHESTER
UNIVERSITY OF NOTTINGHAM
UNIVERSITY OF PENNSYLVANIA
UNIVERSITY OF SHEFFIELD
UNIVERSITY OF SOUTHAMPTON
UNIVERSITY OF TORONTO
UNIVERSITY OF WARWICK
YORK UNIVERSITY
BEST UNIVERSITY YOU'VE NEVER HEARD OF!!!
Hello,

My name is Iris Zhang, College Counselor at HIS. This past semester, I focused on helping our grade 12 students who are applying to colleges. This month, I am conducting one-on-one counseling sessions with grade 11 students and in March, I will work with our grade 10 students.
For the individual counseling sessions, we will start with general topics like what their interests are, which subjects they are doing well in, what their current grades for each subject are, what their parent's expectations are, which country they want to travel or reside, etc. Studying in another country is not only about achieving academic excellence, but also finding the environment that best supports their success. Through these individual meetings, I can better understand their lifelong goals and help each student find the school that is the 'right fit' for them.
When we think of "good schools," we may think of the most prestigious, most selective, or even the schools with the most successful alums in the field we wish to study. Finding the right fit goes beyond published rankings. It is also critical to look at school size, teacher to student ratio, available opportunities such as internships or research, and even social settings that offer the best opportunity for students to find the best version of themselves. And much job-hunting, there is no one-size-fits-all college, but instead, a number of potential great picks for every individual student.
Ivy League schools are often the first thing that come to mind when Americans think of "best colleges," as are a number of small, highly selective, and highly ranked college. However, if a student decides to attend a school for the perceived prestige alone, ignoring their own gut feelings and instincts about the campus culture and how they'd fit into it, they could very well end up unhappy even among the nation's "best colleges."
As a college counselor, I understand I have big responsibilities to help students with not only their college applications, but also help them find the 'right' schools where they can achieve academic excellence and personal growth.
Analysis: Undergraduate Colleges Have Not Followed Elite Law Schools In Abandoning US News Rankings
Inside Higher Ed (12/5) explores the question: "Will the moves by leading law schools against the rankings of U.S. News & World Report spread to undergraduate institutions?"
So far, 11 law schools, led by Yale University, announced they will stay out of the rankings. Yet those who were waiting "for a similar push by undergraduate colleges" have so far "been disappointed." One theory put forward by former Reed College President Colin Diver is that "undergraduate schools view their constituency (mostly 16- to 18-year-old high schoolers) as more naïve, gullible, impressionable (and therefore rankings-bewitched) than law schools view their constituencies (22- to 30-year-old college graduates and often early-careerists)." As a result, "at least many of the top-tier law schools are willing to take the risk that a postboycott drop in their ranking won't hurt them and might actually help them with their more worldly constituencies."
David Hawkins, chief education and policy officer at the National Association for College Admission Counseling, told Inside Higher Ed via email: "The fact that high-profile law schools are walking away from the rankings constitutes a potentially important step toward 'unilateral disarmament,' so to speak. Many institutions, whether law schools or undergraduate institutions, have heretofore been hesitant to step away for fear of the negative effects. Such effects include, but are not limited to, actions that U.S. News could take to 'estimate' data and blowback from institutional stakeholders, such as boards, state legislators, or alumni if there is a perceived drop in prestige. These law schools may have signaled to all institutions that with enough alignment at the institutional level, colleges can step away if they do not benefit from either the rankings themselves or the methods used to compile the rankings."
We encourage students to contact one of the university counselors with any questions about university entrance requirements.
Ms. Iris Zhang iriszhang@hisdragons.org.cn
Mr. Fursey Gotuaco furseygotuaco@hisdragons.org.cn
Dr. Aaron Ayers aaronayers@hisdragons.org.cn
Dr. Monica Prieto monicaprieto@hisdragons.org.cn
Dr. Ryan Beddows ryanbeddows@hisdragons.org.cn
UPPER SCHOOL ATHLETICS
2023 ACAMIS BASKETBALL TOURNAMENT
HIS hosted the 2023 ACAMIS (Association of China and Mongolia International Schools) Basketball Tournament last week from 16-18th February, bringing together 6 international schools from Tianjin, Nanjing, Shanghai, Dalian and Xiamen. This was the end of a long 3-year wait since our teams were last able to play in a tournament, so the players, coaches, parents and spectators were super excited to finally have Basketball competitions back at HIS.
Our teams were cheered on by hundreds of students and parents during each of their 7 games over the 3 days and this gave them some extra motivation to push themselves to perform to their potential. Our Lower School students came with posters, pom-poms and some very well-rehearsed cheers thanks to some practice with their teachers in the days leading up to the tournament. Our Dragon Cheer Squad formed by parents and family were also in full voice which contributed to an awesome atmosphere at the games.
Ultimately, our boys team finished in 3rd place and our girls finished in 4th, with Dalian American International School and International School of Tianjin winning the boys and girls competitions respectively. A special mention to our Boys team who were awarded the Spirit of ACAMIS Award which acknowledges their sportsmanship and positive attitudes towards opponents, officials and each other throughout the tournament.
Ultimately though, the winners of this tournament were all the students and HIS community members that were involved both on and off- the court. The tournament brought our community together again in a way which had been a little lacking throughout the last few years of restrictions and demonstrated how we can unite and excel through sports at HIS. We move now to our Varsity Soccer, Badminton and Track and Field seasons which will also have their ACAMIS tournaments scheduled for late April-Early May. Go Dragons!!!!
NEW SEASONS BEGINNING THIS WEEK
Varsity Soccer Season
20th February – April 22
Practices every Monday 3:30-5, Wednesday 3:30-5:30, Friday 3:30-5
Coaches- Girls: Mr. Nogueira & Mr. Edwards / Boys: Mr. Hobson & Mr. Majoos
Varsity Badminton Season
20th February – April 22
Practices every Monday 3:30-5, Wednesday 3:30-5:30, Friday 3:30-5
Coaches- Mr. Willoughby and Ms. Vivian
Varsity and Middle School Track and Field Season
20th Feb – 6th May
Practices every Monday 3:30-5. Tuesday 3:30-5, Thursday 3:30-5
Coaches- Mr. Foster, Mr. Hendricks, Ms. Rojas
*** NOTE A CHANGE IN SEASON DATES
Middle School Touch Rugby Season
Originally scheduled to begin 14th February and end 24th April this season will now run from 23rd March – 13th May.
AQUATICS
Monday, March 13, 2023 - Parent Newsletter
Email swimming@hisdragons.org.cn for inquiries, and visit the Aquatics Swim Meet Calendar webpage for updated events.
International Baccalaureate Diploma Programme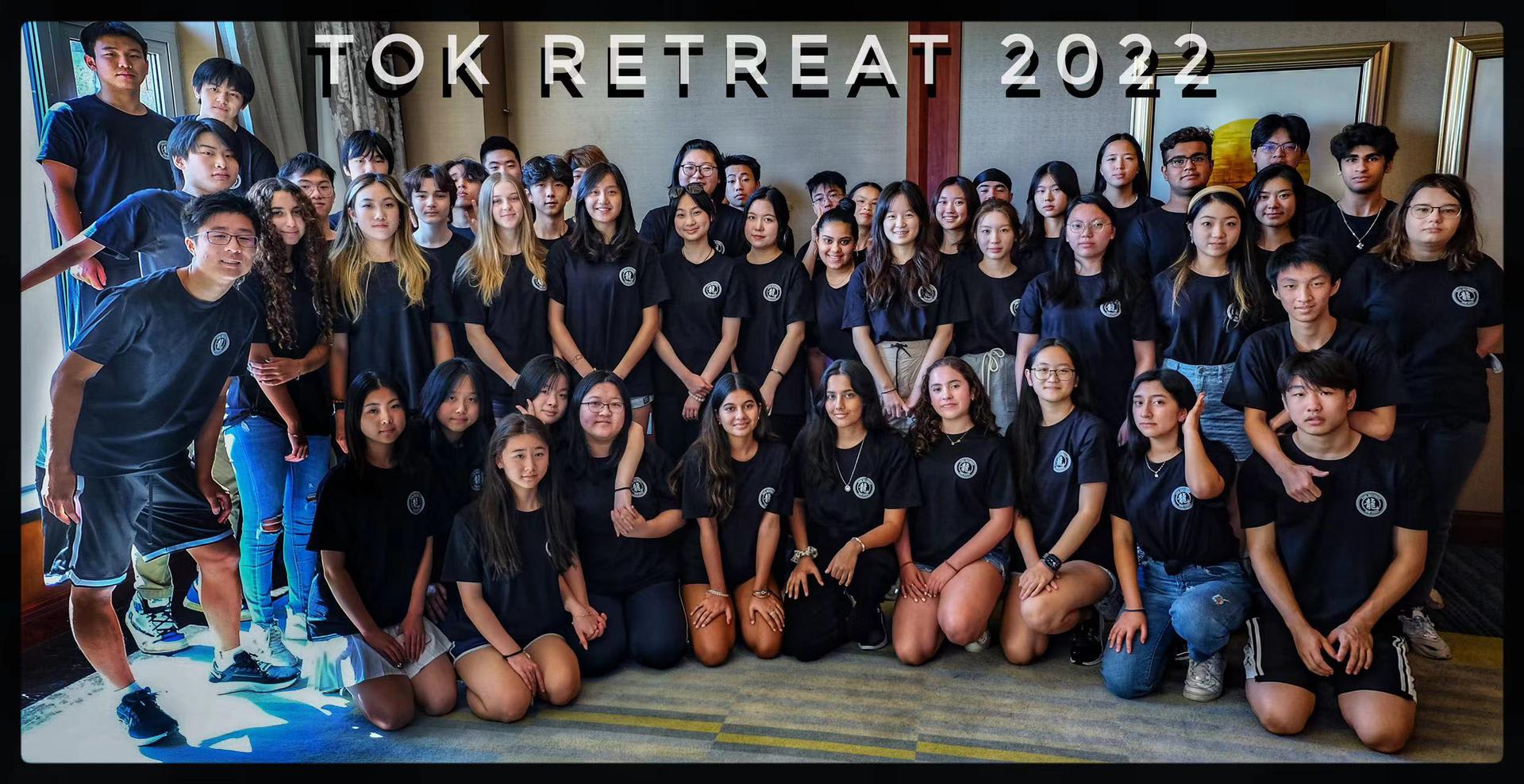 Terry Strombeck
TOK/DP History Teacher
In TOK, students learn that 'all claims require evidence.'
In other words, when we claim something to be true, we must have evidence for that claim. Providing evidence should be expected as proof for the statements we make. Expecting evidence seems reasonable, especially in some subjects like the sciences or mathematics. However, other subjects also demand evidence.
In recent presentations on a History topic, students were required back the claims they made about a particular topic by referring to and citing evidence as 'proof.' Evidence in History comes in various forms: statistics and documents of various kinds -even cartoons!- are examples of evidence used by historians. Aside from using evidence for claims, TOK also encourages students to consider questions that might be asked about the evidence used in making claims of truth.
A few examples of TOK questions of evidence are:
- What counts as good evidence for a claim?
- When can we trust the evidence used as proof for claims?
- Does it matter who selects the evidence used as proof for claims of what is true?
- TOK thinking demands thoughtful reflection about evidence used. There will be more on the evaluation of evidence in the next edition of TOK thoughts.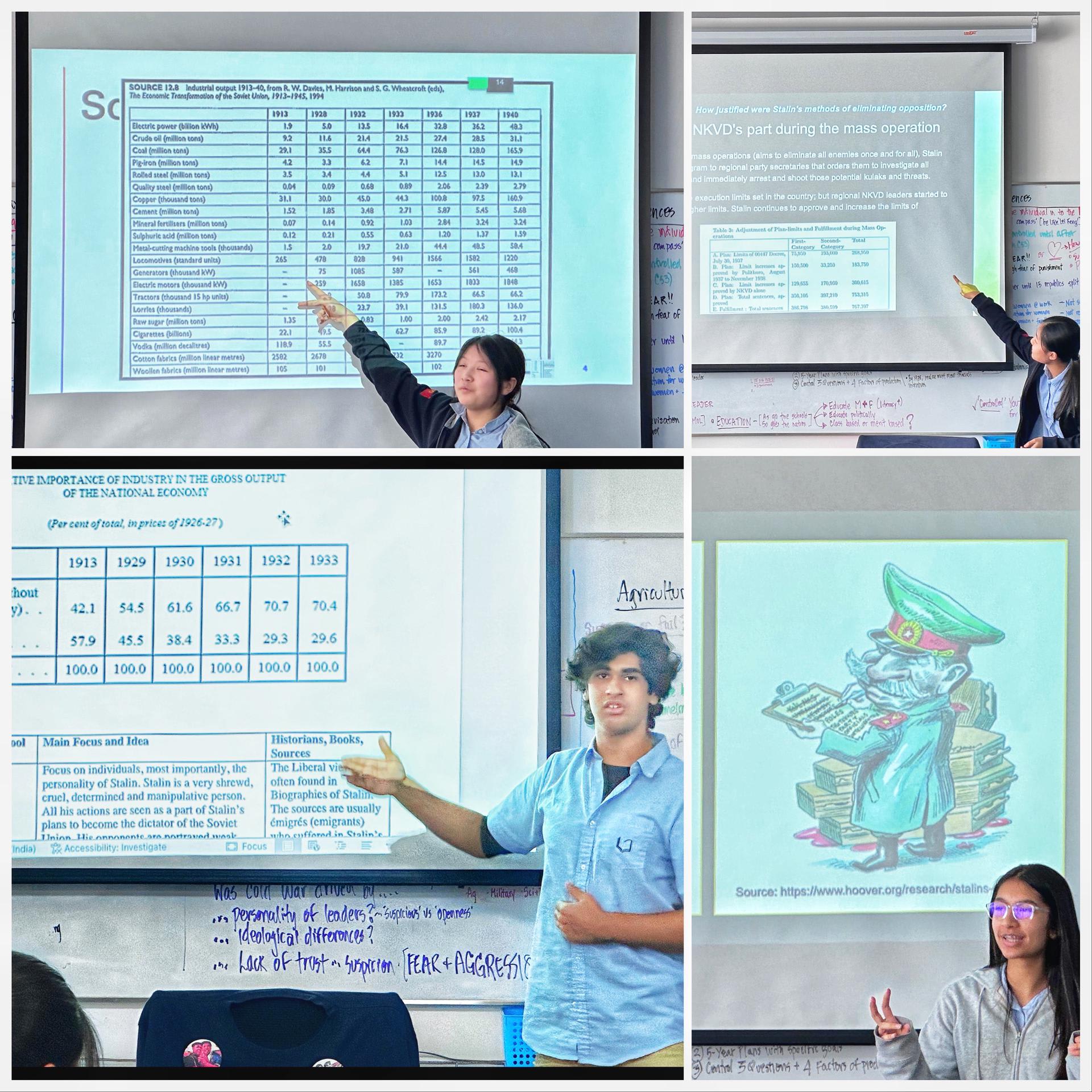 DEADLINES FOR DP 2 (IAs & EEs)
Developing Resilience in Teenagers
Resilience is the capacity to withstand or to recover quickly from difficulties. It is important for teenagers because it helps them build the skills needed to cope with challenging situations, such as bullying, academic pressure, and physical and emotional health issues. It teaches them how to manage stress, recognize and cultivate positive relationships, and develop problem-solving skills that can help them navigate through life's ups and downs. By providing teens with the tools to respond to difficult situations in healthy, productive ways, resilience can help them develop a sense of security and confidence as they make their way through adolescence.
If you have any questions or worries about your children please contact Dr Ryan Beddows by email ryanbeddows@hisdragons.org.cn.
Student Leadership is a priority here at HIS.
Each week, we spotlight a student leader and give them an opportunity to tell you about their clubs, sports, and activities.
MODEL UNITED NATIONS
Divay Agarwal
Grade 7
MUN is an organization that hosts conferences throughout the year and aims to bring together students from around the world to discuss various topics in international relations. These broad topics ranging from politics, peacekeeping, economics, environmental policy, social justice, nuclear war prevention, etc. On top of the morning sessions where you listen to debates by representatives of different countries and nations on these varied issues; it also includes lunchtime talks by successful figures in international affairs as well as an evening gala dinner where awards are given to those who have made exceptional contributions toward World Peace.
As debate was one of my favorite subjects at school, this was the perfect opportunity to improve my debating skills personally and academically. 6th grade was when I first joined the ASA, I immediately fitted in, I still remember the countless hours I spent arguing about little topics, which some might find funny but for me it was beautiful, the way each one of us found a loophole in another. It was interesting and helped me quite a lot with my school teachers. This year when I got elected as Secretary General, my mind was flowing with all the things I used to despise or didn't learn, and I thought of teaching the youngsters all about it, but as a mere 7th grader it wasn't easy. I wouldn't have gotten anywhere without my team or my mentors and teachers whom I would like to thank, especially Mr.Barningham.
I believe if one ever talks to my 5th-grade teacher or any other teacher before 6th grade, they would describe me as a bit too enthusiastic in many ways. But if one were to ask my teachers this year they would probably describe me as a talkative and arguably annoying student at times, mostly due to my habit of arguing. This argumentation has improved my writing, understanding, and speaking skills. Since I joined MUN, the world around me gets clearer and clearer every day. This has proven to be very helpful and I would encourage any new middle schooler to join MUN. Even though it might seem boring, in the end, it has proven to be highly effective in many academically related situations. On another note, if anyone would like to take part in some MUN activities, feel free to email or talk to your teachers! Overall the past semester has been a great journey, I have learned a lot of things and I'm excited about how this year will end.
Furthermore, HIS MUN Club Middle School and High School students will participate in the Suzhou Singapore International Schools SUZMUN conference Saturday and Sunday, April 15-16. Students in grades 6-10, with or without experience, interested in participating in HIS Model United Nations Club are invited to attend our after-school sessions Thursdays in the library after school. It is never too late if you have the interest, time, and commitment!
We will be hosting again, in person, our West Lake Model United Nations simulation this May 13-14. It is around the corner, and you still have time to join!
For more information, contact HIS MUN Club advisor Mr. Hamilton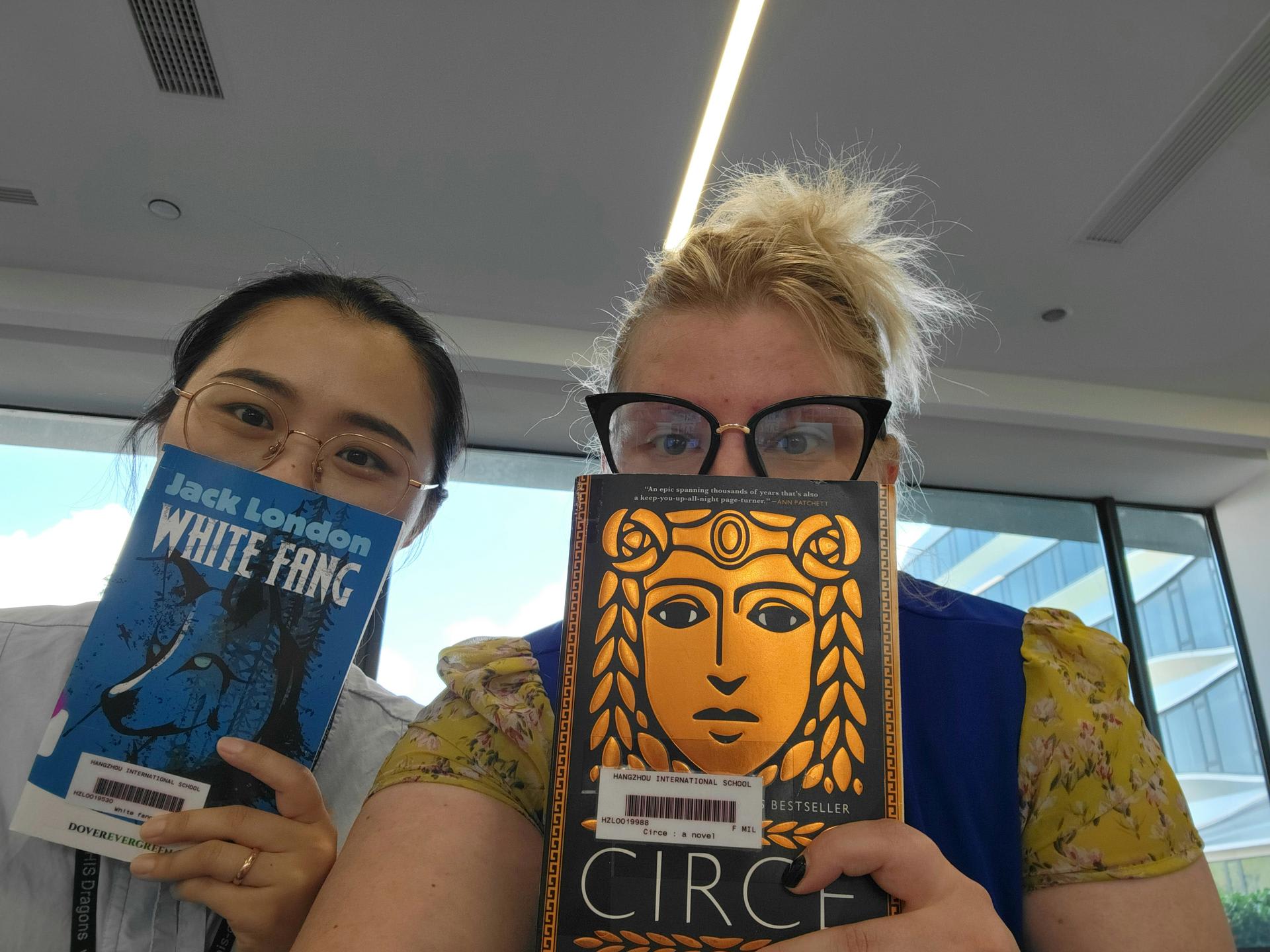 Sara Freeman
Newsletter – Upper School Library
March 13th 2023
This week we celebrated International Women's Day in the library by having a fun contest with four different prompts to choose from.
Several students, and even a few faculty, submitted to the contest. The three student winners were Divay Agarwal (G7), Angelina Gao (G6), and Xin-Yu Lisa Wu (G6). I also gave a bonus prize to our Upper School Vice-Principal, Mr. Liam O'Shea, for his touching essay about his daughter, Kana. They all won 50 RMB gift cards for the school café.
Here are a few excerpts from the winning entries:
Beginning of Angelina's short story:
"Cynthia quickly shoved her books under her bed as she heard the door creek open. She tried not to look suspicious, her brother walked in the bedroom. Altair, her brother walked past Cynthia, without even saying 'hi', he put a few coins in a small jar and put it back under the bed. Cynthia waved to Altair but he walked back outside. Cynthia reached under her bed, trying to find the books she hid. She isn't very good at reading; she could only recognize the simple words. Cynthia has never been to school; she wasn't allowed to, not by the government, not by her family."
Part of Lisa Wu's essay on five things she'd like to change for women: "Sexism is a problem so broad to solve. It comes in mind of others, they think that women are not as strong, not as useful as men, can't do things that men do. But I don't think so, women can do the things that men do too. They shouldn't see women differently just because of a different gender, women can do the things that men do, if you give them the chance! Women shouldn't be seen differently than men, they should have the same opportunities that as a men do. They can be on the posts that you expect a men should be on. I think we should all try to look forward and give women the rights to be the same as the mans."
Intro to Divay's essay on women's rights:
"Women's rights are an ever-expanding area of human rights law that seeks to promote equality and opportunity for all women across the globe. By recognizing, removing, and preventing gender discrimination, in fields such as employment, education, and health care, we can ensure every woman receives the same opportunities that men do. The UN Women agency works alongside governments, advocating for greater access to education and economic participation for women with particular goals set out: increase public services vital to women's lives; political empowerment through broader representation at all decision-making levels; removal of violence; respect and promotion of the rights of vulnerable groups such as indigenous women or those living in extreme poverty; stronger legal systems that recognize women's right to decide on marriage ages. Women's rights are fundamental human rights that must be upheld if our societies hope to continue advancing."
And, lastly, a tidbit from Mr. O'Shea's essay about his daughter. He's talking about her life after moving around the world going to several different schools from elementary age to the end of high school.
"Kana started to live in Vancouver. She got a tattoo. Then a few more. She went to Simon Fraser University, and it was really hard. Even though her grandparents were there, sometimes she felt all alone. She started working part-time, helping children who had different learning needs. Some of them had autism spectrum disorder, or attention-deficit-hyperactivity-disorder. Some of them had Down's Syndrome. Some of them did not have good home lives. Kana cared for them all. It was really hard. She made new memories, and made her way in the world.
COVID happened. It was really really hard. Like, extraordinarily hard. Headwinds.
Kana recently moved to Australia. She is now 24 years old. She speaks 2 languages fluently, and is familiar with 3 other languages. She has lived in 5 countries and has travelled to 20 others. She has graduated from high school with an IB Diploma, and from university with a degree. She has an international-mindset. She is passionate about and takes action to highlight and change injustices around the world, and also where she lives. She helps other people, and even though life has been difficult at times, she is loving and caring. She is - still - making her way in the world.
It is not easy growing up as a young woman today. It is even harder to do it with grace, style, compassion and love.
Kana is our daughter. She is our hero."
These entries were all tremendous and I am so thankful to the students and faculty who used their precious free time to enter the contest. I appreciate them as much as I do the women in my life, past and present, who inspire me daily.
See you in the library
Middle School Uniform Guidelines 6-8
Middle Schoolers should wear tan shorts, trousers, or skirts and a navy blue polo shirt (short or long sleeved) with the HIS book logo. A navy fleece or cardigan sweater with the HIS logo or other approved outerwear such as the HIS hoodie sweatshirt can be worn in the cooler weather. All students must wear laced shoes.
High School Uniform Guidelines 9-12
High Schoolers should wear tan shorts or trousers, or plaid skirts (girls only) and a light blue Oxford cloth button down short or long sleeved short with the HIS book logo. A navy fleece or cardigan sweater with the HIS logo or other approved outerwear such as the HIS hoodie sweatshirt can be worn in the cooler weather. All students must wear laced shoes.
Students will be asked to remove outerwear (coats, hoodies, sweatshirts, etc) in lessons unless they carry the HIS logos. Students who are cold will be invited to go to the Dragon Shop to purchase acceptable HIS items.
Families can purchase items at the Dragon Shop open
Mondays to Fridays from
9:00am - 11:00am and 1:00pm - 3:00pm
For more information, please contact the Dragon Shop: olivexu@hisdragons.org.cn
See the updated lunch menu weekly and monthly as posted on the school website.
HIS Mission Statement
We provide international learners with opportunities to pursue academic and personal excellence within a caring community.