Lower School Newsletter October 24, 2022
Lower School Newsletter
24 October 2022
Upcoming Events

*October 25 Parent-TeacherConferences No school. Teachers will schedule meetings with parents

*October 28 Halloween Parade

*November 2 Curriculum Evening-Math 6.00pm-7.30pm *19 November Seussical KIDS Musical Workshop 8am-12pm

*25 November Professional Inservice Day

No students

*26 November Tree Lighting Four Seasons

*3 December Seussical KIDS performances

*23 December Semester1 reports home

*23 December End of semester 1
Moments 365 Help Desk
Parent Conferences
If you are not logged in yet to Moments 365, or having troubles understanding what you need to do want to learn ways to extend what you can do
Dear Parents,

I hope you are enjoying your long weekend, and we look forward to seeing you at the parent conferences tomorrow. We will be at the Administrative entrance at both the ECE and Main Building and will be here to help you find the classes and places you need to go.

Please remember you have several different things you can do. These include:-

Visit the Book Fair in the US library.
Get support and assistance with Moments 365 with Mr.Em and Ms.Gabby in the US library area.
Donate blood to assist others and help our GIN club.
Buy additional items of clothing at the Uniform Shop.
Update your Health code if you haven't already.
Meet the Specialist teachers in their learning spaces, and if you need additional time, make an appointment with them.
Look for lost items of clothing and other things.
Enjoy tea, coffee, and a snack.

Halloween is here this Friday. We will live stream the parade.

We have young students in the school, so please, no terrifying outfits, no weapons of any description(swords, guns, knives, daggers, pitchforks, Ninja-style weapons, etc.), and no or minimal makeup.

Please save next Wednesday, 2 November, at 6 pm to attend our first Curriculum evening for the year focussing on Math. This event is a unique opportunity to see a Math concept taught and developed across the whole school and see the increasing complexity of the strategies and understanding students bring to demonstrate and prove their understandings.

Students will be part of the instruction team. So prepare to sharpen your Math knowledge, as the students were highly skilled last year.

Happy Diwali to all our families celebrating today!

I look forward to seeing you all tomorrow.

Lynn

Lynn Pendleton

LS Principal
Our new pool with its beautiful deck, fantastic teachers, heat-controlled environment, and warm showers are proving very popular with the students and staff alike!
SAVE THE DATE
Learn how Math is taught at HIS and see it in action from
EY-Grade12
HEALTH AND SAFETY UPDATES
Dear Parents,
A gentle reminder that students must have a valid COVID test today or tomorrow to enter the school on Wednesday.
Parents attending the parent - teacher conferences tomorrow, please ensure your have negative covid test result within 72 hours.
Thank you so much for your support with these important health and safety messages.
Lynn
家长您好:
温馨提醒您,学生周三返校必须出示有效核酸检测证明,请在今明两天为孩子进行一次核酸检测。
明天参加家长会的家长,请确保您有72小时内的核酸检测阴性证明。
nbsp;
感谢您对安全防疫政策的支持。
Dear parents,
We are going to start a new round of collection of the QR Registration Code today. Please scan the photo attached to obtain your child(ren)s' new QR Registration Code and reply to this wechat group (not moment 365) or email to florali@hisdragons.org.cn (G1-G5)/ lilyfan@hisdragons.org.cn (ECE).In order to carry out school testing in an orderly manner, we hope that all the registration codes will expire on or near to the same date as possible.
Therefore, we hope that all parents can renew your QR Registration Code today even if your code is still valid. Thank you for your understanding and cooperation.

家长您好,
我们将从今天开始进行新一轮的核酸注册码收集工作。请您扫描下方图片获取您孩子的核酸注册码发送到本微信群(不要发送到moment365),或邮件发送到florali@hisdragons.org.cn (G1-G5) )/ lilyfan@hisdragons.org.cn (ECE)。为了在校核酸检测的有序进行,我们希望所有的核酸注册码尽可能保持在同一日期失效。所以,我们希望所有家长今天都能够重新更新核酸注册码,即使您的注册码仍在有效期内。感谢您的理解与配合。
BUDDIES PROVE POPULAR
Pre-K and Grade 3
Grade 1 and Grade 5
Buddies are popular with both our youngest students and their older buddies. The younger students love spending time and learning and sharing with their buddies. For our older students it gives everyone a chance to to take on a leadership, coaching and mentoring role.
The grade 5 and grade1 buddies are sharing favorite activities and grade 5 are designing Rube Goldberg machines form theirOrganization Unit of inquiry.
SUESSICAL JR
REHEARSAL & SLEEPOVER
CCA 1 DATES
Monday, October 10 – Friday, December 16
CCA1 begins this week. Parents are reminded that Lower School CCA finish at 4:15 unless otherwise notified. Students will be dismissed through the Main Campus Gate and we ask that parents arrive on time to collect their child. The late bus service also begins today. If you are eligible and have not yet replied to the Late Bus registration email sent previously, please do so ASAP. Only eligible and registered students will be permitted on the late buses.
Please visit the Co-Curricular page on the HIS website for more information https://www.his-china.org/extend/co-curricular-activities-clone.
You can also send an email to activities@hisdragons.org.cn if you have any inquiries.
CCA's
So many activities to join and ways to express yourself!
Creativity Club CCA where students are making Halloween crafts,
Arts and crafts CCA with students making a flip book about their imaginary figures adding costumes and body parts.
Always popular Lego CCA where building never gets boring !
Mini Chefs learning how to safely negotiate making a cheese sandwich!
We have moved to Moments 365
for most Lower School Communication
Dear Parents,
You will have received a letter this afternoon via your child, with your personal access information to join Moments 365. I have included information at the end of this message for you to follow in both English and Chinese outlining steps you need to complete to join.
This will be our LS official link with parents (EY1-Grade5) for sharing information about events, messages related to your child, pictures, videos and staff observations celebrating your child's learning.
Moments 365 will act like an individual WeChat account with the teacher. Only you and they can see the information that is specific to your child. In addition, whole class information around events and class activities can be shared to all class parents.
The current class WeChat account will remain open for urgent important messages including, a move to online learning or a school closure.
Teachers will be working through this over the next few days, and we aim to have all communication happening through Moments 365 by Thursday.
If after watching the videos sent via Wechat, you are still unsure or need help, please contact Mr Em Majoos, emlynmajoos@hisdragons.org.cn, who will either assist you or direct you to a Mandarin or home language speaker.
We are confident that this new communication channel will provide a more personal approach, and you will be able to see information from all teachers working with your child.
Please be patient as we make this change. We look forward to sharing your child's learning journey with you.
家长您好,
今天下午您的孩子将会给您一封信,上面有您加入Moments365的个人登录信息。您可以在本信息末尾查看中英文操作步骤概述,完成加入。
这将是我们小学部(EY1-G5)的官方链接, 我们将通过此程序与家长分享活动信息,与您孩子相关的消息、图片、视频,庆祝孩子的学习成果。
Moments365将作为您与老师的个人微信账号,只有您和老师能看到孩子的特定信息。有关整个班级的信息及活动会共享给班级内所有家长。
目前的班级微信群将继续保留,以发布紧急信息,如转为在线教学或学校关闭。
老师将会在接下来的几天进行Moments365的注册工作,我们的目标是在本周四实现由Moments365进行所有沟通。
如果您在观看操作视频后仍需帮助,请通过邮件 emlynmajoos@hisdragons.org.cn 联系Mr.EM Majoos。他会指导您进行操作,或引导您找寻母语人士帮助。
我们相信,Moments365作为新的沟通渠道会为您提供更具个性化的帮助,您可以获取所有老师发布的,有关于您孩子的信息。
请您耐心的接纳这一改变,我们期待与您分享孩子的学习历程。
Changes to pick-up arrangements of students
Please assist staff by advising us early (before lunchtime) wherever possible, if you need your child to do something different at their usual pick-up time and location. Teachers focus on working and engaging their class while maintaining a safe environment. They get to their computers sporadically and may miss changes. In addition, some classes are with Specialist staff for the last lesson and bring the students to the pick-up locations. They may be unaware of last-minute changes.
If you need to make a late change to plans, I'd suggest you send a message to our Lower School secretaries, florali@hisdragons.org.cn or in the ECE lilyfan@hisdragons.org.cn, and they can pass on your message.
COVID Procedures and Protocols
COVID Procedures and Protocols
Please note the requirements for completing 3 Covid tests if you have been out of Zhejiang province in the last seven days before entering the school. Masks must be worn on entry and can be removed when children are inside the school grounds.
As you know, we are back to 72-hour COVID tests in Hangzhou. The school will usually conduct three (3) COVID tests for all staff and students weekly. Monday, this week we will only be testing on Wednesday and again on Friday. Thank you for ensuring your child had a test on Saturday or Sunday.
Please note that if your child is absent on the testing days, you must ensure they have a valid COVID test to reenter the school. Please forward your child's result to lilyfan@hisdragons.org.cn or florali@hisdragons.org.cn
Parents who indicated on their online registration form that their child would be using the late bus service have received an email today asking them to indicate which of the later bus routes they intend to use. Please note the late bus service is available only to regular bus users who have registered and paid for this service. The late bus service is for students involved in all forms of co-curricular activities including CCA, sports practices, swimming practice, performing arts rehearsals.
GIN Club – Support HIS GIN Club Projects in the community while giving a special gift during the festive period!
You can order your Advent Calendar made with a mix of imported chocolates, by scanning the QR code on the poster. Pre-Sale starts now till November 15th, and orders will be distributed by November 28th.
Our Lower School Halloween festival is on Friday, October 28th
Students can come to school dressed as a character of their choice, but please remember we have little children and they can be easily frightened, so avoid costumes that are too scary and bloody!
Due HEB safety protocols, parents are not allowed on campus for the celebration, but don't worry! you will be able to see the parade through live stream video and photo.
We will have a "Trick or Treat" after the parade, so please ensure your child has a paper bag, or similar, to collect the treats. Although we are providing all kids friendly candy and treats, please let your teacher know if they have any allergies or diet restrictions.
Please, follow and respect your classroom teacher's instructions on the day.
今年幼儿园和小学的万圣节活动的时间是10月28日,周五
学生们可以穿着自己喜欢的角色服装来学校。但是因为我们有幼儿园的小朋友,为避免他们受到惊吓,请注意装扮不要太过恐怖或血腥!
根据政府疫情管控要求,家长暂时还不能进入校园,我们会实时与您分享现场的照片和视频。
游行后会有"不给糖就捣乱"的活动,请帮孩子准备一个装糖的袋子。我们提供的都是普通健康的糖果,但是孩子如果有过敏或者饮食限制,请提前通知班主任老师。
当天具体事宜,请根据班主任的通知安排。
I
GIN Club – Support HIS GIN Club Projects in the community while giving a special gift during the festive period!
You can order your Advent Calendar made with a mix of imported chocolates, by scanning the QR code on the poster. Pre-Sale starts now till November 15th, and orders will be distributed by November 28th.
"Give Back" Blood Donation Autumn 2022
Please consider donating blood during the Parent-Teacher conference day. This is an excellent opportunity to take part in a valuable community service event that is being organized by one of our grade 12 students, Manya Jain. Additional information are in the posters.
Please label your child's jackets, coats, umbrellas, waterbottles......everything! It is very worrying to see the number of unclaimed items, some of them brand new, but without a name and the ability to find the owner! We will try and locate the owner if the item has a name on it! Please help us and avoid needing to buy new items that could be located, if only we knew who it belonged to.
Dear Families,
The HIS FALL Book Fair is in full swing! Thank you to everyone who has already visited. Please come visit the Book Fair after your parent-teacher conference on Tuesday. The Book Fair is located in the Upper School Library, which is close to the front main entrance of the school.
Having a library at home, can support and encourage an environment of reading. Reading together as a family for learning and for fun is a great way to explore different topics with your child. It can also teach children how to take care of books and by seeing their family members reading, it can also inspire them to read more. If you read just one book a day to your child, that will be 365 books in a year. If you read 2 books every day, the number of books per year is 730, and that's a lot of exploration and inquiry going on!
If you would like to contact the libraries, please use the email addresses listed below:
ECE Library – ecelibrary@hisdragons.org.cn
Lower School Library – lslibrary@hisdragons.org.cn
Upper School Library – uslibrary@hisdragons.org.cn
We look forward to seeing you at the Book Fair!
Best wishes,
Mrs. Majoos
Lower School Librarian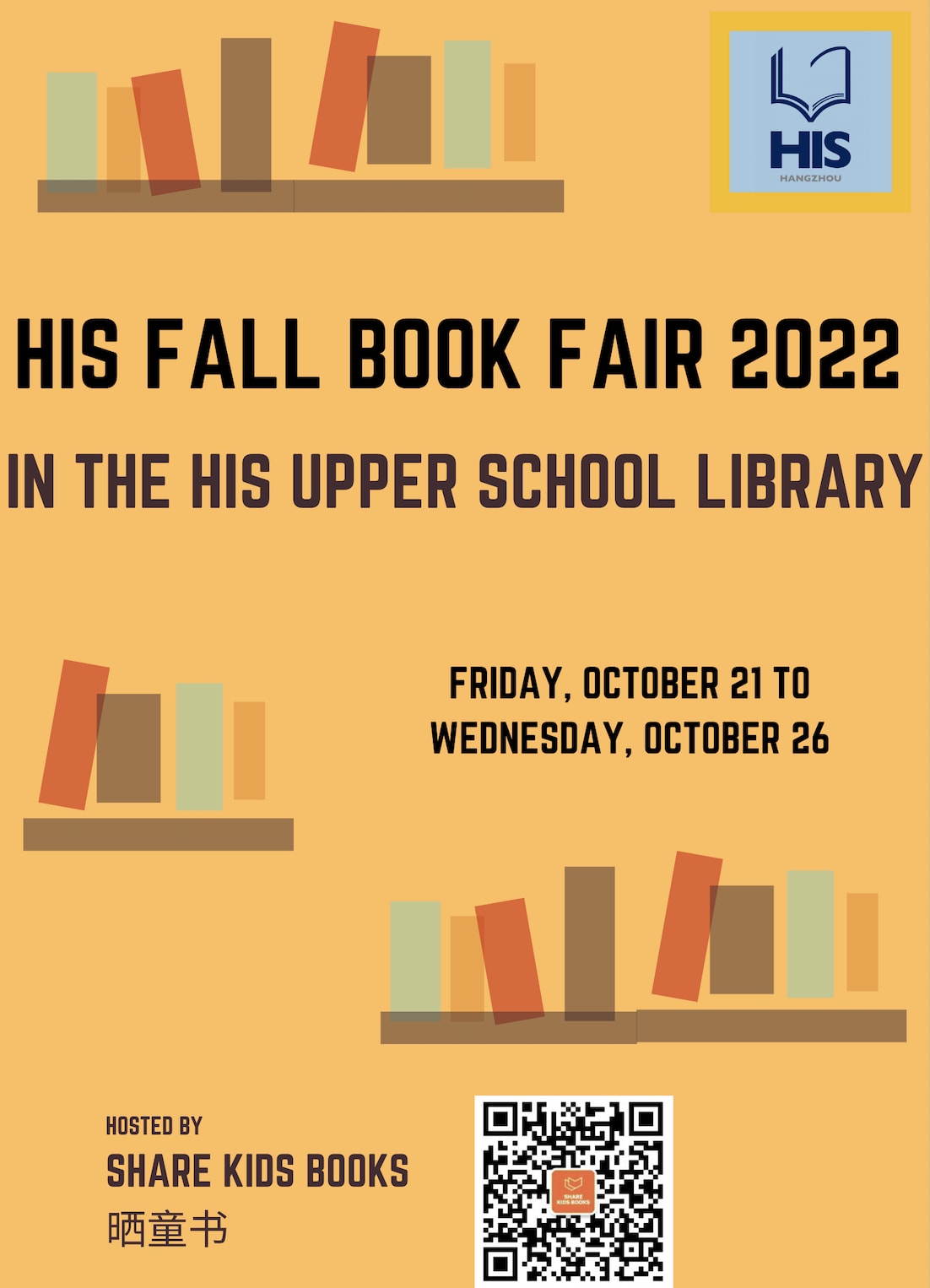 Messages for entering/exiting the school
Parent and Student ID Cards

All students and parents should have an HIS Identification Card. Please review the information on the website to submit your photo to the secretary for ID card generation. HIS ID card information
DRAGONS WEAR THEIR UNIFORM WITH PRIDE EACH DAY!
School Uniform
Please wear our school uniform with pride each day, and we seek your support in having your child dressed in the complete uniform each day. We will notify you if it is a special day to dress up; otherwise, students should be in uniform. Also, please have your child wear their PE kit on swim days (Grade1-5). Please label your child's clothing to help us return it to you. We often find many items without names, and the students cannot recognize their belongings.
Ordering School Uniform
Parents can go to the following link and look at the uniform web page (https://www.his-china.org/support/dragon-shop).
Parents can place an order with Nancy in the Dragon Shop (dragonshop@his-china.org) by email or by calling the school directly (Tel# 8669-0045 X109) during office hours (Monday-Friday 7:45 am - 11:30 am and 12:30 pm - 4:30 pm).
Also, parents may make an appointment to go to the Dragon Shop between 3:15 pm – 4:15 pm when the regular school day is over.
Older students may come to the Dragon Shop to select sizes and purchase uniforms if they have time before or after school during open hours.
Payment may be made through AliPay or by giving students cash.
You can choose from the following options to receive uniform orders:
Give items directly to students
Wait for pick-up at the school gate
Deliver home 12RMB pay on delivery fee.
Lynn Pendleton

Lower School Principal

Aaron Ayers

Lower School

Vice Principal

Student Welfare

Cilla Giannopoulos

Lower School

Vice Principal

PYP Co-ordinator
HIS Mission Statement
We provide international learners with opportunities to pursue academic and personal excellence within a caring community.