Upper School Newsletter October 24, 2022
Upper School Newsletter
October 24, 2022
UPCOMING EVENTS

October 24 Faculty Inservice (no school)

October 25 Student/Parent Conference

(no school,meet advisors)

October 25 Blood Donation Drive

October 25 Book Fair

October 28. Haunted House (STUCO)

November 1 HIS University Invitational (online college fair)

November 2 Curriculum Night (Math)

November 3. Registration Deadline for

Dec. 3 SAT

November 25. Professional Inservice

(no school)

December 23. End of Semester 1

January 30. Start of Semester 2
A NOTE FROM ADMINISTRATION
Mr. Fursey Gotuaco

Upper School Principal

MEASURE FOR MEASURE

"YOU CAN'T MANAGE WHAT YOU DON'T MEASURE."

Peter Drucker

"SUCCESS IS TO BE MEASURED NOT SO MUCH BY THE POSITION THAT ONE HAS REACHED IN LIFE AS BY THE OBSTACLES WHICH HE HAS OVERCOME."

Booker T Washington

"THE MEASURE OF A MAN IS WHAT HE DOES WITH POWER"

Plato

"DO NOT MEASURE SUCCESS BY TODAY'S HARVEST. MEASURE SUCCESS BY THE SEEDS YOU PLANT TODAY."

Robert Louis Stevenson
Tomorrow, October 25th, is our Student/Parent - Advisor conference. It is our annual midmester opportunity to see where each student is in their progress this year. Simply put, we measure how they are doing. But what is it that we are measuring and how do we measure it?
Just this month, we have had many formative and summative assessments in all of our classes, compounded by the PSAT and the NWEA tests. We also played volleyball games where we tested ourselves against another school. But is the final score the only way to measure success or failure? Even now as we work to support our seniors get into colleges like UPenn, NYU and Oxford, we are asked to talk about our students in terms that are beyond their grades and scores.
Don't get me wrong.. I love numbers.. For example, I am proud of our average IB Diploma score of 35 for last year's cohort, but I'm also proud our our girls Volleyball team for winng ACAMIS. I'm in awe of senior ANDY WU for getting an SAT score of 1580 on the SAT (top 1% in the world) but I am also proud of his leadership in athletics and Student Council. I am proud of Flora Moon for winning a GLOBAL CITIZENSHIP Award but I'm also humbled by senior Manya Jain spear heading our blood drives the last few years. I will cheer on the student who has straight 'A's as and I will cheer on, just as hard, the student who turned failing grades into passing grades over the course of a semester.
I know some are curious why we did not post 'grades' in our reports last week. Instead, we wrote comments... holistic comments... descriptions of how a student is settling in after only a few short weeks... detailing what skills they are using to move themselves forward past every challenge placed in front of them by their teachers... and outlining how a student can attain their full potential with a little more attention.
There are many ways to measure success here at HIS. And I know that everyone wants to be 'first'... So here are a few details I'd like to share about these last few weeks of October... our 'FIRST's...
- For the first time, we had our first Student Council 'CAREER TALKS', where students reached out to Michael Branham, General Manager of the Four Seasons Hotel, and had him come in to speak to students about some career choices.
- For the first time, we had our TOK Retreat where DP1 and DP2 students had an opportunity to deep dive incredibly complicated and sophisticated philosophical questions.
- For the first time, students will be writing an article for the Parent Newsletter. Student Council contributed an article this week, followed by GIN Club, and Model UN the following week. Its just one more way we can showcase our amazing student leaders here at HIS.
- And for the first time, we will have our HIS INVITATIONAL COLLEGE FAIR. This will be an online event where we will have representatives from Cambridge, Hong Kong University, Indiana University, Vanderbilt University, Duke Kunshan University, and University of Melbourne speaking to our grade 11 students.
At HIS, we pursue excellence.. Academic and Personal excellence. And we are so very proud of our student successes both in and outside of the classroom. And this is why we ask, how do you measure success?
ITS A GREAT DAY TO BE AN HIS DRAGON!!!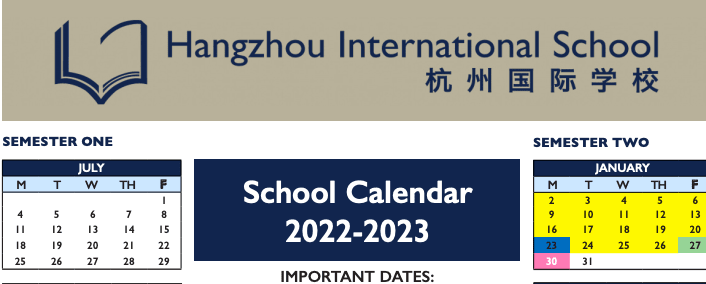 | | |
| --- | --- |
| HIS is doing great things and being noticed!!! Click on the button below or scan the QR code to see what they're saying about your HIS Dragons! | |
"Give Back" Blood Donation Autumn 2022
Please consider donating blood during the Parent-Teacher conference day. This is an excellent opportunity to take part in a valuable community service event that is being organized by one of our grade 12 students, Manya Jain. Additional information are in the posters.
Ms. IRIS ZHANG

This year, we welcome Iris Zhang to our school to head up our College Counseling Department. She has previous experience as an Admissions Officer at the University of Melbourne and The University of Technology Sydney. She brings a wealth of experience.

On November 1st, Ms. Zhang will be hosting an online college fair with several schools including Cambridge, Vanderbilt, Indiana, Hong Kong University and Duke Kunshan, and University of Melbourne.

JOIN US ONLINE!!!
We encourage students to contact one of the university counselors listed below with any questions about university entrance requirements.
Ms. Zhang has already begun the process of meeting with each senior to find out how to best support them in their quest for the perfect college. The choice of university is a complicated one that takes into account a student's interests, academic standing, future plans for where they want to live, and courses of study.
On November 1st, Ms. Zhang and the College Counseling staff will be hosting our first ever HIS Invitational College Conference. We have organized 6 leading universities from around the world to speak to our students about their programs. This is a MUST SEE event for our grade 11 students who are weighing their options!!! Headlining this group of secondary institutions is Cambridge, Indiana University, Vanderbilt University, University of Melbourne, Duke Kunshan University, and Hong Kong University.
Make plans now to join us online for this amazing opportunity!!!!
Scan the QR code to reserve your online seat!!!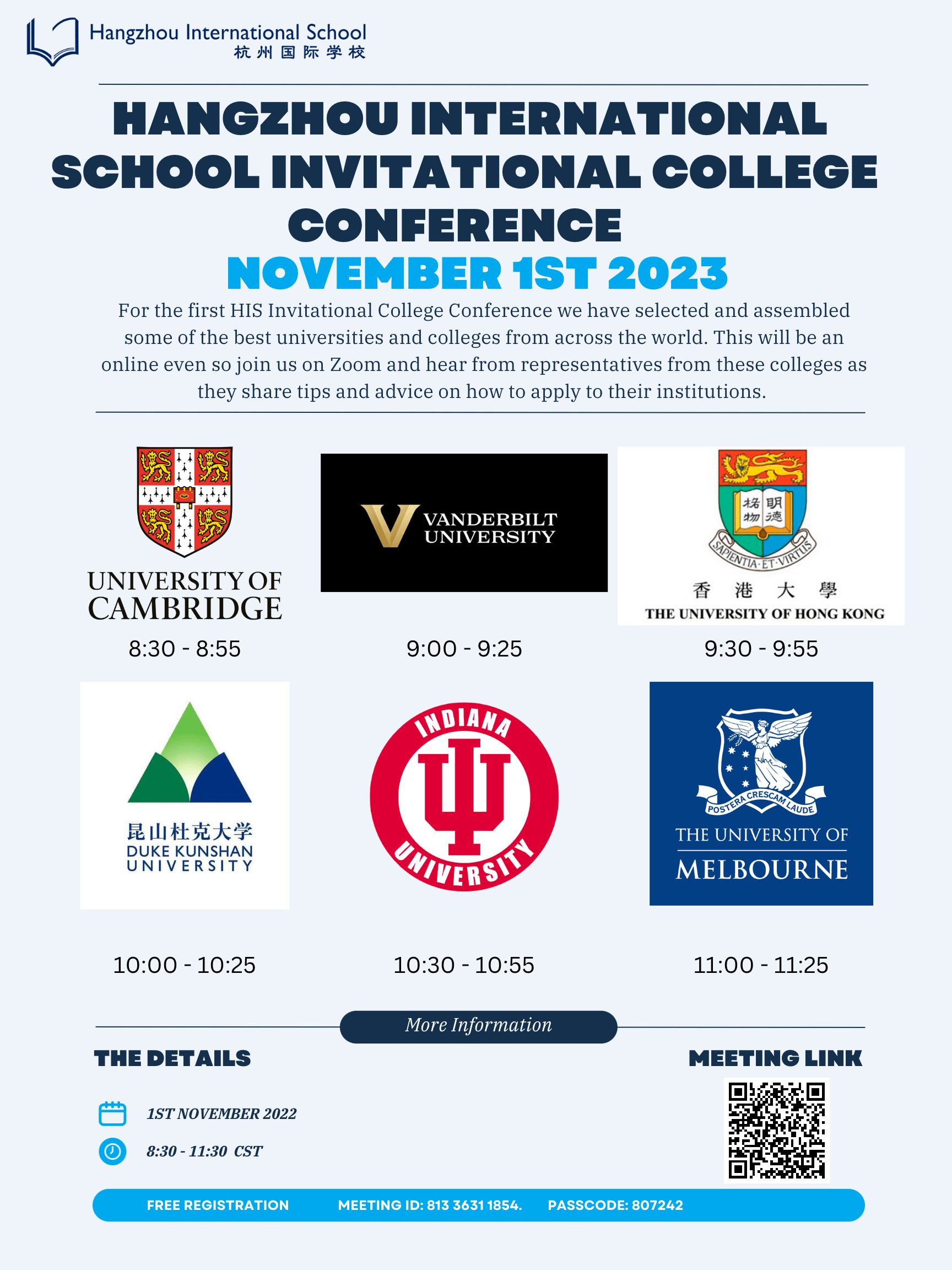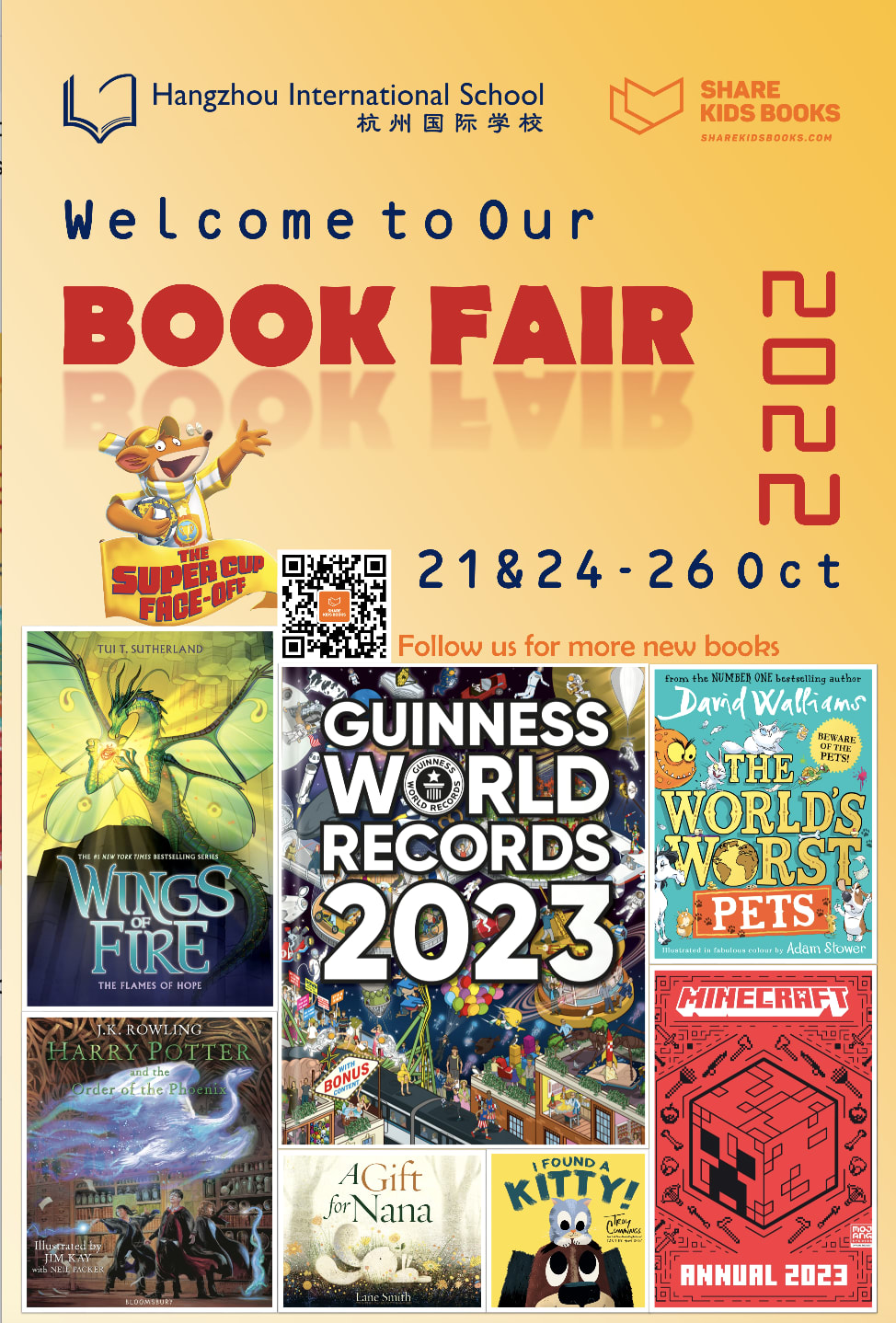 Upper School Athletics
Last Tuesday our Varsity Volleyball teams hosted students Hangzhou Dipont School of Arts and Science (formerly Kings College International School Hangzhou) / RDFZ Kings College School. This was the second game in as many weeks for our student athletes and they again came out on top, winning each of the matches 2 sets to 0. Next up, our JV teams play combined teams from Wellington / Huilli here today.
UPCOMING MATCHES IN NEXT 2 WEEKS
JUNIOR VARSITY VOLLEYBALL @ HIS Dragon's Lair Upper Gym
Monday 17th October from 4:30pm
HIS vs Wellington College International Hangzhou / Huilli School Hangzhou (Combined team)
THURSDAY NIGHT LIGHTS – VARSITY VOLLEYBALL @ HIS Dragon's Lair Upper Gym
Thursday 27th October from 4:00pm
Annual Students vs Teachers Volleyball Match
MIDDLE SCHOOL SOCCER @ Wellington College Hangzhou
Thursday 27th October – Depart HIS at 3:15pm – 6pm
HIS Girls and Boys teams vs combined teams from Huilli School Hangzhou / Wellington College
2022 MIDDLE SCHOOL ULTIMATE FRISBEE CARNIVAL @ HIS Dragon Field
Saturday 29th October – From 8:30am
School participating TBC
2022 HISAC VARSITY VOLLEYBALL TOURNAMENT @ HIS Dragon's Lair
Saturday 29th October – From 8:30am
5 HISAC schools participating
CCA (Co-Curricular Activities)
CCA1 begins this week. Parents are reminded that Lower School CCA finish at 4:15 unless otherwise notified. Students will be dismissed through the Main Campus Gate and we ask that parents arrive on time to collect their child. The late bus service also begins today. If you are eligible and have not yet replied to the Late Bus registration email sent previously, please do so ASAP. Only eligible and registered students will be permitted on the late buses.
Enquiries about CCA should be directed by email to activities@hisdragons.org.cn
Late Bus Service
Parents who indicated on their online registration form that their child would be using the late bus service have received an email today asking them to indicate which of the later bus routes they intend to use. Please note the late bus service is available only to regular bus users who have registered and paid for this service. The late bus service is for students involved in all forms of co-curricular activities including CCA, sports practices, swimming practice, performing arts rehearsals.
International Baccalaureate Diploma Programme
DP RETREAT
The DP1 and DP2 students (grade 11 & 12) will be having a retreat on October 21-23. This is an amazing opportunity for them to deep dive into some of the more sophisticated and complex material of the DP. More information to come soon. In the meantime, feel free to engage your child in philosophical debates about their TOK class.
Terry Strombeck
TOK/DP History Teacher
Over the weekend the Grade 11 and 12 TOK classes took some time to focus on TOK ideas and discussion. In one of the sessions, Grade 11 students analyzed cartoons that were relevant to TOK topics. Since the course focuses on the idea that 'knowledge' is related to 'what is claimed to be true,' it is relevant to discuss what might not be true.
A contemporary news topic is 'fake new.' In the cartoon shown, students analyze a daughter and father discussing fake news. When asked how we know some claims of truth are fake, a student responded that we sometimes 'just know' that something is true or not true. Or rather, we 'intuitively know' the difference between truth and 'fake truth.' The observation is good.
The TOK problem or question is, 'How do we know if our intuition is correct?'
DEADLINES FOR DP 2 (IAs & EEs)

What is Sleep Hygiene and Why is it Important?
Sleep Hygiene refers to healthy habits, behaviours and environmental factors that can be adjusted to help you have a good night's sleep. Obtaining heathy sleep is important for both physical and mental health. Everyone, from babies to older adults, can benefit from better sleep and sleep hygiene can play in important role.
If you know someone who has a hard time falling asleep or experiences frequent disturbances throughout the night there is a good chance they have poor sleep hygiene. Follow these principles to improve sleep hygiene:
- Be Consistent: following the same steps each night tells the brain its bedtime.
- Unplug: take at least 30 mins away from devices before bedtime.
- Dim the Lights: bright lights reduce the production of melatonin, the hormone the body creates to facilitate sleep.
- Don't Toss and Turn: create a healthy connection between being in bed and feeling sleepy. If after 20 minutes you haven't fallen asleep, get up and do something calming in low light until you feel sleepy.
- Invest: We spend a lot of our life in bed. Invest your money in a good night sleep by buying excellent pillows, bedsheets, and mattresses.
Benjamin Kim Branham
Grade 9 Student Council
Hello everyone! This is the student council officer team. We would like to inform everyone about the Student Council Halloween Haunted House Event on Friday October 28th. This year, the STUCO team has grown a lot having more reps in both middle school and high school, each and everyone one of them stepping up to take the leadership role for their advisories. Because of this, the Haunted House event in our new campus will be different from the Haunted Houses held before. We cannot wait to scare and laugh with you!
When being part of the Student Council, reps become leaders within their advisories and are expected to bring forward any opinions, concerns, and ideas from their classmates regarding their academic experience. From this, we gather the feedback and information to improve further and organise student based activities and events to create joy and connect our student community together.
Thank you!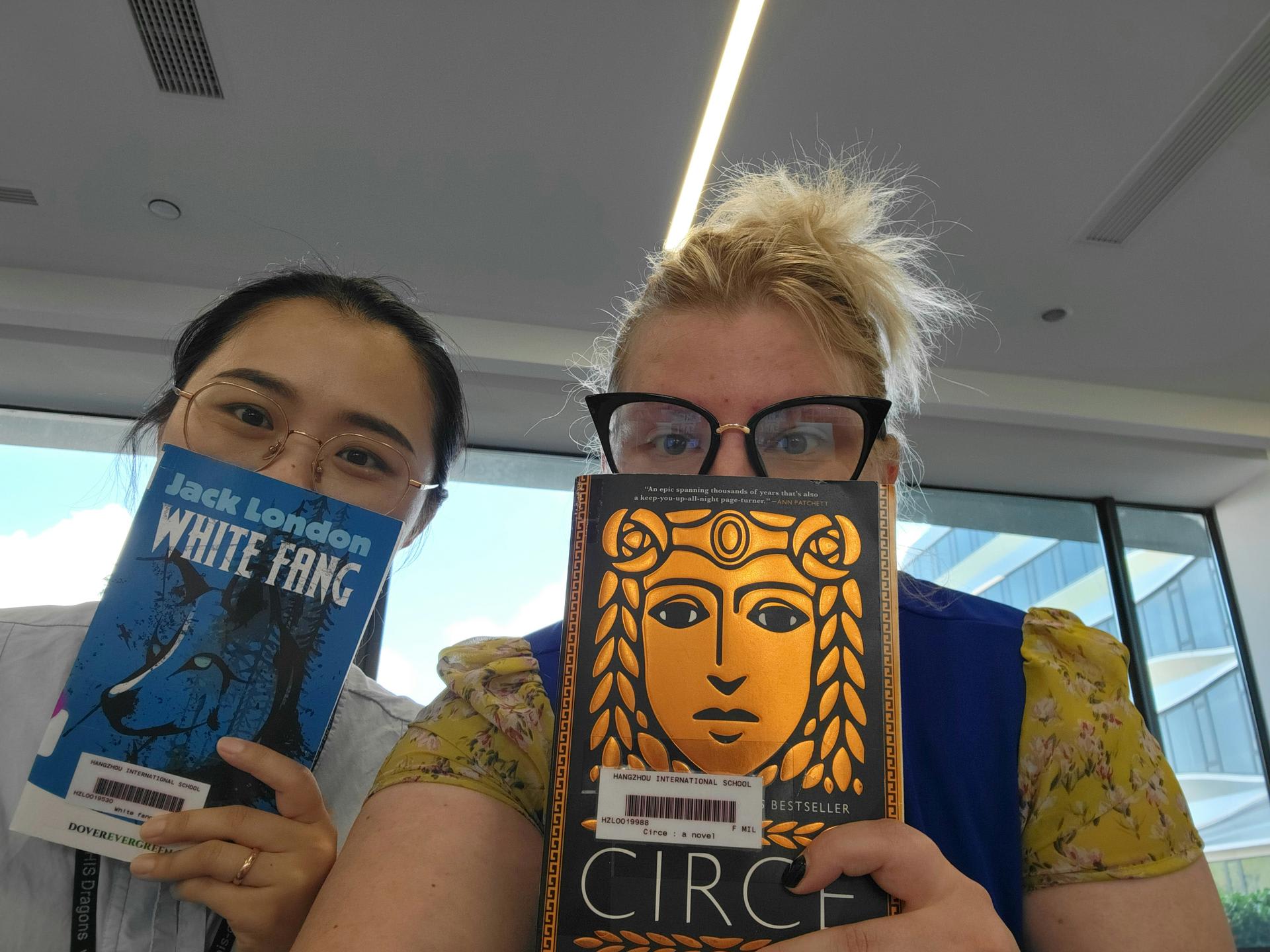 Sara Freeman
Newsletter – Upper School Library
October 24th, 2022
Happy Book Fair Week, Everyone!
The Book Fair started last week in the US library and classes are coming in throughout the day to look at the books on offer. The younger students are making wish lists that their teachers will share with parents so, hopefully, they can buy some during PD Monday and parent/teacher conferences on Tuesday next week. Our US students, however, are already buying books on their own and they are very excited by all the new fantasy, sci-fi, and young adult literature the vendor brought.
If US parents are curious about which books they might like to buy their children or themselves next week, here are a few librarian-approved recommendations:
1. Brown Girl Dreaming by Jacqueline Woodson
Description from Amazon: Jacqueline Woodson, one of today's finest writers, tells the moving story of her childhood in mesmerizing verse. Raised in South Carolina and New York, Woodson always felt halfway home in each place. In vivid poems, she shares what it was like to grow up as an African American in the 1960s and 1970s, living with the remnants of Jim Crow and her growing awareness of the Civil Rights movement. Touching and powerful, each poem is both accessible and emotionally charged, each line a glimpse into a child's soul as she searches for her place in the world. Woodson's eloquent poetry also reflects the joy of finding her voice through writing stories, despite the fact that she struggled with reading as a child. Her love of stories inspired her and stayed with her, creating the first sparks of the gifted writer she was to become.
2. Mexican Gothic by Silvia Moreno-Garcia
Description from Amazon: After receiving a frantic letter from her newly wed cousin begging for someone to save her from a mysterious doom, Noemí Taboada heads to High Place, a distant house in the Mexican countryside. She's not sure what she will find - her cousin's husband, a handsome Englishman, is a stranger, and Noemí knows little about the region.
Noemí is also an unlikely rescuer: She's a glamorous debutante, and her chic gowns and perfect red lipstick are more suited for cocktail parties than amateur sleuthing. But she's also tough and smart, with an indomitable will, and she is not afraid: Not of her cousin's new husband, who is both menacing and alluring; not of his father, the ancient patriarch who seems to be fascinated by Noemí; and not even of the house itself, which begins to invade Noemi's dreams with visions of blood and doom.
Her only ally in this inhospitable abode is the family's youngest son. Shy and gentle, he seems to want to help Noemí but might also be hiding dark knowledge of his family's past. For there are many secrets behind the walls of High Place. The family's once
colossal wealth and faded mining empire kept them from prying eyes, but as Noemí digs deeper she unearths stories of violence and madness.
And Noemí, mesmerized by the terrifying yet seductive world of High Place, may soon find it impossible to ever leave this enigmatic house behind.
3. The Year We Fell From Space by Amy Sarig King
Description from Amazon: Liberty Johansen is going to change the way we look at the night sky. Most people see the old constellations, the things they've been told to see. But Liberty sees new patterns, pictures, and possibilities. She's an exception. Some other exceptions: Her dad, who gave her the stars. Who moved out months ago and hasn't talked to her since. Her mom, who's happier since he left, even though everyone thinks she should be sad and lonely. And her sister, who won't go outside their house.
4. Frostheart by Jamie Littler
Description from Amazon: Bursting with brilliant characters, heart-stopping adventure and tons of laughs, this magical tale is perfect for fans of Nevermoor, Frozen and How to Train Your Dragon!
Way out in the furthest part of the known world, a tiny stronghold exists all on its own, cut off from the rest of human-kin by monsters that lurk beneath the Snow Sea. There, a little boy called Ash waits for the return of his parents, singing a forbidden lullaby to remind him of them... and doing his best to avoid his very, VERY grumpy yeti guardian, Tobu.
But life is about to get a whole lot more crazy-adventurous for Ash. When a brave rescue attempt reveals he has amazing magical powers, he's whisked aboard the Frostheart, a sleigh packed full of daring explorers who could use his help. But can they help him find his family . . . ?
See you at the library!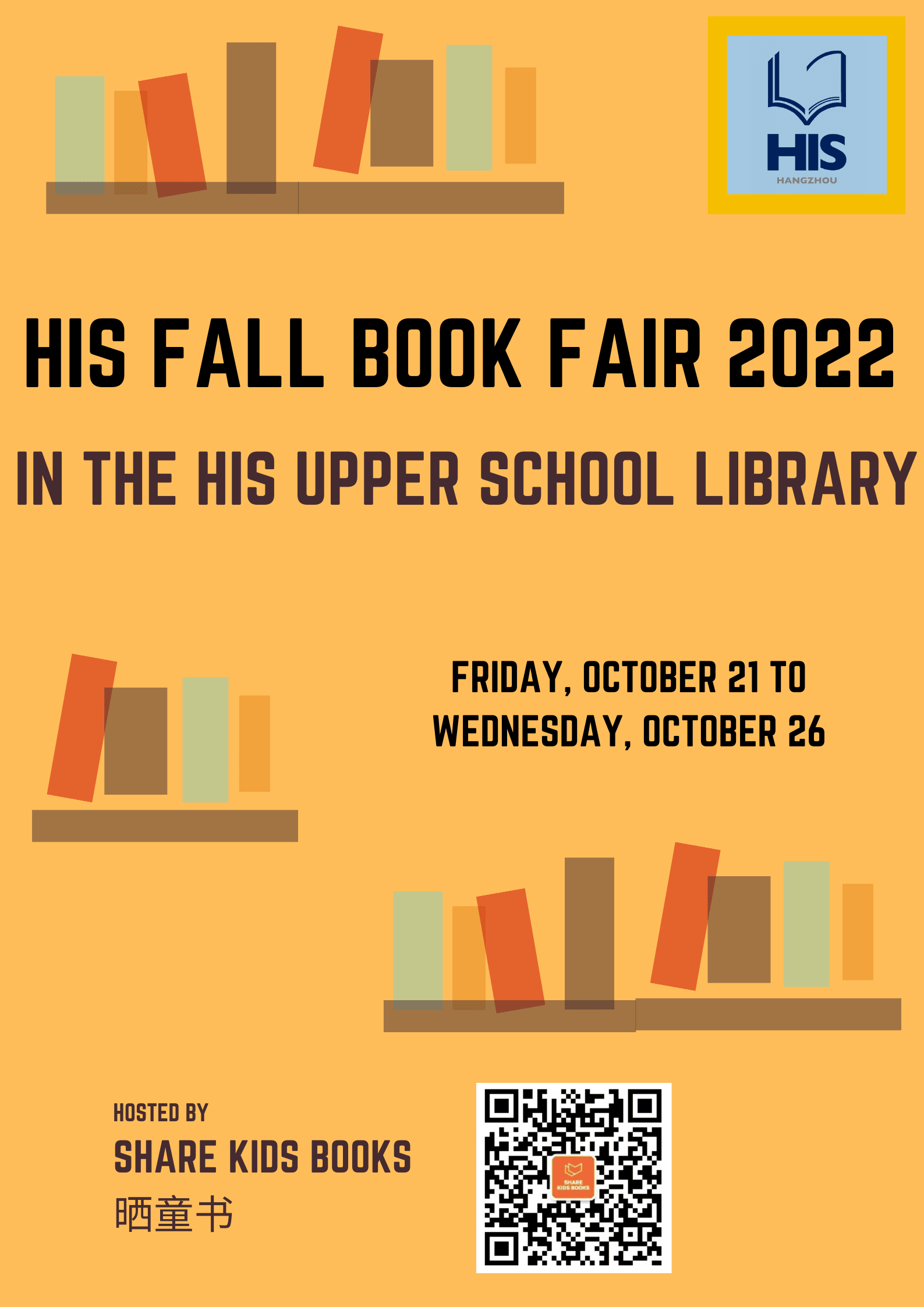 Ordering Uniforms or School Merchandise
Parents can go to following link and look at the uniform web page (https://www.his-china.org/support/dragon-shop).
Parents can place an order with Nancy in the Dragon Shop (dragonshop@his-china.org) by email or by calling the school directly (Tel# 8669-0045 X109) during office hours (Monday-Friday 7:45am - 11:30am and 12:30pm - 4:30pm).
Also parents may make an appointment to go to the Dragon Shop between 3:45pm – 4:30pm when the regular school day is over.
Older students may come to the Dragon Shop to select sizes and purchase uniforms if they have time before or after school during open hours.
Payment may be made through AliPay or by giving students cash.
You can choose from the following options to receive uniform orders:
1. Give items directly to students
2. Wait for pickup at the school gate
3. Deliver home 12RMB pay on delivery fee.
Middle School Uniform Guidelines 6-8
Middle Schoolers should wear tan shorts, trousers, or skirts and a navy blue polo shirt (short or long sleeved) with the HIS book logo. A navy fleece or cardigan sweater with the HIS logo or other approved outerwear such as the HIS hoodie sweatshirt can be worn in the cooler weather. All students must wear laced shoes.
High School Uniform Guidelines 9-12
High Schoolers should wear tan shorts or trousers, or plaid skirts (girls only) and a light blue Oxford cloth button down short or long sleeved short with the HIS book logo. A navy fleece or cardigan sweater with the HIS logo or other approved outerwear such as the HIS hoodie sweatshirt can be worn in the cooler weather. All students must wear laced shoes.
Students will be asked to remove outerwear (coats, hoodies, sweatshirts, etc) in lessons unless they carry the HIS logos. Students who are cold will be invited to go to the Dragon Shop to purchase acceptable HIS items.
Dragon Shop Winter Merchandise - Stay warm and comfy!

The hoodies and fleece below are available to buy at the Dragon Shop.
With Covid 19 cases appearing locally, parents are reminded to keep an eye on Managebac and WeChat for any updates. If students' health codes are green and the child is healthy, campus remains open.
Parents are respectfully requested to keep ill students at home until they are recovered and ready to participate fully in lessons.
COVID VACCINE UPDATE:
While it is not required for HIS students to be vaccinated, if parents wish to get the vaccine for their children, the information below contains the most up-to-date clinic address and times:
Students (aged 3-17) can be accompanied by a parents/guardian to No. 368 Liu He Road, Binjiang to get the vaccine.
Address: 杭州市滨江区六合路368号海创基地南楼 滨江主舱临时接种点
Phone #: 0571-56234087
Students (aged 3-17) have to be accompanied by one of the parents/guardians, but must also take:
Passport
Police registration
Guardian's Passport
Schedule: Monday to Sunday, 8:30am to 6:30pm
**Please note that these details can change with very little notice. You should call the clinic ahead of time to confirm that the information above is correct. **
See the updated lunch menu weekly and monthly as posted on the school website.
HIS Mission Statement
We provide international learners with opportunities to pursue academic and personal excellence within a caring community.