Upper School Newsletter October 31, 2022
Upper School Newsletter
October 31, 2022
UPCOMING EVENTS

November 1 HIS Invitational (online college fair)

November 1 TECH TUESDAY

(10-11) or (1:30-2:30)

November 1 MS Soccer Match Day

November 1-4 NWEA Make-Up

November 2 Curriculum Night (Math)

November 2-5 ACAMIS Volleyball (Nanjing)

November 3 Registration Deadline for

Dec. 3 SAT

November 11-12 Production: ORPHAN TRAIN

November 25 Professional Inservice

(no school)

December 23 End of Semester 1

January 30. Start of Semester 2
A NOTE FROM ADMINISTRATION
Mr. Fursey Gotuaco

Upper School Principal

THE COURAGE TO CONTINUE

'Success is not final; failure is not fatal: It is the courage to continue that counts.

Winston S. Churchill
The seasons change, both outside, as the leaves turn color and fall, and inside, as our classes change topics. Athletics change seasons as we say goodbye to an incredible season of Volleyball and turn our to new endeavors both in the gym and out on the pitch. In short, though things seem to stop and pause, and change directions, we must continue.
As a school, we challenge our students to do their very best. We continually raise the bar and we entice our learners with higher and greater goals. We finish one unit of study with a summative assessment but we turn right around and continue on to the next adventure in learning. The assignments get more complex as the year continues and and the projects grow in sophistication. Part of this sophistication is the application of learned knowledge in the classroom with practical application in the world outside of our building.
At the DP level, they are taking on the requirements of their EXTENDED ESSAY (EE) and their individual subject INTERNAL ASSESSMENT (IA). In the MYP, they are presented with the opportunity to show their Academic Skills in the Community Project (grade 8) and the Personal Project (grade 10). MYP Coordinator, Mr. Liam O'Shea, gives us a brief description of these incredible opportunities.
"The Community Project is a service-oriented activity that Grade 8
students carry out to help the HIS and surrounding community.
Students conduct research to identify a community need, create and
execute a plan, then reflect and demonstrate their learning."
"The MYP Personal Project allows students to explore an area that
motivates and interests them through a cycle of inquiry, action and
reflection. It helps students develop attributes of the IB learner profile; provides them with opportunities to demonstrate approaches to learning
(ATL) skills developed through the MYP; and fosters the development
of independent, lifelong learners. It is completed by all students in
the final year of the MYP Programme."
Most recently, I had the opportunity to experience the Lower School Math classes in action and see not only the foundational work they were doing but also revel in how they were meeting the challenges they were facing with curiosity and determination. The different grades and divisions had different assessments and strategies but the exploration and inquiry at all levels is tremendous. Over and over you see how they are taking their learning and applying it to real world situations. The learning starts at a desk but then.. continues... From PYP through MYP and continuing on to DP, their joy for solving the problem is palpable.
It reminded me that no matter where we are in our journey, we must overcome the obstacles, face our challenges, and have the courage to continue.
See you at our MATH CURRICULUM NIGHT on Wednesday, November 2nd at 6pm.
ITS A GREAT DAY TO BE AN HIS DRAGON!!!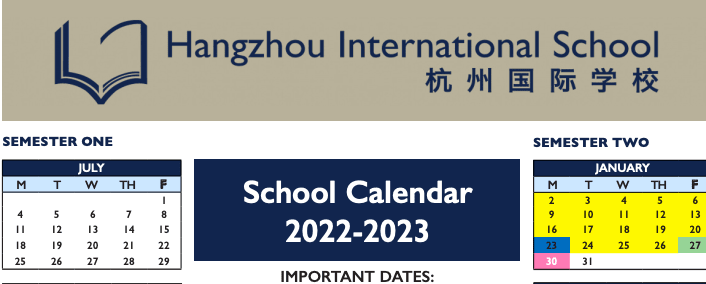 | | |
| --- | --- |
| HIS is doing great things and being noticed!!! Click on the button below or scan the QR code to see what they're saying about your HIS Dragons! | |
Parents let's learn how to use ManageBac efficiently!
We would like to invite you to the first session of the "Tech-Tuesdays" with Mr. Foster, dedicated to ManageBac.
We will have two sessions, and you can sing up for one of them by scanning the QR code in the poster above.
PAFA Autumn Walk/Picnic Lunch
All HIS parents are invited to join us for this nice activity. Let's continue meeting other HIS parents, new and returning!
Advent Calendars for sale!
You can order your Advent Calendar made with a mix of imported chocolates, by scanning the QR code on the poster. Pre-Sale starts now till November 15th, and orders will be distributed by November 28th.
At the same time, you support the community projects that HIS Students' GIN (Global Issues Network) Club organize.
Congratulations to the Varsity Volleyball Teams, HISAC Champions!

Last Saturday our Volleyball Varsity Teams played against other International School from Hangzhou at the HISAC tournament, and after exciting matches, both, boys, and girls HIS teams became Champions. Thank you, to the teams, coaches, and parents for the good work this season! #GoHISDragons!

You can look at the photos by scanning the QR code.
Ms. IRIS ZHANG

This year, we welcome Iris Zhang to our school to head up our College Counseling Department. She has previous experience as an Admissions Officer at the University of Melbourne and The University of Technology Sydney. She brings a wealth of experience.

On November 1st, Ms. Zhang will be hosting an online college fair with several schools including Cambridge, Vanderbilt, Indiana, Hong Kong University and Duke Kunshan, and University of Melbourne.

JOIN US ONLINE!!!
We encourage students to contact one of the university counselors listed below with any questions about university entrance requirements.
Ms. Zhang has already begun the process of meeting with each senior to find out how to best support them in their quest for the perfect college. The choice of university is a complicated one that takes into account a student's interests, academic standing, future plans for where they want to live, and courses of study.
On November 1st, Ms. Zhang and the College Counseling staff will be hosting our first ever HIS Invitational College Conference. We have organized 6 leading universities from around the world to speak to our students about their programs. This is a MUST SEE event for our grade 11 students who are weighing their options!!! Headlining this group of secondary institutions is Cambridge, Indiana University, Vanderbilt University, University of Melbourne, Duke Kunshan University, and Hong Kong University.
Make plans now to join us online for this amazing opportunity!!!!
Scan the QR code to reserve your online seat!!!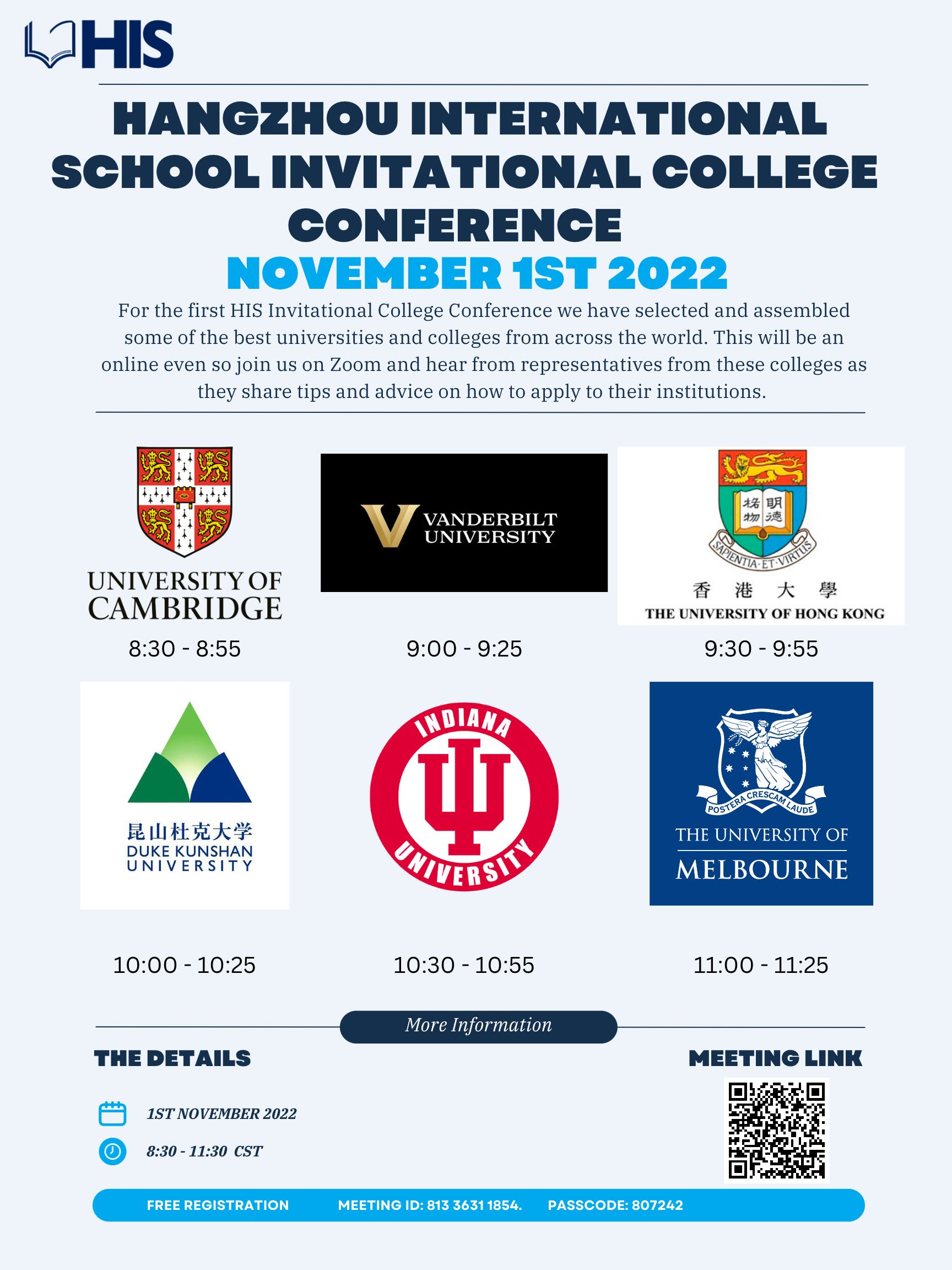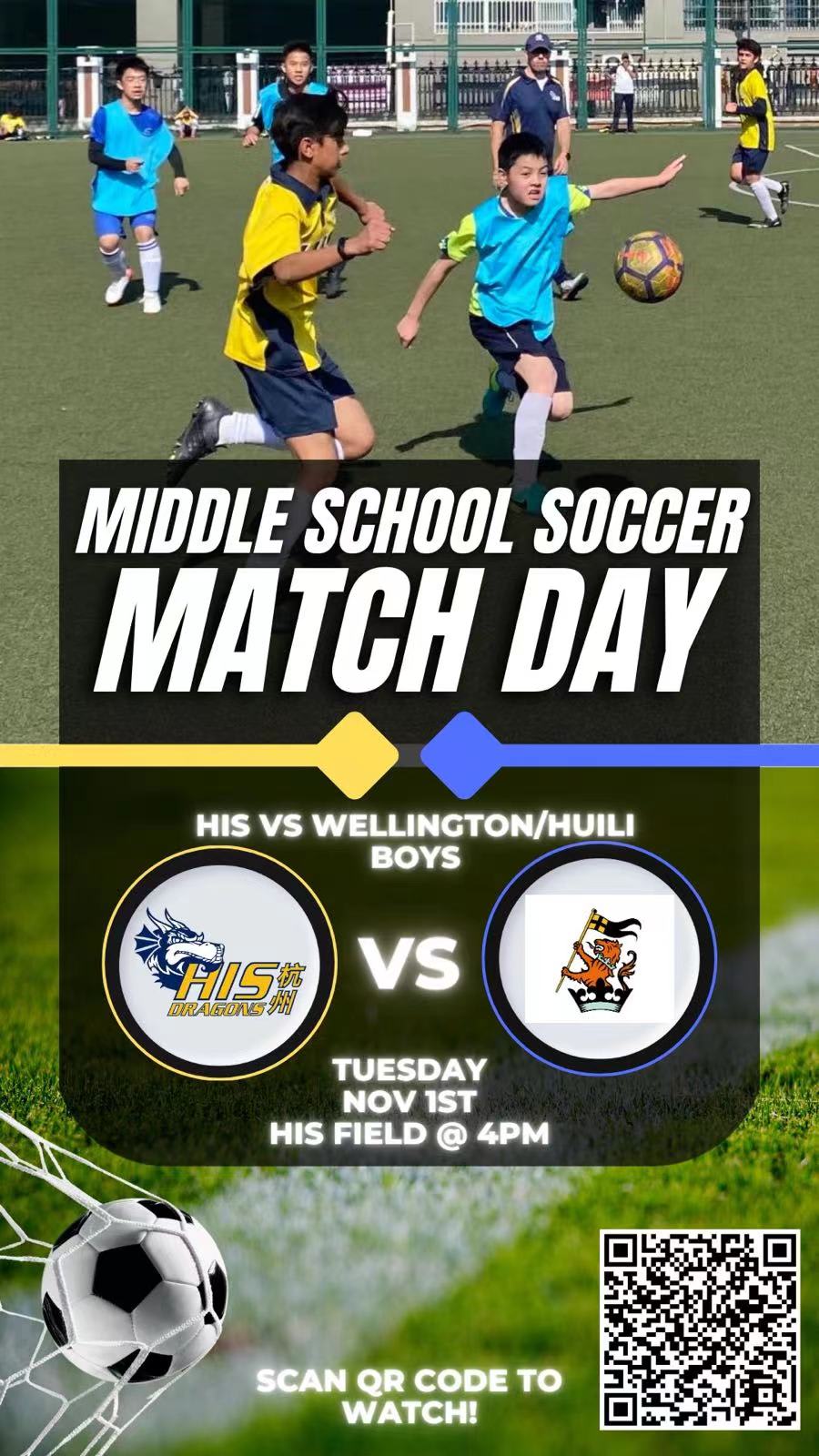 Upper School Athletics
Varsity Volleyball
This past Saturday the 29th October our Varsity Volleyball teams competed in the HISAC U19 Tournament which we hosted here at HIS. Teams from the following schools participated in both boys and girls divisions:
Hangzhou International School
Chinese International School Hangzhou
Wellington College International Hangzhou / Huili School Hangzhou (Combined team)
Kings College International Hangzhou / Hangzhou Dipont School of Arts and Science (Combined team)
A round-robin format was adopted, pitting each team against the others once to determine the tournament Champions. Some exciting Volleyball was played in front of many parents and students who formed our enthusiastic and vocal Dragon Cheer Squad throughout the day. Ultimately, both HIS Girls and Boys teams remained undefeated to come away with both Championships in 2022. With the cancelation of our participation in the ACAMIS tournament, the HISAC tournament brought about the end of our Varsity Volleyball season for this year. It was pleasing to see both Boys and Girls squads with high participation this season, with over 60 students attending practices and Strength and Conditioning sessions since the season began at the beginning of September. The coaches were impressed with the dedication to attend practices and improve their skills and understanding of the game.
Middle School Soccer
The Middle School Girls had their first game of the season last Thursday, a friendly match at Wellington / Huili. It certainly showed at the beginning that they had not played a competitive match in many months but as the game proceeded, they began to feel more confident with their ball at their feet and the teamwork and cohesion improved significantly. The girls lost this friendly match 3-1 but came away much better for the run and are back on the training ground over the next couple of weeks before our HISAC tournament on November 12. The Middle School Boys will play their first friendly match tomorrow (Tuesday 1st November) at HIS versus a combined Wellington / Huili team.
UPCOMING MATCHES IN NEXT 2 WEEKS
MIDDLE SCHOOL BOYS SOCCER @ HIS
Tuesday 1st November – From 4:00pm
HIS vs combined teams from Huilli School Hangzhou / Wellington College
MIDDLE SCHOOL SOCCER @ Wellington College Hangzhou
Saturday 12th November – 8:30am – 1:00pm
HISAC U14 Soccer Tournament (Boys and Girls)
CCA
A reminder that there will be no after-school CCA this Wednesday 2nd November. For those that have Wednesday CCA scheduled, with our CCA partners listed below, your catch-up date will be on Wednesday 21st December.
Yougo Sports – Flag Football
Rowing Club
Golf for Beginners / Advanced Golf
Aeroluxus – Avition Club
Table Tennis
Teakwondo
CCA (Co-Curricular Activities)
CCA1 begins this week. Parents are reminded that Lower School CCA finish at 4:15 unless otherwise notified. Students will be dismissed through the Main Campus Gate and we ask that parents arrive on time to collect their child. The late bus service also begins today. If you are eligible and have not yet replied to the Late Bus registration email sent previously, please do so ASAP. Only eligible and registered students will be permitted on the late buses.
Enquiries about CCA should be directed by email to activities@hisdragons.org.cn
Late Bus Service
Parents who indicated on their online registration form that their child would be using the late bus service have received an email today asking them to indicate which of the later bus routes they intend to use. Please note the late bus service is available only to regular bus users who have registered and paid for this service. The late bus service is for students involved in all forms of co-curricular activities including CCA, sports practices, swimming practice, performing arts rehearsals.
International Baccalaureate Diploma Programme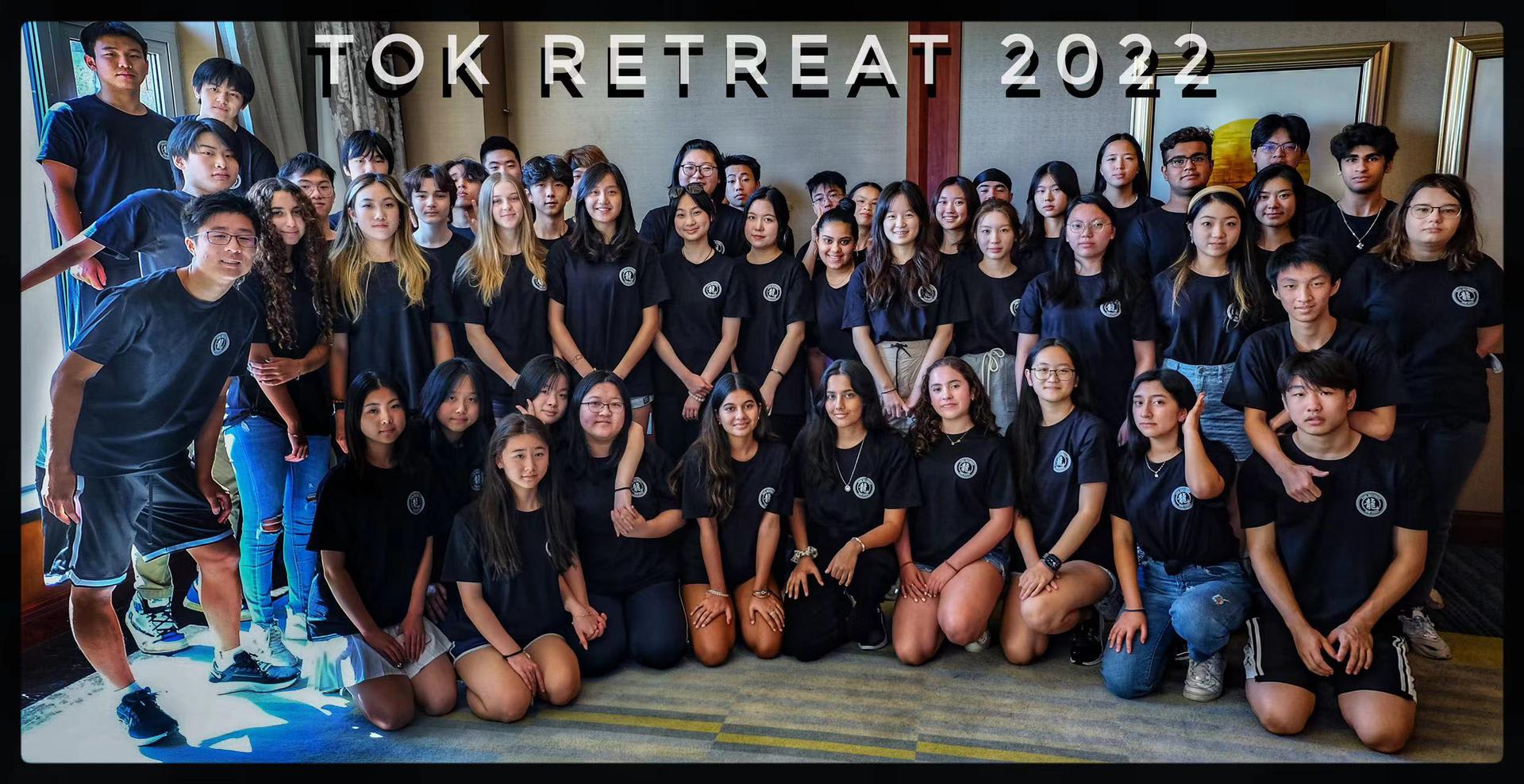 Terry Strombeck
TOK/DP History Teacher
In TOK classes, students explore the idea that for a claim or a statement to be true, evidence is required; proof is needed. But what is 'evidence' - or what is 'proof?' TOK students explore evidences and these evidences are sometimes referred to as 'ways of knowing.'
When asked what evidence (or 'way of knowing') is strongest, the first type of 'evidence' many people point to is 'empirical evidence:' This type of evidence relies on experience; being able to experience by touching, seeing, hearing, smelling or tasting. Certainly this type of evidence is valid and for some people 'empirical evidence' is the strongest evidence. After all, if we can see or touch something, it must be true, right?
However, there may be some problems with empirical evidence. Sometimes people do not all see the same thing. For example, in this image, what do you see: an old woman or a young woman? This image illustrates that what we see may not be what other people see.
DEADLINES FOR DP 2 (IAs & EEs)

Anxiety Explained:
Anxiety is a feeling of worry or unease typically about something with an uncertain outcome. This can be felt in the body as increases in heart rate, heavy breathing, or an uncomfortable feeling in the stomach. Some people also experience ruminating thoughts that are hard to ignore. Anxiety is also felt as strong emotions such as worry or fear.
Anxiety is a common response when a person feels like they don't have the capacity or resources to deal with a certain event. Examples of typical anxious feelings include feeling nervous about an important exam or a public speaking event. However, when anxious feelings become excessive or appear to happen for no apparent reason and they stop someone from carrying out normal day-to-day tasks they may be experiencing an Anxiety disorder.
The most common factors that lead to Anxiety disorders include family history, stressful events, health issues, and personality types. Anxiety looks different at each life stage. Teenagers with Anxiety are often anxious about themselves – their performance in school or sport, how they are perceived by others, or by how their body is changing.
Symptoms of Anxiety for teenagers can look like: irritability, difficulty concentrating, recurring fears or worries about routine everyday life, sensitivity to criticism, withdrawal from social events, sleep problems, chronic complaints about stomachache or headaches, and drops in grades. Anxiety disorders are very common and with the right type of professional advice and support Anxiety disorders can be overcome.
If you have any questions or worries about your children please contact Dr Ryan be email ryanbeddows@hisdragons.org.cn
Student Leadership is a priority here at HIS. We will use this space to give them an opportunity to tell you what they are doing in their clubs, sports, and activities. This week, they're a little tired from having hosted a magnificent HAUNTED HOUSE. They'll be back next week. See you then!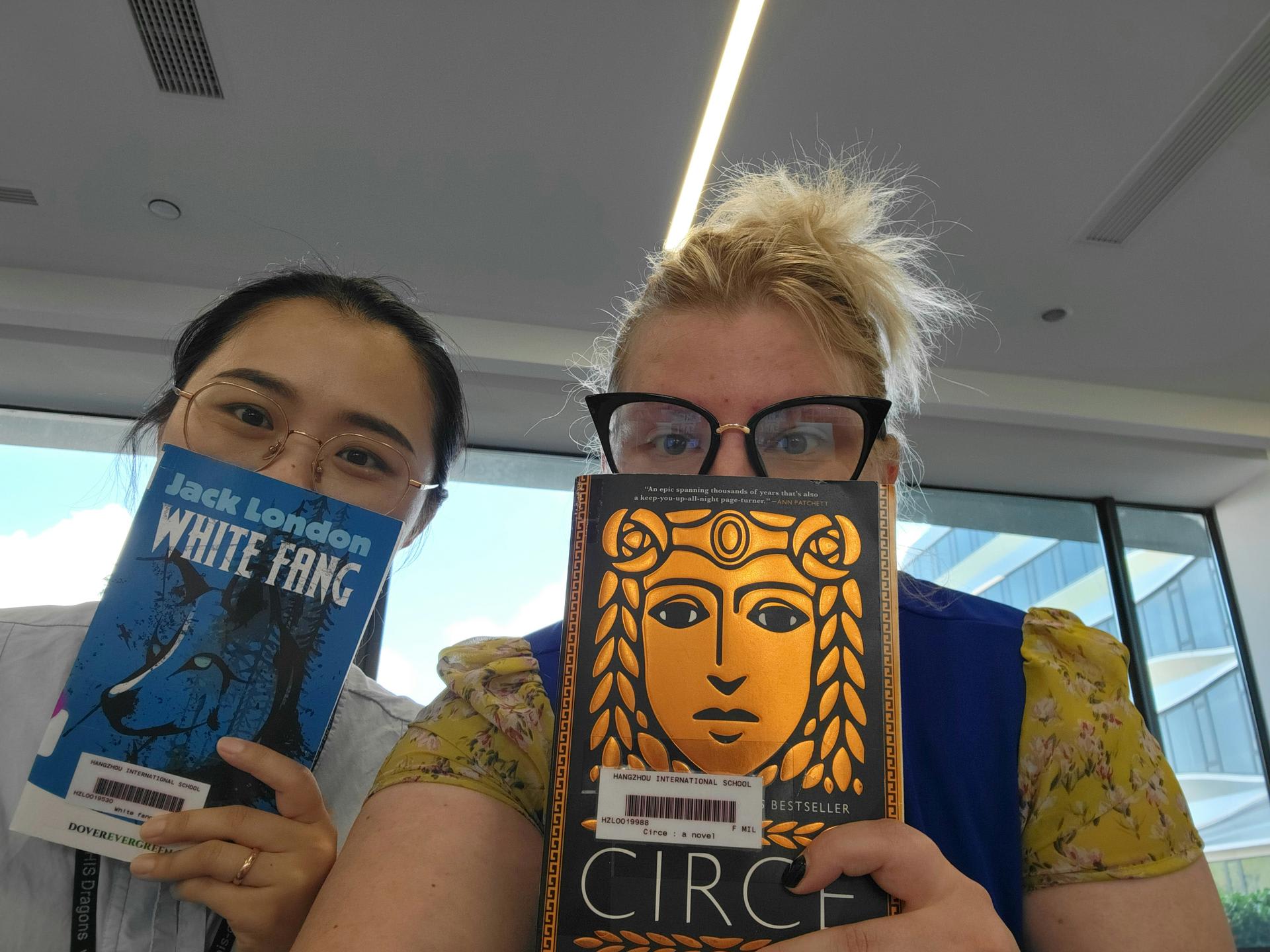 Sara Freeman
Newsletter – Upper School Library
October 31st, 2022
Happy Halloween!
October is my favorite month because it's the beginning of Cozy Season. The air feels crisp, it rains more often, and the veil between worlds is at its thinnest. It's the perfect time to get cozy and spooky—to grab a good book and blanket and sit on the sofa with your kitty. The only thing that would improve this magical month is if Starbucks China would bring back the PSL (Pumpkin Spice Latte), am I right?!
The latter half of October has also been magical for the US library. We hosted the ShareKids book fair this past week, and many parents and students bought books. It was so rewarding to see everyone excited about books! The HIS libraries also grabbed some new titles for our shelves. I sincerely thank everyone who stopped by the fair to show their support. We will host another book fair come springtime.
I hope you all have a fun holiday of spooky stories, candy, pumpkins, and everything that goes bump in the night. As Sheriff Brackett said in Halloween (1978), "
Ordering Uniforms or School Merchandise
Parents can go to following link and look at the uniform web page (https://www.his-china.org/support/dragon-shop).
Parents can place an order with Nancy in the Dragon Shop (dragonshop@his-china.org) by email or by calling the school directly (Tel# 8669-0045 X109) during office hours (Monday-Friday 7:45am - 11:30am and 12:30pm - 4:30pm).
Also parents may make an appointment to go to the Dragon Shop between 3:45pm – 4:30pm when the regular school day is over.
Older students may come to the Dragon Shop to select sizes and purchase uniforms if they have time before or after school during open hours.
Payment may be made through AliPay or by giving students cash.
You can choose from the following options to receive uniform orders:
1. Give items directly to students
2. Wait for pickup at the school gate
3. Deliver home 12RMB pay on delivery fee.
Middle School Uniform Guidelines 6-8
Middle Schoolers should wear tan shorts, trousers, or skirts and a navy blue polo shirt (short or long sleeved) with the HIS book logo. A navy fleece or cardigan sweater with the HIS logo or other approved outerwear such as the HIS hoodie sweatshirt can be worn in the cooler weather. All students must wear laced shoes.
High School Uniform Guidelines 9-12
High Schoolers should wear tan shorts or trousers, or plaid skirts (girls only) and a light blue Oxford cloth button down short or long sleeved short with the HIS book logo. A navy fleece or cardigan sweater with the HIS logo or other approved outerwear such as the HIS hoodie sweatshirt can be worn in the cooler weather. All students must wear laced shoes.
Students will be asked to remove outerwear (coats, hoodies, sweatshirts, etc) in lessons unless they carry the HIS logos. Students who are cold will be invited to go to the Dragon Shop to purchase acceptable HIS items.
Dragon Shop Winter Merchandise - Stay warm and comfy!

The hoodies and fleece below are available to buy at the Dragon Shop.
With Covid 19 cases appearing locally, parents are reminded to keep an eye on Managebac and WeChat for any updates. If students' health codes are green and the child is healthy, campus remains open.
Parents are respectfully requested to keep ill students at home until they are recovered and ready to participate fully in lessons.
COVID VACCINE UPDATE:
While it is not required for HIS students to be vaccinated, if parents wish to get the vaccine for their children, the information below contains the most up-to-date clinic address and times:
Students (aged 3-17) can be accompanied by a parents/guardian to No. 368 Liu He Road, Binjiang to get the vaccine.
Address: 杭州市滨江区六合路368号海创基地南楼 滨江主舱临时接种点
Phone #: 0571-56234087
Students (aged 3-17) have to be accompanied by one of the parents/guardians, but must also take:
Passport
Police registration
Guardian's Passport
Schedule: Monday to Sunday, 8:30am to 6:30pm
**Please note that these details can change with very little notice. You should call the clinic ahead of time to confirm that the information above is correct. **
See the updated lunch menu weekly and monthly as posted on the school website.
HIS Mission Statement
We provide international learners with opportunities to pursue academic and personal excellence within a caring community.